Grocery Store Chocolate-Covered Pretzels Ranked Worst To Best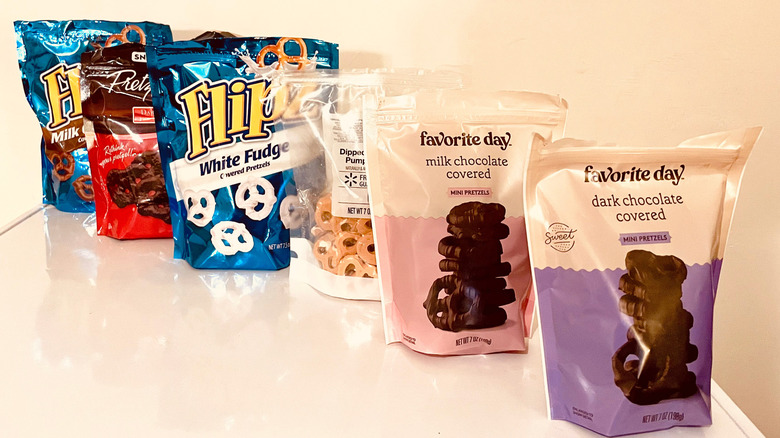 Mashed/Amber Winston
Chocolate-covered pretzels are a festive treat often enjoyed around the holidays. But let's be real: Most of us venture to enjoy them whenever the heck we please. These days, there are so many flavored pretzel options available that it can sometimes get overwhelming to distinguish between which brands, flavors, and price points make each worth the buy.
Hungrily prowling through the aisles of several local markets, I was surprised at the many pretzel brands available and the many flavors offered. I visited the likes of Target, Walmart, Walgreens, and more to score as many brands as possible to stuff my mouth with. In this post, I am sharing my unadulterated opinion on which chocolate-covered pretzels are worth your bite and which fall flat based on price, flavor, texture (and more!).
So, if you're ready, let's dive into the sweet and salty details as we rank grocery store chocolate-covered pretzels from worst to best.
12. Nice! Milk Chocolate Covered Pretzels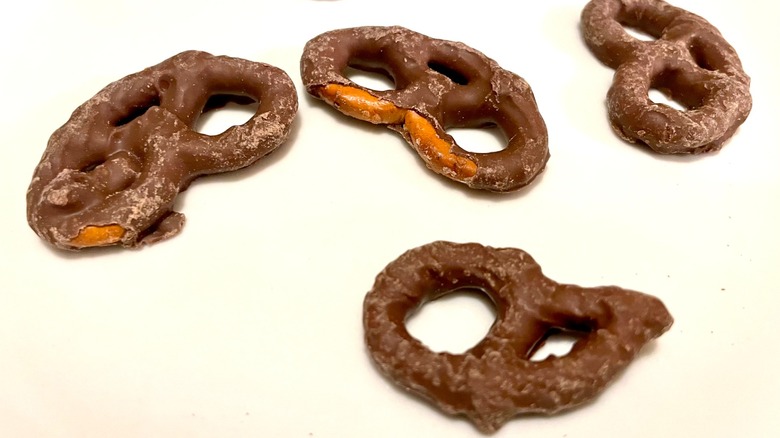 Mashed/Amber Winston
I found Nice! Milk Chocolate Covered Pretzels at Walgreens for only a couple of bucks, which I think is appropriate given my experience with the product. It isn't that the pretzels are downright terrible – after all, how bad can a chocolate-covered pretzel really get? Still, compared to the host of chocolate-drenched snacks I tried, I couldn't help but notice some subtle nuances with this brand that made the experience a bit less pleasurable than others.
The first thing I noticed when opening a bag of these off-brand pretzels was the sight of them. Yeahhh — it wasn't pretty. Each pretzel looked pretty disheveled, some with brazen areas of exposed pretzel flaunting itself without any chocolate at all. Aside from this unsightly and unevenly coated surface, I also noticed that the chocolate on each pretzel wasn't smooth. Instead, there were large globs and clumps of chocolate checkered across each, leading to a hardly appetizing first impression, to say the least.
As far as taste goes, this is where Nice! Milk Chocolate Covered Pretzels flop most. The chocolate had no real depth and definitely lacked that smooth richness I found other types of chocolate pretzels to have. The low-quality taste on my tongue left me unwilling to try more despite having an entire pouch left over. Needless to say, Nice! Milk Chocolate Covered Pretzels were a fail in my estimation — sigh.
11. Nice! Dark Chocolate Covered Pretzels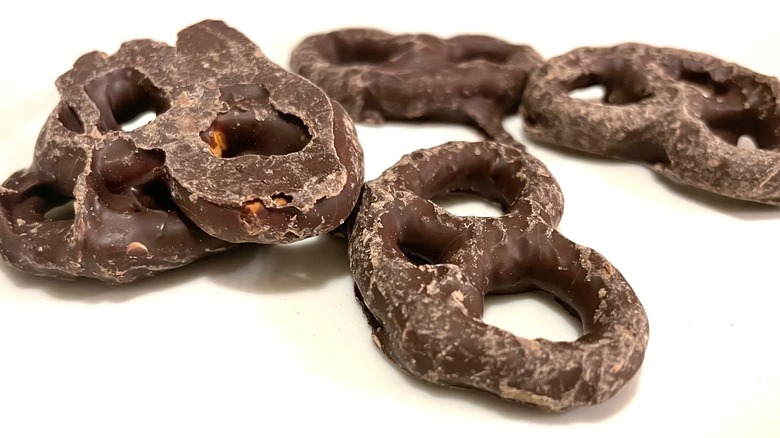 Mashed/Amber Winston
Nice! Dark Chocolate Covered Pretzels, like their milk chocolate predecessors, also weren't very impressive in terms of aesthetic charm. Having said that, I was a little more pleased with this selection of pretzels, as the flavor was far richer and more decadent than the milk chocolate variety.
As mentioned, the Nice! Dark Chocolate Covered Pretzels came with many of the same flaws the milk chocolate version did, with unevenly coated chocolate and an overall messy presentation making for a less than stellar first look. Still, the taste of the chocolate wasn't as cloyingly sweet or low-quality as the milk chocolate; instead, it held its own in terms of rich and smooth chocolatey-ness, although this improvement still didn't quite compare to the deliciousness I sampled from other brands.
Another thing I want to note about these Nice! chocolate pretzel grabs is that neither the dark chocolate nor milk chocolate flavors come in resealable pouches. Yes, the bags are quite small and could be finished in one sitting if you wanted, but it would still be nice to have the option of keeping the pretzels fresh in case you don't finish them all. All in all, this dark chocolate-covered Walgreens pretzel was decent compared to the milk chocolate variety, but it isn't the best pick of them all.
10. Snack Factory Pretzel Crisps Drizzlers Milk Chocolate Caramel Pretzel Snacks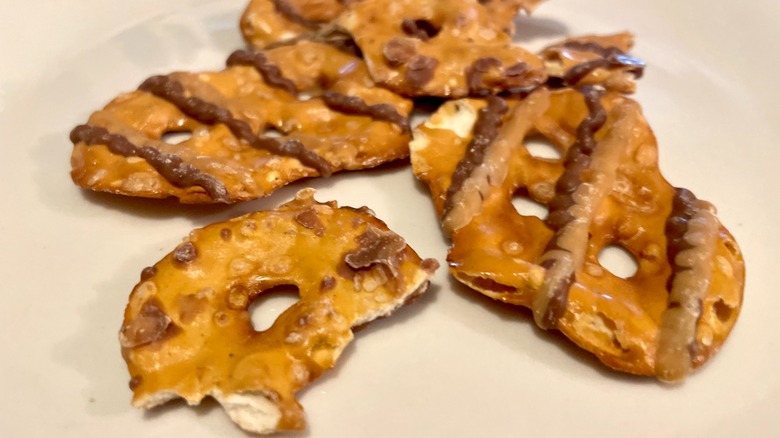 Mashed/Amber Winston
Well, these are – weird. I understand that Snack Factory Pretzel Crisps aren't supposed to be like real pretzels, but my goodness, these are downright strange. Having never tried this brand before, I fully expected these "crisps" to be light, airy, and delightfully crispy. Sadly, they were none of the above. Rather, these snacks were oddly dense and much less pleasurable than regular pretzels. Think of these crisps as having a texture similar to that of an unleavened cracker — thus, if it's a crispy crunch you expect, these won't please you at all. On top of this, the price point is ridiculous for what you get. At $5 for only 5.5 ounces, this brand isn't worth the hype.
Having said that, I will say that I enjoyed the coating on this one. The caramel and chocolate taste played perfectly off of one another, with the caramel, in particular, imparting a noticeably scrumptious flavor. Still, given the texture and overall price point, I would hesitate to purchase Snack Factory Drizzlers Milk Chocolate Caramel Pretzel Crisps again.
9. Flipz Milk Chocolate Covered Pretzels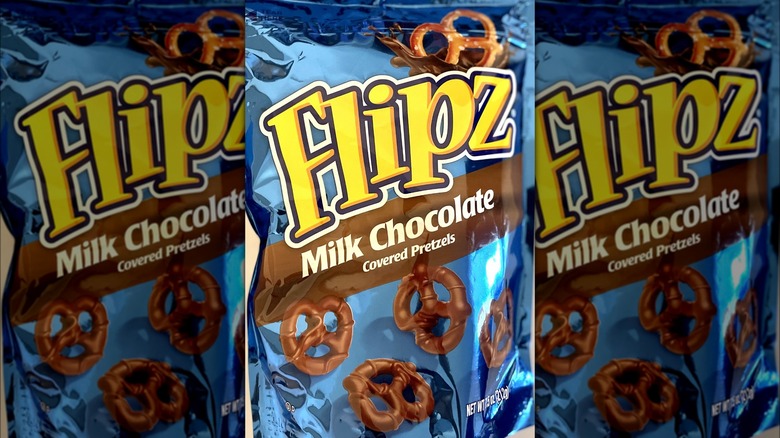 Mashed/Amber Winston
Flipz brand is known for producing deliciously flavorful chocolate-covered pretzels, but after sampling so many, I honestly didn't find this milk chocolate variety much different from other brands available.
Upon opening the bag, these pretzels didn't look like much but were at least evenly covered in chocolate with no weird globs or huge chunks of chocolate missing from their pieces. In addition, the flavor of the chocolate on the pretzels was pretty good — just not great. On the plus side, I think these are a great value given the amount you get (7.5 ounces), the price point (a little over $3 at the time of publication), and the fact that they come in a resealable bag.
Thus, the Flipz Milk Chocolate Covered Pretzels are a good grab that will suit you fine if you're in the mood for a salty, sweet snack but don't want to waste time or money on potentially low-quality generic brands. Give them a go, and you'll likely enjoy them; just know that there are brands out there from unexpected sources that could easily compete.
8. Favorite Day Dark Chocolate Covered Mini Pretzels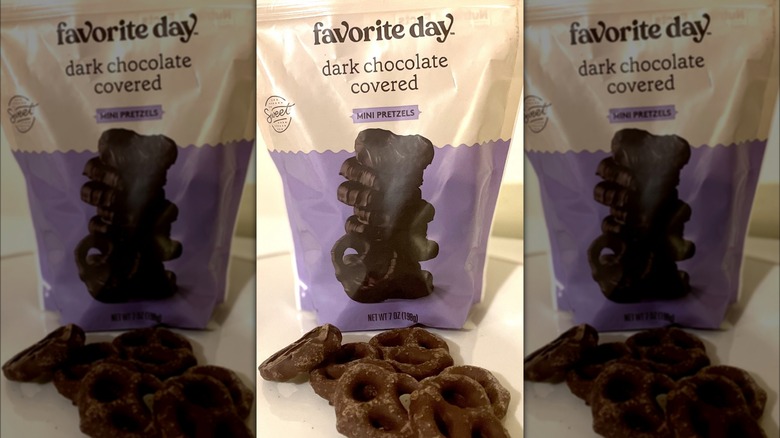 Mashed/Amber Winston
The Favorite Day Dark Chocolate Covered Mini Pretzels were pretty decent, given my expectations. It isn't that Favorite Day is a bad brand, but I've seen a few products sold under the label that ended up a total flop. As such, I wasn't quite sure what to expect with their chocolate-covered pretzel snacks, but this time, my experience wasn't so bad.
In the case of the Favorite Day dark chocolate pretzel variety, I'd say they were satisfactory. The presentation was okay, and I noticed no uneven, sparse-covered pieces. The flavor was also nice, but it didn't quite capture my attention the way some of the others on the list had. Something else I'd like to highlight is the odd texture of these Target pretzels. Now, when I say "odd," I don't mean in any way that they don't taste or look like real pretzels. They do! Still, when compared to the Favorite Day milk chocolate version, these seemed strangely hard and crunchy — almost like they were beginning to go stale.
Having said that, I don't want you to think these are totally gross. In general, I'd say they taste pleasant. Thus, the Favorite Day Dark Chocolate Covered Pretzels, though not my favorite, are still a decent pick if some of the other tastier options aren't available.
7. Pretzel Crisp Dark Chocolate Crunch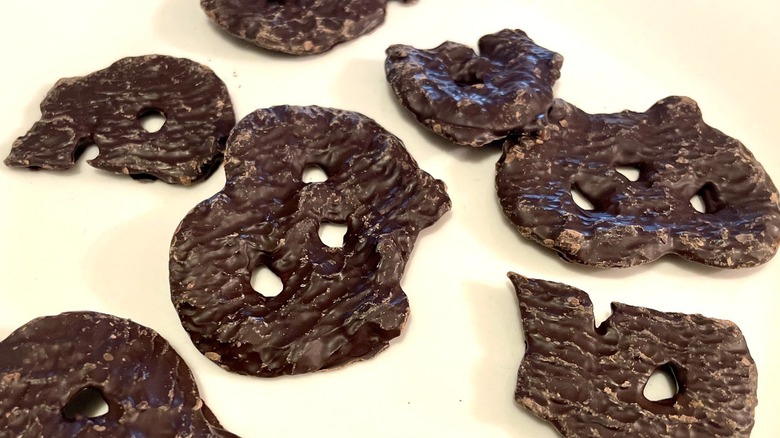 Mashed/Amber Winston
Just like the caramel and chocolate variety, I find myself having a hard time dealing with the overall texture of these uniquely shaped dark chocolate pretzel crisps. The texture is so strange, and the presentation so unappealing that it's hard to really get into these. I'm honestly shocked that they cost as much as they do. Priced at a little over $5 a bag for only 5.5 ounces, this buy seems barely worth it.
Still, there's a little something about this dark chocolate crunch flavor that sets it apart from the rest – and that's the chocolate itself! I really didn't expect to enjoy the chocolate on these as much as I did. Sure, the caramel and chocolate coating on the other Pretzel Crisp variety was good, but this was next level. Its dark chocolate decadence was truly phenomenal, much better than any other dark chocolate variety pretzel on this list. My only wish is that they'd punt the flat pretzel base and layer the chocolate over a good high-quality truly crisp traditional pretzel instead. That, friends, would be pure perfection.
6. Favorite Day Milk Chocolate Covered Mini Pretzels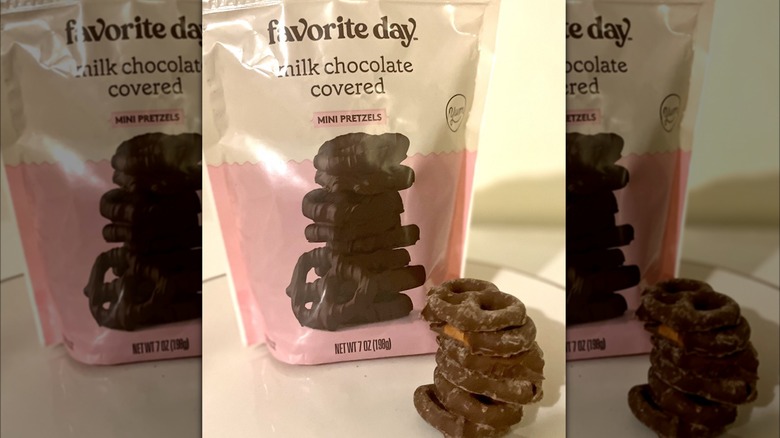 Mashed/Amber Winston
Target's Favorite Day Milk Chocolate Covered Mini Pretzels were surprisingly impressive despite my iffy expectations. Because the dark chocolate version wasn't my favorite, I wasn't quite sure what to expect when it came to the milk chocolate version. Surprisingly, I really enjoyed it!
First things first, and that's the packaging. Of course, most chocolate-covered pretzels feature an impeccable-looking image, which usually isn't an accurate representation of what you actually get in the bag. Indeed, the pretzels themselves weren't as pretty as the packaging, but I didn't find them to be as unattractive as Walgreen's chocolate pretzels either.
As for the first bite, I must say, I was rather impressed. The chocolate on the pretzels was rich and flavorful, the salt-to-sweet ratio was just right, and the mouthfeel was on point. Given their fairly inexpensive price point, I'd definitely recommend these for a satisfying chocolate craving – they even come with an oh-so-appreciated resealable package, to boot. Sweet!
5. Flipz White Fudge Dipped Pretzels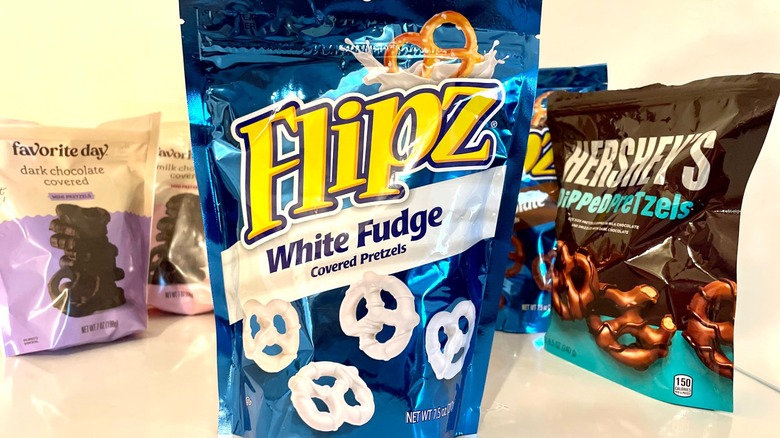 Mashed/Amber Winston
I don't know what it is about white chocolate that gets me in a tizzy, but there's just something about it I absolutely adore. Still, there are some types of white chocolate out there that can taste rather off-putting, so when it came to trying these Flipz White Fudge Dipped Pretzels, I wasn't sure what to expect.
With great anticipation — and a dash of caution — I took a bite, and I must say, I was impressed. The white chocolate evenly coated each pretzel and delivered an intensely dynamic flavor with each bite. If you're a true white chocolate fan, I'm certain you'll enjoy these as the coating is high quality and tastes nothing like what some lower-quality white chocolate varieties tend to pump out.
As for the texture of these pretzels, I'm thinking average. They aren't particularly crispy, but they aren't stale, either. As for the salt-to-sweet ratio, I honestly taste no salt with this variety. Nevertheless, the white chocolate itself is delicious enough to hold its own, and thus nothing is lost in terms of flavor despite its lack of salty balance.
4. Hershey's Milk Chocolate Dipped Pretzels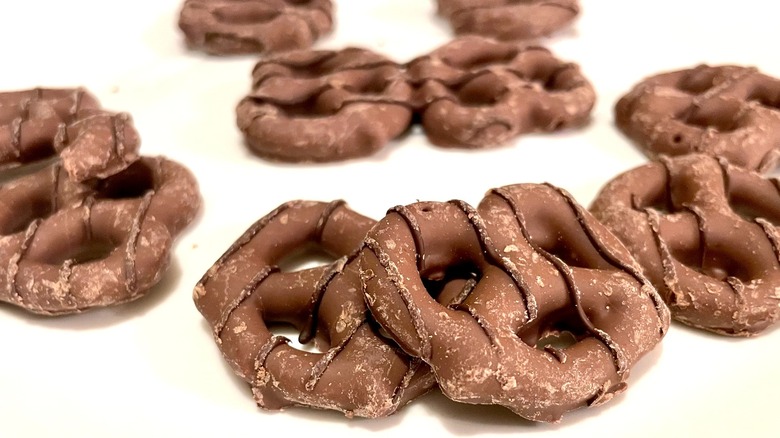 Mashed/Amber Winston
Well, these ended up being a sight for sore eyes. One of the prettiest chocolate-covered pretzels I've seen, there was much to love about Hershey's Dipped Pretzels, which are covered in milk chocolate and drizzled with dark chocolate. First and foremost, while the image of the package doesn't exactly portray what you'll get in the bag, I'm willing to admit, it was pretty darn close. The chocolate was smooth, and the drizzle was on point, making for a great first impression even before it hit my tongue.
Upon tasting the pretzels, I found myself pretty blown away by the flavor. The chocolate on these babies was pretty stellar. There was a high-quality depth to it that I appreciated even more given the several flops I'd experienced from the lineup thus far. Not only this, but the pretzel had a pretty decent salt-to-chocolate flavor ratio — though if I'm honest, I do prefer a bit more salt than what Hershey's was able to provide.
Nevertheless, Hershey's chocolate-covered pretzels are nothing short of spectacular. If you're a big chocolate-covered pretzel fan and are looking for one that's a safe bet, I'd highly recommend you give these a try. They even come in a large resealable pouch!
3. Freshness Guarantee Pumpkin Pie Dipped Pretzels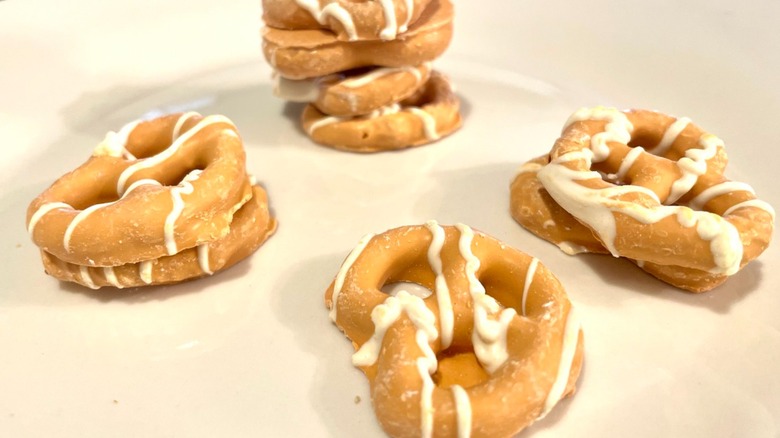 Mashed/Amber Winston
What an interesting find from Walmart! I must say I didn't have high hopes for these Pumpkin Pie Dipped Pretzels, mainly because I wasn't sure how well Walmart would pull off the pumpkin flavor. At first whiff, I was immediately taken back to my days as a child, as the smell reminded me of those iced animal crackers us '90s kids used to eat in droves. And though the smell didn't exactly scream "pumpkin," at this point, I had a hard time believing this could taste anything else but very, very good.
Upon first bite, I must say, I wasn't disappointed. The taste of these pumpkin pretzels matched the smell exactly: It was light and creamy, with hints of sweet vanilla. As for the pumpkin flavor, I wouldn't say it was prominent, though I could tell there was a light essence of spice there that worked to give it that festive edge perfect for the fall season.
All in all, I think I now know why these kept flying off the shelves at my local Walmart; these tasty snacks have just enough spice to satisfy the pumpkin spice fan while also remaining docile enough not to offend those who despise pumpkin flavors. It's a win!
2. GLUTINO Fudge Covered Pretzels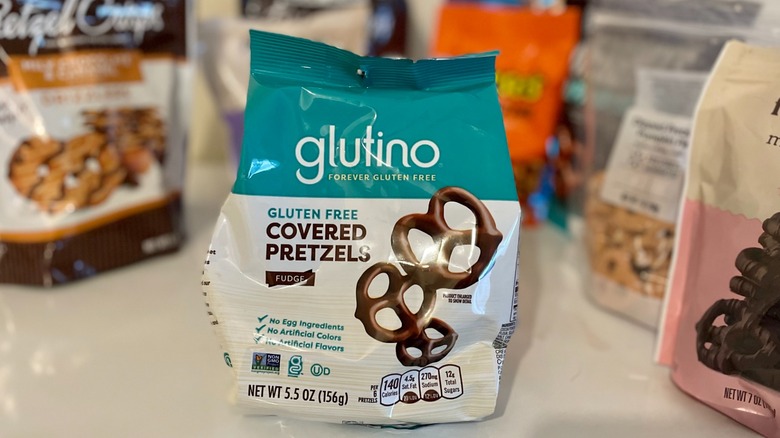 Mashed/Amber Winston
Man, oh man, I was caught off guard by these. As a person who is very familiar with gluten-free cuisine, I was shocked at how delicious these were. Anyone who knows gluten-free knows that traditional versions of certain snacks tend to taste way better than their wheatless counterparts. Because gluten-free snacks lack the same texture and flavor as the snacks most of us are used to, they're usually tolerated as an alternative but not preferred in terms of texture and flavor.
That is until you encounter a rare snack like GLUTINO Fudge Covered Pretzels. I found these to be insanely delicious, much better than many of the other "regular" pretzel types found on this list. The texture of the pretzels was light and airy, which made for the perfect crispy crunch. There was absolutely no weird aftertaste associated with this gluten-free treat, and the chocolate? It was amazing! This is overall a very high-quality and great-tasting snack for those avoiding wheat and even those who aren't. The only two downsides are that they don't come in a resealable package, and the price point is a little steep compared to others. Outside of those qualms, these are darn near perfect.
1. Reese's Milk Chocolate Peanut Butter Candy Dipped Pretzels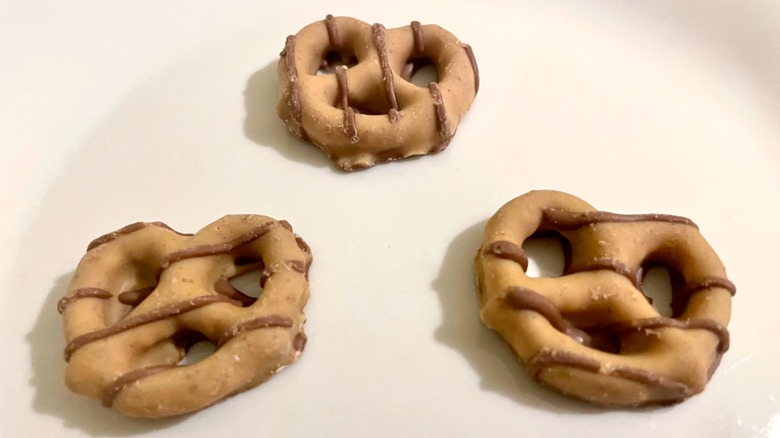 Mashed/Amber Winston
Where have these been all my life? Seriously — if you're a Reese's Cups fan, you'll definitely want to check out Reese's Milk Chocolate Peanut Butter Candy Dipped Pretzels. This scrumptious treat managed to deliver on a variety of levels, including taste and overall appearance, making it one of my favorite picks out of the entire lineup.
First, I'd like to highlight how beautiful these pretzels looked. They were smooth and luscious looking, much like the image on the package — a very rare feat for chocolate-covered pretzels. Apart from how they looked, I was equally impressed by the flavor. Those who love the taste of anything Reees's will go mad for these, though I do think the taste is slightly more subtle than what you'd get if you were to eat a real Reese's Cup. It may just be the addition of pretzel that dulls the flavor a bit, but you can taste the peanut butter, especially on the backend.
Yes, the bag is a bit smaller than I'd like, and no, the bag isn't resealable. Nevertheless, I'd highly recommend checking out these peanut butter and chocolate-covered pretzels; if you love peanut butter as much as I do, I'm confident you'll fall in love with these.