Weird McDonald's Breakfast Items From Around The World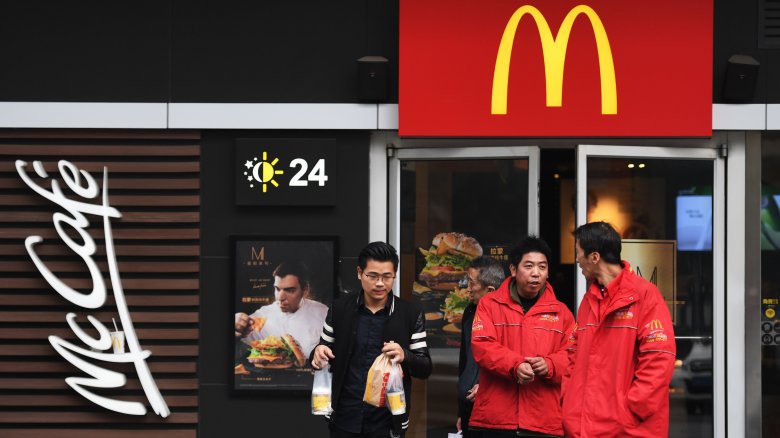 Getty Images
McDonald's changed the morning eating game forever when it introduced its breakfast lineup in 1970. Originally conceived by franchisee Jim Delligatti as way to stretch the success the chain enjoyed in the afternoons into the early hours, breakfast at McDonald's really began to make its mark on the restaurant chain's bottom line with the introduction of the Egg McMuffin in 1971.
Fast forward to today, and McDonald's breakfast continues to drive big numbers for the chain. And if you're a regular customer, you understand why — those neat stacks of all the American breakfast essentials, including eggs, cheese, bacon, and sausage are inexpensive, convenient, portable, and delicious.
Hit up McDonald's for breakfast more than a few times a month, though, and you may start to notice a little bit of menu burnout. After all, there are only so many ways to arrange the same three or four breakfast items, and once you've chosen between folded egg or round egg, bacon or sausage, or biscuit or English muffin, there aren't many avenues left to explore. Until, that is, you start exploring overseas locations of the famous chain, where foreign breakfast menu items range from inventively delicious to downright bizarre. Let's explore some of the more unusual breakfast items you'll find at Golden Arches locations around the globe.
United Kingdom: Bacon Roll
For bacon lovers, it doesn't get much better than the so-called "Bacon Butty" that hungry Londoners are busily munching across the pond, while (presumably) recounting football scores and over-apologizing for minor social missteps. In its most typical iteration, a bacon butty consists of a warm, lightly crusty roll or white bread, spread with butter, maybe a dap of HP sauce or ketchup, and as much meaty, lean back bacon as a human being can lift with one hand, served warm. The sandwich is so beloved, that a poll by the Daily Mail named the simple sandwich the number one thing that locals love most about living in Britain.
With loyalty for the bacon butty at an all-time high, it wasn't long before McDonald's decided to try to get in on the action, introducing their Bacon Roll to UK breakfast menus. According to Vice, customers are given the choice between ketchup and brown sauce when they place their order, but after that, things kind of slide downhill. "The bread is slightly squashed and not fully toasted, but opens to reveal a generous two rashers of bacon underneath a smear of sauce. No butter." So much for that "perfect bread roll" the menu description promised.
New Zealand: NYC Benedict Bagel
When the now-legendary Egg McMuffin was first dreamt up as part of McDonald's expanding breakfast menu back in 1971, it was originally conceived as a sort of "portable eggs Benedict." The problem, immediately obvious to anyone that's ever been inside of a car, was that the twin goals of "keeping runny hollandaise sauce off your lap" and "executing lane changes at 70 miles per hour" didn't exactly fit together, making a truly portable eggs Benedict somewhat out of the question for a stateside audience.
Not so in New Zealand, where Kiwis get to feast on the NYC Benedict Bagel. This unique breakfast specialty features a freshly-cracked round egg, crispy bacon, cheddar cheese, and creamy hollandaise sauce, all stacked high on a lightly toasted "NYC" bagel — because if there's one thing that sums up hundreds of years of a major city's globally-reaching impact on culture, art, fashion, and technology, it's boiled bread.
Germany: McToast Ham
Take a quick glance at the McDonald's Deutschland breakfast menu and you'll see some bread options that we don't have here in the States.
While traditional McMuffins are available (in addition to more interesting regional varieties, including fried chicken and a version that adds a sizzling layer of beef to the standard bacon, egg, and cheese sandwich), the big draw on Germany's breakfast menu seems to be McToasts, a sort of crispy folded flatbread situation packed with bacon, egg, and cheese, or tomatoes, egg, and cheese. 
But our interest was piqued most by the McToast Ham, a curious combination of both pasteurized processed American cheese, cheddar cheese, and a nest of julienned ham, each thickly sliced ham-rod cut into perfectly uniform pink matchsticks of porky goodness. Any day that starts with a warm pouch of melted cheese goo, without any pesky eggs to get in the way, is just fine by us.
China: Sausage N' Egg Twisty Pasta
If there's one nation on Earth that challenges our notion of what a hot, delicious, satisfying breakfast can be, you have to stand in absolute awe of China. On the Chinese McDonald's breakfast menu, you'll find the requisite standard-issue McMuffins and gigantic hotcake platters, but dig a little further, and you'll see a few surprises.
The Sausage N' Egg Twisty Pasta is part of a lineup of McDonald's soups that are intended to be eaten for breakfast. Each soup features twisty spirals of cavatappi pasta, mixed vegetables, and your choice of a chicken or tonkotsu broth. From there, you can choose to add a flat patty of breakfast sausage, a piece of boneless grilled chicken, or a slab of ham, and a round-cooked egg "from the U.S.A."
Once you get past your cultural assumptions about the appropriate time of day to eat soup, the Travelling McDs blog says that the line of Twisty Pastas aren't half bad. "The noodles are always cooked well, and the broth isn't overly salty at all. The sausage & egg are the same you would have on a McMuffin... and because its soup, you might even get a little vegetable in you. It's a much better value than a McMuffin set, which costs about the same and is much less filling."
Mexico: McMolletes
Even with all of the different regional menu items available on McDonald's breakfast menu boards around the globe, the company hasn't successfully found many opportunities to introduce "a creamy layer of protein-packed refried beans" into their offerings. Until now.
In Mexico, molletes are a common breakfast staple. The traditional preparation tops a griddled or toasted bolillo roll with a thin layer of refried beans, crumbled queso fresco or salty cotija cheese, with a spoonful of pico de gallo. It's a simple, hearty, budget-friendly breakfast; in other words, perfect for adaptation for McDonald's Mexico breakfast menu.
The McMollete includes three toasted English muffins, each topped with a spoonful of refried beans, a slice of white American cheese, and a spoonful of chunky Mexican salsa. While it's a delicious way to start the day, and McDonald's prices in Mexico are typically lower than they are in the United States, they're still high compared to many other dining establishments in other parts of that country. The same meal can probably be purchased at the cocina economica down the street for much less.
Turkey: Breakfast Plate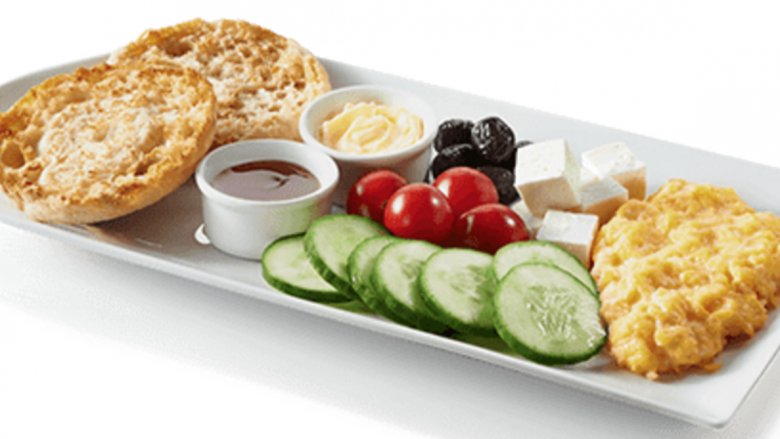 McDonald's
If you're burned out on greasy fast food breakfasts, all you have to do is hop a plane to Turkey and get yourself straight to the nearest McDonald's, where you can enjoy this seemingly healthier take on a typical breakfast. The Turkish Breakfast Plate includes a toasted English muffin, scrambled eggs, and a smorgasbord of lighter fare, including sliced cucumber, olives, cherry tomatoes, and a few cubes of salty cheese.
If you're looking to the Turkish Breakfast Plate as a way to cut fat and calories, however, you'd better look twice. Though the ingredients may look healthier than the typical McDonald's stack of fat-on-carbs-on-cheese-on-pork, the nutritional information is actually kind of horrific. The breakfast plate manages to include 745 calories, almost 70 grams of fat, and a whopping 43 grams of ridiculously unhealthy trans fat. Those numbers put the meal much closer to the McDonald's Big Breakfast found in the United States, olives be damned.
Australia: Big Brekkie Burger
Finally. Our early morning cravings for cheeseburgers can be met, and all it takes is a 16-hour flight to Australia. That's where you'll find the Big Brekkie Burger, the Aussie take on breakfast that's making us seriously consider surrendering our passports and starting a new life in the outback.
Available until 10:30 a.m., the Big Brekkie Burger is a dream come true for morning burger-eaters. It combines a 100 percent Aussie beef patty with a freshly-cracked round-cooked egg, a few strips of crispy bacon, a slice of melty cheese, and a layer of crispy McDonald's hash browns, topped with "a generous dollop of BBQ sauce" on a sesame seed bun.
If a $3,600 airline ticket isn't in the budget right now, you can hack together this burger yourself, thanks to the all-day availability of McDonald's breakfast here in the States. Order a plain Quarter Pounder, and an Egg McMuffin, substitute bacon. Throw in an order of hash browns and a side of barbecue sauce, and prepare to get your hands dirty. It's a small price to pay for greatness.
Saudi Arabia: Halloumi McMuffin
We all know that cheese is basically mankind's most perfect food. But you know what makes it even better? Cheese that you can slap on a hot grill and instead of melting into a pile of griddled, broken fat, it sears like a steak into a slab of toasty, crispy-on-the-outside, soft-on-the-inside perfection that you can eat with a knife and fork. That's halloumi, and that's the basis for the Halloumi McMuffin, served strictly at McDonald's Arabia, which includes Saudi Arabia, the United Arab Emirates, Kuwait, Qatar, Oman, and Bahrain.
This fresh take on a greasy McMuffin starts with the familiar standard-issue English muffin, but replaces the sausage or bacon layer and that worthless floppy egg disk with a seared, squeaky slab of hot halloumi, topped with lettuce, tomato, and a swipe of olive paste, because anytime you can add the salty brine of pureed olives to a sandwich, you absolutely should.
China: Egg and Cheese Burger
Sometimes, the simplest menu items are the best, and this is typified perfectly with the stripped-down, no-nonsense Egg & Cheese Burger, available at McDonald's locations in China. The "burger" includes a round-cooked egg, a slice of American cheese, and a light squeeze of ketchup and mayonnaise, served on a classic McDonald's cheeseburger bun. The only thing you won't find on the Egg & Cheese Burger is any actual burger — here, the fresh-cracked egg is the featured player in this sandwich.
The idea makes perfect sense to us; after all, if you're chowing down on a McMuffin or two at 7 a.m., it's probably secretly because what you really want is a burger, and McDonald's (as well as society at large) won't sign off on such a thing. The Egg & Cheese Burger moves us one step closer to dropping the façade, and putting burgers front and center on the breakfast menu, where they rightfully belong.
Spain: Capricho de Tortilla de Patata
Ever wish you could translate the Spanish tapas-eating experience into fast food breakfast form? In Spain, the traditional tortilla de patata — a sort of thick, fluffy, cake-like omelette made with eggs, potatoes, and onions that is fried in oil and typically served cold — gets the McDonald's McMuffin treatment.
The Capricho de Tortilla de Patata sounds incredible: A huge layer of fluffy eggs and potatoes, topped with some sort of fresh tomato jam and a drizzle of extra-virgin olive oil. But the biggest standout is the roll that it's served on. Unlike the usual sad, anemic, nutrient-free rolls so common to the McDonald's sandwich eating experience, the Capricho de Tortilla de Patata is served on a hearty, rustic-looking roll with plenty of crunchy texture and chew. Close your eyes and take a bite, and you may be able to convince yourself that this breakfast was made in an adorable Spanish café, instead of by a huge, multinational quick-service food factory.
South Africa: Chicken McMuffin with Egg
Fried chicken is delicious. Fried eggs are delicious. But we have to admit that the notion of eating both fried eggs and fried chicken in the same bite gives us a touch of the gastrointestinal heebie-jeebies. And if you add in processed cheese and mayo? You're really rolling the dice. 
If you do have a hankering for this forbidden fruit, however, you need only book a trip to South Africa, where you can find the Chicken McMuffin with Egg hatching on menus across the country. A toasted English muffin, topped with a slice of American cheese, a round-cooked farm fresh egg, and a crispy breaded chicken fillet to round out the meal. For some reason, McDonald's South Africa also adds "creamy mayonnaise" to this sandwich, which only serves to make the whole experience seem that much worse. (Or better, depending on your particular gastrointestinal capabilities.)
Indonesia: Bubur Ayam Spesial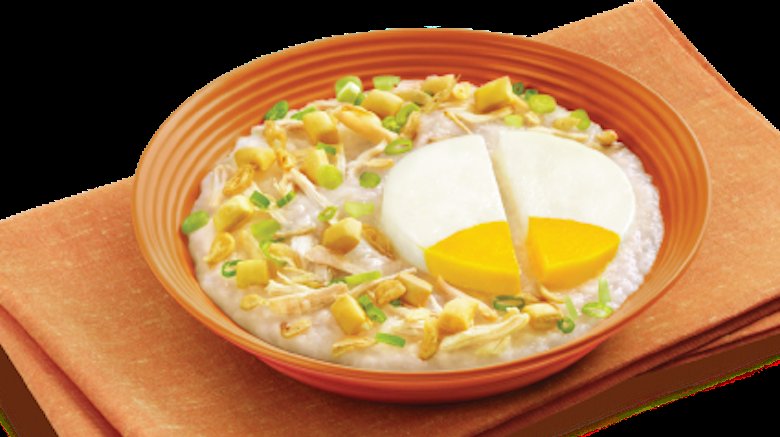 McDonald's
Just when we thought our aversion to eating chicken and eggs at the same time couldn't grow any worse, McDonald's Indonesia drops this early-morning flavor grenade in our laps and changes our understanding of life as we know it: Bubur Ayam Spesial, which loosely translates as "Special Chicken Porridge."
Details on this brothy bowl of rice are scarce. A quick translation from the McDonald's Indonesia website describes the dish only as "Delicious Chicken Porridge for your breakfast in the morning," which could mean almost anything. The folks at TravellingMcDs elaborate: "Both the rice congee and the chicken on top were hot and fresh... it seemed to have about the equivalent of a chicken wing or two worth of meat shredded on top. I was yet again impressed by the fresh Thai spices that were used in the meal."
Whether or not you agree with the notion of eating chicken porridge for breakfast, it sounds like it would still beat the pants off another cinammony bowl of gluey instant oatmeal.
Russia: Rolls with Cottage Cheese, Raisins, and Dried Apricots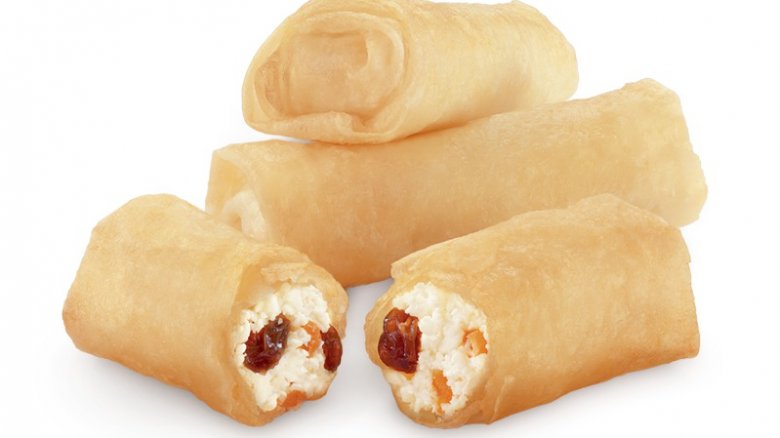 McDonald's
We were a little shocked by how far from the tried-and-true McDonald's breakfast format Russia's Rolls with Cottage Cheese, Raisins, and Dried Apricots strays. It's one of the few foreign McDonald's breakfast dishes (along with Bubur Ayam Spesial, of course) that doesn't feel like it has any sort of American counterpart; there's quite simply nothing on the familiar stateside menu that looks anything like this.
The unusual rolls, which are small, crepe-like blinis stuffed with a mixture of cottage cheese, raisins, and chunks of dried apricot, are a part of McDonald's Russia's commitment to "go local," by sourcing ingredients from within the country (reportedly 98 percent of their products are sourced locally). The initiative isn't entirely altruistic; the thinking is that by keeping flavors local, growing tensions between the United States and Russia won't have as big an impact on the continued Russian expansion by one of the most iconic symbols of Western influence.
Costa Rica: McPinto Deluxe
Here's a breakfast platter we'd really love to see make its way to the menu here in the United States: The McPinto Deluxe, available on morning menus at McDonald's locations in Costa Rica. 
It includes black beans and rice, scrambled eggs, sausage, tortillas, fried plantains, and cremosa natilla, a type of traditional vanilla-flavored sweet custard. The scrambled eggs and the griddled sausage patty look like the same standard-issue versions served at locations here in the United States, but the protein-packed potential of the beans and rice makes it a sensible way to start your day in the sunshine. Imagine piling everything on that plate into a warm, fluffy tortilla, adding a little smuggled-in hot sauce, slurping some strong coffee, and beginning your day the Costa Rican way. It sure beats the heck out of eating yet another Egg McMuffin or a boring old bagel with cream cheese while you commute to that job that you hate.