Here's What These World Leaders Eat In A Day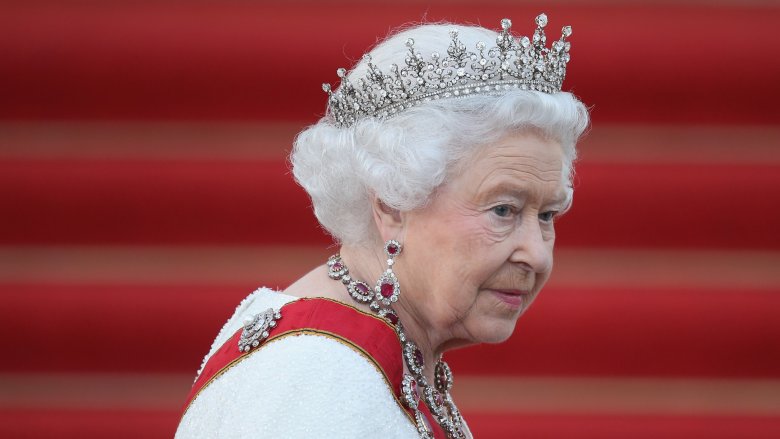 Sean Gallup/Getty Images
Many, many things divide the leaders of the world. Politics is the biggest, of course, but it's not the only one — and even the personal lifestyles and day-to-day routines of the various leading figures of planet Earth can be as different as chalk and cheese. Naturally, then, you'd expect the things they eat to vary wildly, too.
And they do. Some world leaders are positively humdrum in their eating habits — preferring the same old things over and over, for example, or sticking to simple recipes with few ingredients. Others, however, enjoy only the most lavish of foods and are far more likely to be spotted at a banquet than they are in the kitchen. Some eat healthily, others like to pig out; some drink alcohol, others won't touch a drop of the stuff. At the end of the day, of course, these people are people, and they come with their own tastes and preferences. From presidents to popes to populists, here's what these world leaders eat in a day.
Joe Biden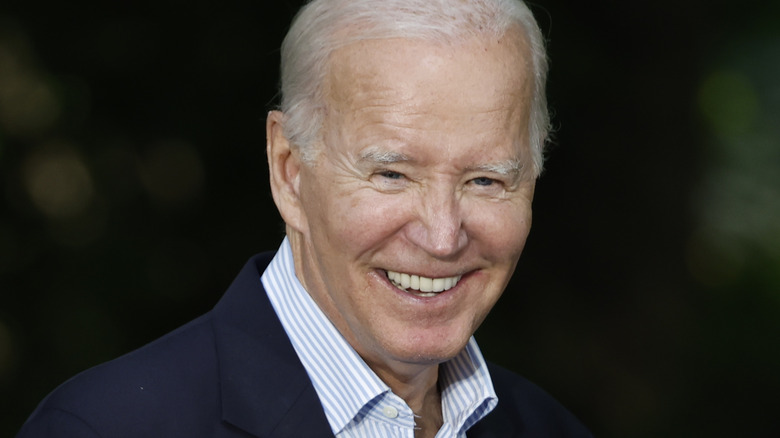 Bloomberg/Getty Images
President Joe Biden has one of the most serious and important jobs on the planet. His culinary preferences: decidedly less lofty. Biden likes comfort food, junk food, and simple-to-prepare, all-American classics and kids' menu staples. Aides past and present told Axios that the president enjoys peanut butter and jelly sandwiches, pizza, BLTs, and ice cream, both on its own and as the beginnings for a sundae. "He's pretty much a basic eater," First Lady Jill Biden told Parade. The president uses a lot of ketchup, while his favorite substantial meal is noodles, she said, adding, "It's pasta all the way. He likes angel hair pasta with red sauce." Biden's beverage of choice: orange-flavored Gatorade.
"My biggest vice is chocolate chip ice cream, no mint," he told Us Weekly upon his inauguration in 2021. His sister, Val, visited the White House in 2021 and reported that he bristled at the evening's dinner of salmon in a pastry shell with a side of vegetables, chosen by his wife, according to Axios. After dinner, the president had a little bit of lemon pound cake and some chocolate chip ice cream.
Donald Trump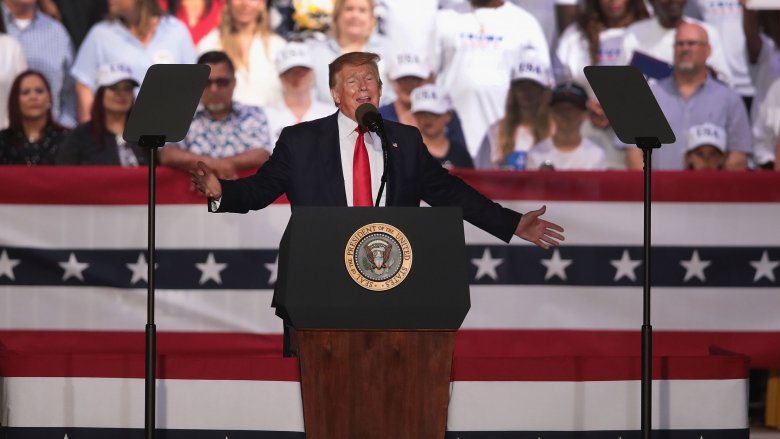 Scott Olson/Getty Images
When he became President of the United States in 2016, Trump's eating habits were widely known. Put simply, Trump isn't exactly the most easy-going of diners, and his tastes do tend to swerve in one particular direction: fast food.
There are few major American fast food chains in which Trump won't eat. In 2016, he told the press that his favorite McDonald's meal is the "Fish Delight," which commentators suggested might have meant the Filet-O-Fish item. Later that year, he tweeted a photo of himself eating KFC (with a knife and fork, for some reason) on his private jet. And then after campaigning in Florida, he sent his driver to Burger King to pick up food for his team. Beyond all that, though, the former President's penchant for serving fast food banquets to White House guests became practically legendary — if a little bizarre.
What else? Well, he eats his steaks burnt to a crisp, of course, if his long-time butler is to be believed. He also scrapes the toppings off his pizza and refuses to eat the dough, and never touches alcohol. A few years back, he also appeared on television and declared the meatloaf sandwich to be his favorite of all. So there you have it: fast food, pizza toppings, meatloaf and over-cooked steaks. Par for the course.
King Charles III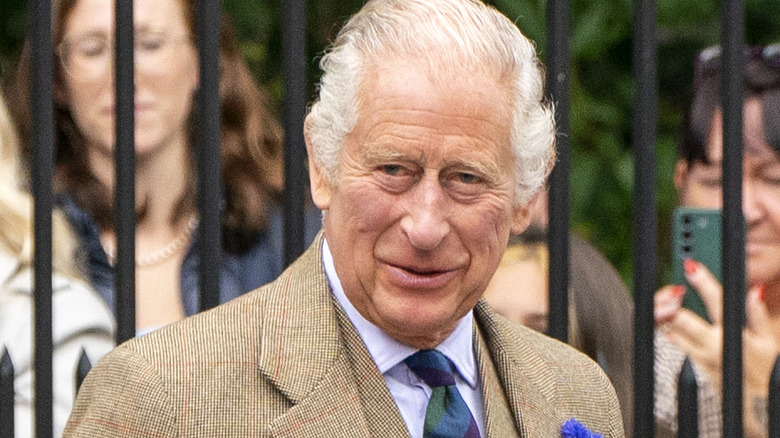 Pool/Getty Images
During his 50 years as heir to the throne and a globetrotting emissary of the English crown, King Charles III frequently spoke about environmental issues and endorsed organic farming. He started his own farm, Highgrove House, and in 1990 began selling foods grown there via Duchy Originals, now the biggest organic foods company in the U.K. 
The kitchens at his royal residences make sure to have plenty of fruits and vegetables from Charles' sources; he's especially fond of the jarred plums. When Charles travels, he brings along a basket full of handpicked breakfast foods. It includes muesli, dried fruit, and six types of honey. He'll also partake in a few plums from his farm, from out of a jar. When lunchtime arrives, Charles skips that meal, preferring to wait for afternoon tea. At around five p.m., the King takes his tea with toast and hard-boiled eggs. Concerned about the environmental impact of large-scale farming, Charles eschews meat and fish twice a week and skips dairy once a week. But when he does dine on meat, he chooses game like pheasant, grouse, and venison, or Scottish salmon.
Rishi Sunak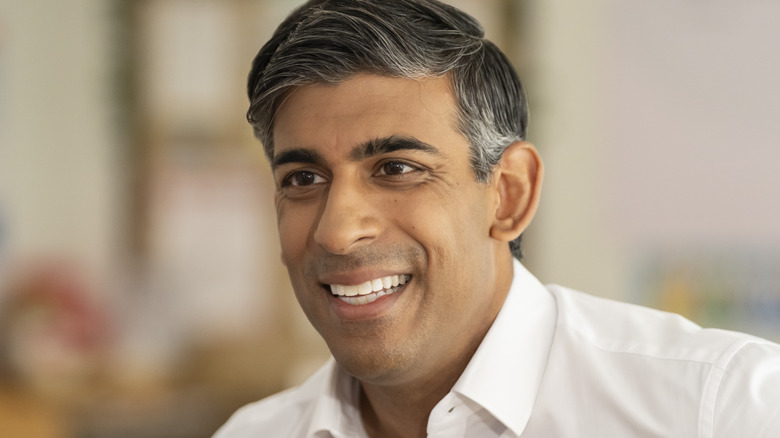 Wpa Pool/Getty Images
Following the resignation of United Kingdom prime minister Liz Truss in October 2022, former finance minister Rishi Sunak won the vote to lead the Conservative Party and was appointed prime minister. A few days after taking office, Sunak appeared on "The Twenty Minute VC" podcast (via NDTV) and talked about his complex breakfast routine. After waking around 6 a.m. for intensive exercise, he'll have a small breakfast, if he isn't doing intermittent fasting. "Otherwise, we have Greek yogurt and blueberries," he said. A few hours later, he hits the carbs and sugar. "I have a second breakfast mid-morning," he said — a cinnamon bun, chocolate chip muffin, or pain au chocolat.
Sunak enjoys a big hot breakfast on Saturday mornings, and then on Sundays, will sit down to pancakes or waffles. "We alternate," he said. "We do the pancakes American style which is crispy and baked with blueberries and strawberries."
If the prime minister feels like a special drink, he goes for a Mexican Coke, the kind made with cane sugar instead of high fructose corn syrup. For the remainder of the day he mostly eats fruit and nuts and a light dinner, such as chicken broth, according to the Evening Standard. But he has been known to eat salads, pizza, and other dishes too. His favorite food, according to Byline Times, is fish and chips.  
Vladimir Putin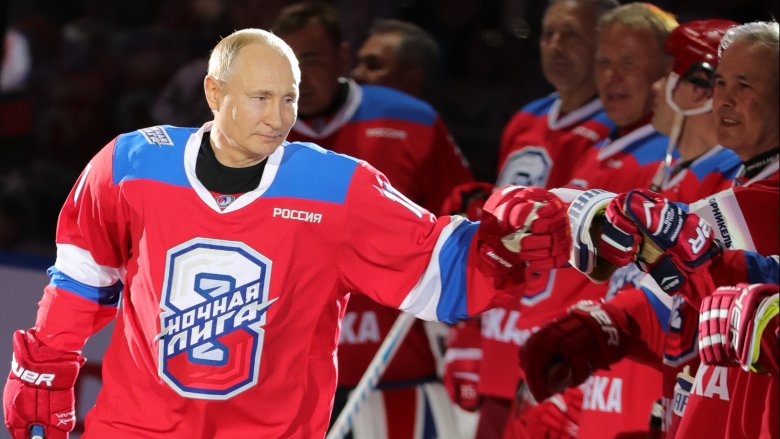 Mikhail Klimentyev/Getty Images
What we know about Putin's diet has largely been cobbled together from his own words, the state media, and various stories from insiders, since so much of the man's personal life is either restricted or made selectively available for the press. What we do know is that he wakes up late and eats breakfast at noon (don't worry, his nights usually run late) and that he doesn't tend to go near alcohol, but loves a cup of coffee after breakfast.
According to Pravda, one of Russia's state news organizations, Putin eats healthily and enjoys tomatoes, cucumbers and lettuce with his meals. How far you choose to believe that, of course, is up to you. But Putin himself has revealed in the past that he often doesn't eat at all in the afternoon — a late breakfast will do that to you, of course — and that he enjoys drinking kefir, a kind of fermented milk drink. On a slightly more relatable level, he does love ice cream, and reportedly counts pistachio as his favorite flavor. On a slightly less relatable level, he regularly eats dishes such as smoked sturgeon, veal tenderloin, salmon and crab coulibiac, caviar, whitefish, and steak at his state banquets — and reportedly has all his dishes tested for poison. Which you would do as well if you were him, wouldn't you?
Angela Merkel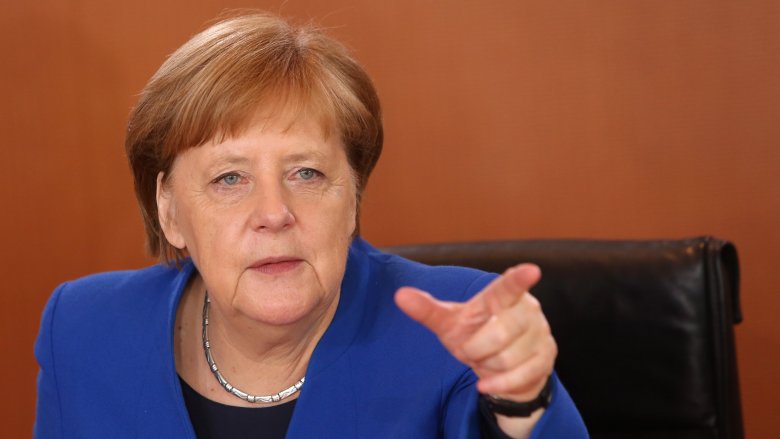 Adam Berry/Getty Images
When she served as Chancellor of Germany, Angela Merkel was unarguably one of the most powerful people on the planet, and was often seen as the human face of German foreign policy the world over. So maybe it's fitting that her eating habits are so firmly rooted in her — and central Europe's — history.
In a 2010 magazine interview, Merkel admitted to having one peculiar dietary habit: hoarding. "I still buy something as soon as I see it," she explained, "even when I don't really need it. It's a deep-seated habit stemming from the fact that in an economy where things were scarce you just used to get what you could when you could." Merkel had grown up in communist East Germany, where food was hard to come by and citizens were forced to spend time queuing to get supplies.
Her favorite foods have also been shaped by her upbringing in the German Democratic Republic. She told the magazine that classic eastern European dishes such as solyanka (meat and pickled vegetable soup), letcho (a vegetable stew which comes from Hungary) and shashlik (a kind of spicy kebab) were among her favorites. Even the washing up liquid she buys comes from an East German brand.
Theresa May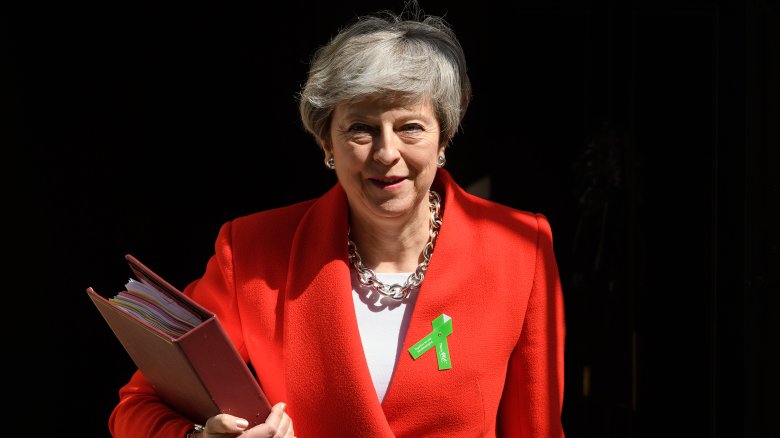 Leon Neal/Getty Images
While some leaders tend to prefer the comforting embrace of a fast food meal or the absurd lavishness of a state banquet, others prefer to keep things in the kitchen. Such is the case for former British Prime Minister Theresa May, whose taste for home cooking has been widely reported in the media.
In 2017, The Guardian reported that May had over 100 cookbooks in her collection. Of these many recipes, one of her absolute favorites comes from Diana Henry, a chef from Ulster, Northern Ireland. In her book Cook Simple, the critically acclaimed food journalist wrote down a recipe for baked chicken with tarragon and Dijon mustard. May's other favorite dishes included marinated rack of lamb with coriander and honey (a recipe by Israeli-British chef Yotam Ottolenghi) and spice and salted squid (by Sabrina Ghayour).
That same year, May was asked during a radio interview with LBC which dish she'd cook for Donald Trump if the two sat down for dinner. "I might do something like a slow roast shoulder of lamb," she said. "Making a really slow roast, so it falls off the bone — absolutely gorgeous."
She might be better off serving it in a KFC bucket if she's to have any hope of getting him to eat it, mind you.
Justin Trudeau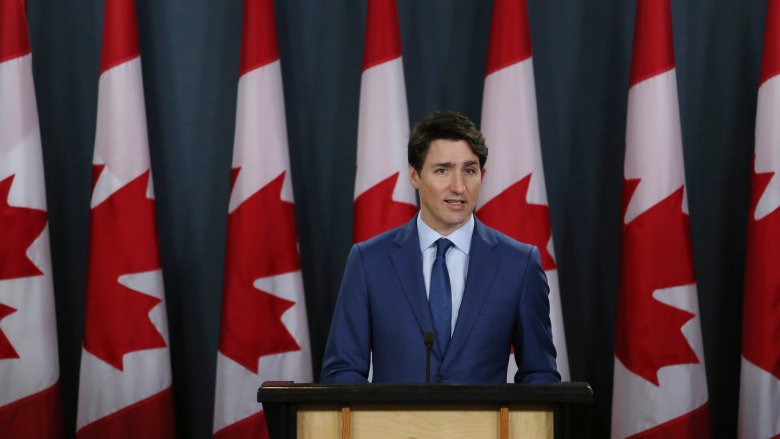 Dave Chan/Getty Images
Since becoming Prime Minister of Canada in 2015, Justin Trudeau has become something of an internet sensation — despite the occasional misstep. Unsurprisingly for a politician who is so apt at playing up to his charisma, Trudeau has been relatively forthcoming with details about his personal life and daily routine.
In 2015, the then-candidate for Canada's top job sat down with Huffington Post to reveal (among other things) some of his eating habits. In that quick-fire interview, he explained that he doesn't drink coffee, enjoys Asian food, prefers beer over wine, and counts Montreal's Sakura Gardens as his favorite restaurant. Sakura Gardens is a Japanese restaurant that was opened in 1973 by Noriko Ishii, a chef who was inspired into opening the Gardens after traveling from Moscow to Paris and finding only one Japanese restaurant.
Considering Trudeau's fondness for Asian food, it might seem unsurprising that he used it to take shots at himself during a 2019 Press Gallery Dinner. "I was hoping for sushi," he told attendees. "I love Chinese food." The joke, in reference to his mix-up of Japan and China in front of Japanese Prime Minister Shinzo Abe a week earlier, nonetheless sparked controversy in China itself, among internet users who claimed that sushi does have a strong connection to Chinese heritage.
Emmanuel Macron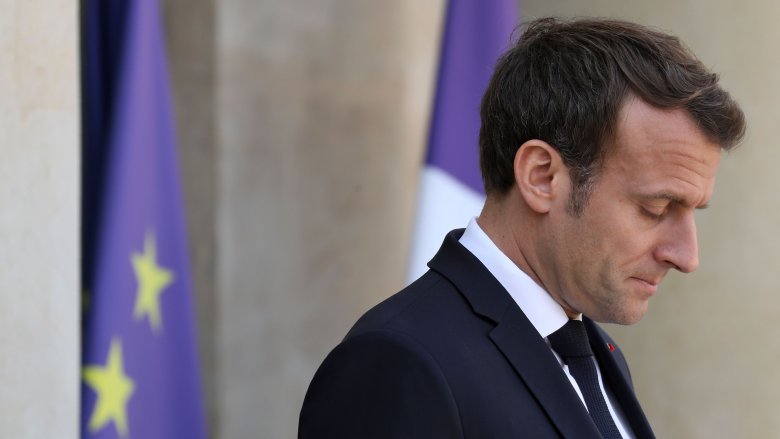 Ludovic Marin/Getty Images
Emmanuel Macron's eating habits can be summed up in no more than two words: unmistakably French. In 2017, the Elysee Palace's head chef revealed that only French products are ever served at the president's table (with the exception of coffee), and priority is given to fruit, vegetables and dairy products made less than 100 kilometres from Paris. Apparently, Macron himself is particularly partial to cordon bleu, a dish of meat (often veal or pork) wrapped around cheese, breaded and fried. Considering Brigitte Macron's reputation for healthy eating, of course, it's perhaps inevitable that Macron takes some collateral in that sense — though we can't know for sure, there's a good chance Macron partakes in his wife's 10-a-day fruit habit. 
Otherwise, the other major presence in Macron's diet is (again, inevitably) wine. In fact, his presidential wine cellar is made up of 14,000 bottles produced from around France. Supposedly, wines from outside France are not welcome in the cellar, and the oldest bottle is said to be a Sauternes that dates back to 1906. But then, maybe that's just the kind of opulence you'd expect from a man who once spent well over $50,000 on plates.
Narendra Modi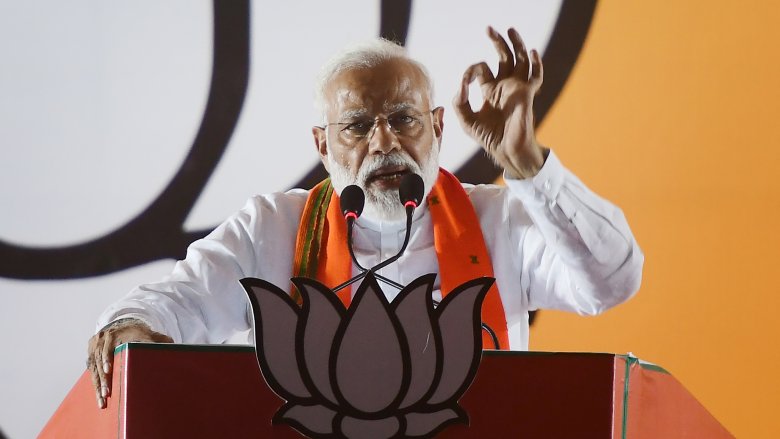 Sanjay Kanojia/Getty Images
Back in 2018, Sanjeev Kapoor — a popular chef who was invited to cook for India's Prime Minister Narendra Modi during a visit to the United Arab Emirates — revealed some of the details of Modi's eating habits. "Our Prime Minister is a dream to cook for," he told Gulf News (via Times Now). He is not fussy and loves unpretentious food. They needn't be fancy, so we concentrate on making it nutritious and healthy. He has such a busy schedule, so I made sure that he ate food that gives you energy."
The menu during Kapoor's dinner included beetroot minced kebabs, dal and rice, while the Prime Minister's breakfast consisted of flat-bread with grains such as millets and rice. "He believes in simple vegetarian food," Kapoor explained, "and is a believer that food is a great way to learn about each other's countries and cultures ... So there was a lot of food that fused elements from India and the UAE."
Benjamin Netanyahu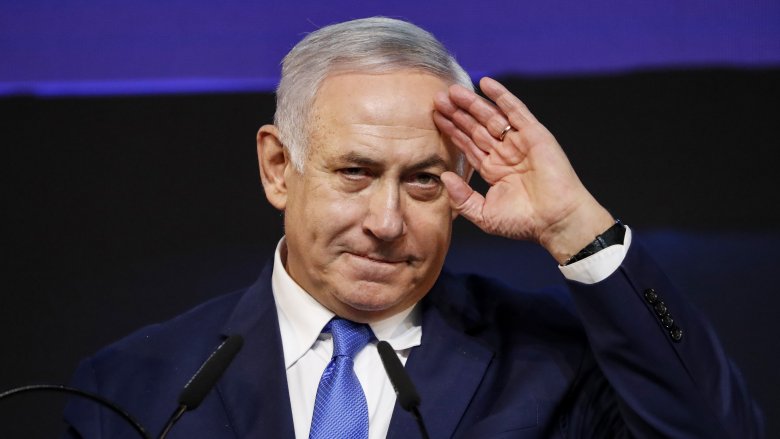 Thomas Coex/Getty Images
Not too much is known about the Israeli Prime Minister's eating habits, but one thing is certain: The guy really likes ice cream — a little too much, it seems. In 2013, it came to light that Netanyahu had set aside a budget in excess of $2,000 to satisfy his cravings for ice cream. This budget, which was used at Metudela parlor on Balfour Street in Jerusalem, allowed the Prime Minister and his family to eat around 14 kilograms of ice cream every month. That parlor was chosen because it catered to Netanyahu's own tastes, which included vanilla and pistachio.
Otherwise, however, Netanyahu's diet seems pretty clean. One of the country's lawmakers has revealed in the past that the Prime Minister and his family are making a move toward vegetarianism — even if he hasn't quite gone full veggie. During meetings, Netanyahu is said to enjoy eating fruit and vegetables, and outside of work he likes to snack on nuts and raisins. No real cardinal sins, then. Not aside from spending thousands of dollars a year on pistachio ice cream, that is.
Kim Jong-Un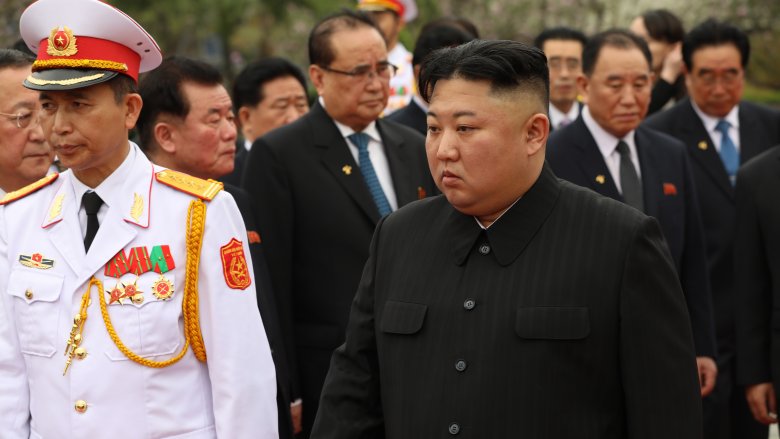 Getty Images/Getty Images
Considering North Korea isn't exactly known for the bounty of its harvests, you might think the country's leader lives on as sparse a diet as his people. Of course, if you actually know anything about North Korea, you'll know that's never going to be the case.
Kim Jong-Un's eating habits are lavish, to say the least. According to Metro, the despot is particularly fond of Emmental cheese, and actually ate so much at one point during his reign that he had to step out of the limelight to recover, after importing a shedload of it from Switzerland. He also takes after his late father in enjoying sushi, and the family once employed its own sushi chef. His steak tends to be kobe, of course, being one of the most expensive cuts in the world, and Kim also loves salami, pepperoni, ham, and prosciutto.
Drinks-wise, you're looking at coffee (on which $941,812 was spent from his budget in a single year) and alcohol (with around $30 million a year of high-end liquors imported into the country for his personal consumption). Oh, and obviously he consumes snake wine, too — a drink that comes with a dead cobra in the bottle that is said to improve virility. No surprises there, then.
Pope Francis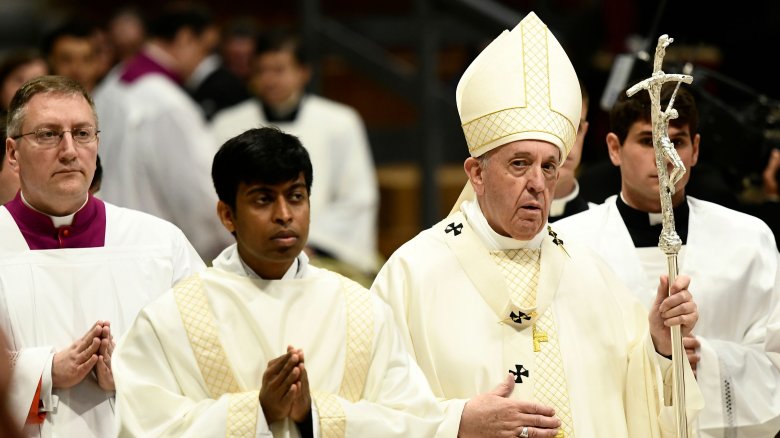 Filippo Monteforte/Getty Images
The pope's diet is something of a dichotomy. On the one hand, he does like to keep things real simple. He rarely eats at the restaurants usually frequented by other senior Vatican officials and chose a simple pasta dish as his first dinner after election to the papacy in 2013. Usually, his dinners consist of things like baked chicken with salad, fruit, and a glass of wine every now and again. His breakfasts are equally basic. They're taken in the hotel dining room at the Casa Santa Marta, and are usually made up of orange juice and membrillo, a kind of gelatinous pasta made from quince. He's also known to occasionally show up to the Vatican canteen and eat with the staff there.
On the other hand, everything he does eat is made with some of the finest ingredients in the world — with many of the crops, plants, and animals used to feed him grown at the incredible Castel Gandolfo estate in rural Italy. He's also a great lover of wine and has often lamented the very idea of a wedding celebration taking place without it — and that's backed up by scripture, by the way. His meals when traveling are also often as extravagant as his entourage, and he frequently gets the opportunity to dine in some pretty fabulous restaurants. All in all, his diet seems like that of a simple man thrust into a life of sheer luxury. That's Francis, for you.
The Dalai Lama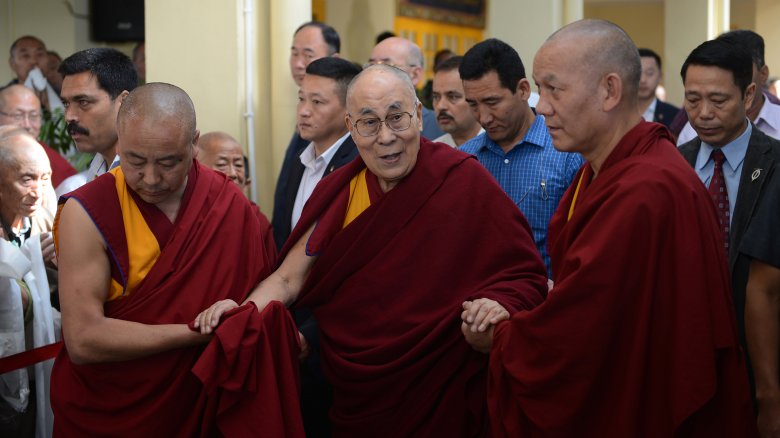 Lobsang Wangyal/Getty Images
The Dalai Lama's diet isn't too far removed from that of the pope. He's restrained in many ways — by not eating dinner at all, for example, as Buddhist monks and nuns are forbidden from eating after midday. His first meal of the day happens before most people have even woken up and often consists of porridge, bread, tea, and tsampa (a kind of flour made with roasted barley and mixed with yak's milk).
He's also a big fan of noodles of all kinds, enjoys dumplins known as momo, and drinks tea in the evenings. Like the pope, he likes to eat out on the road, and the restaurants chosen to cook for him are often susceptible to intense scrutiny by his security detail. Oh, and he once claimed to John Oliver that he cured Mongolia of alcoholism through the power of horse milk. So there's that.
One big question that surrounds the Dalai Lama's eating habits is that of vegetarianism. In 1959, he adopted a lacto-ovo vegetarian diet in an attempt to adhere to Buddhist beliefs against killing. After only 20 months, however, he contracted hepatitis and gallbladder disease and was forced to resume eating meat. In 2010, he told NDTV that he does eat meat a few times a week, but otherwise he tries to stick to life as a veggie.
Queen Elizabeth II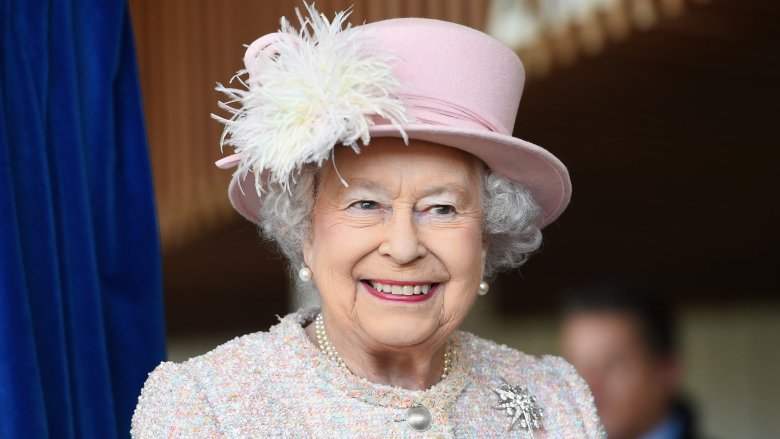 Stuart C. Wilson/Getty Images
The late Queen's eating habits were best understood through her daily routine. She woke up at 7:30 a.m. and took a pot of Earl Grey tea in some fancy bone china with a few biscuits, just before breakfast. Her breakfast spread included cereal, yogurt, and toast with marmalades, the latter of which she particularly enjoyed.
Just before lunch, she drank a gin and Dubonnet with a slice of lemon and ice. (But then again, who doesn't?) Lunch was served around 1 p.m., often made up of fish with vegetables — her personal chef told The Telegraph in 2012 that she might have eaten grilled Dover sole, for example, on a bed of wilted spinach with courgettes. Next, she'd have afternoon tea, which the Queen ate every day. This was made up of cakes, finger sandwiches, jam sandwiches, and tea. In the evening, she had another gin and Dubonnet, before eating dinner — which often involved game or fish from her estates, with fresh fruit for dessert. And what was her last drink of the day? Champagne, of course. As if it would have been anything else.