The Most Outrageously Priced Menu Items Ever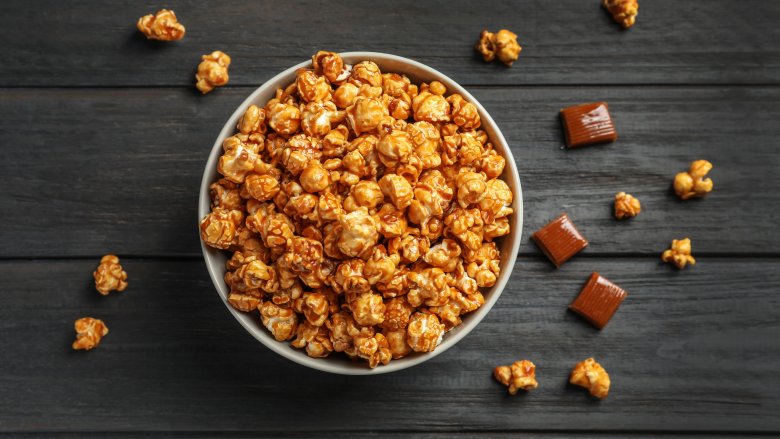 Shutterstock
Few things in life feel better than the first bite of a great meal. That goes doubly, of course, if we're talking about comfort food. After all, how could you beat a good pizza, a towering burger, or a mouth-watering sandwich? It's all good stuff — and the best part is that those things tend to be pretty affordable, too.
Sometimes, at least. Other times, not so much. Occasionally, a restaurant will rustle something up that, for one reason or another, costs more than a month of most people's rent. They might be forgiven for ramping up the price of, say, a priceless cut of steak, a lavish feast, or some kind of Michelin-quality experiment in molecular gastronomy. When you're charging thousands of dollars for a bagel, however... that's just a little ridiculous. From $500 milkshakes to $5-a-kernel popcorn, to the ice cream which costs more than a car, here are a few of the most outrageously priced menu items ever sold.
The Barclay Prime Cheesesteak
The cheesesteak is a mainstay of the Philadelphian culinary tradition. They're practically everywhere, and the statistics speak for themselves: a survey taken back in 2006 found that 17 percent of the city's residents eat one at least once a week, with 4 percent eating them once a day. It's a part of Philly's culture, nothing short of an icon.
So maybe it's fitting that Philadelphia is also home to the most expensive cheesesteak in the world. This glitzy sandwich comes from Barclay Prime, a steakhouse located right in the heart of the city. Crafted by executive chef Mark Twersky, the Barclay Prime cheesesteak contains A5 wagyu beef, which usually fetches a price of about $75 a pound. This beef sits on a sesame roll with foie gras mousse, truffle butter, truffles, and Caciotta al Tartufo cheese, which is a blend of cow's milk, sheep's milk and truffles. Total price for the sandwich is $120 — enough to blow your weekly lunch budget to bits real quick.
"The guests that do have it, hands down are blown away," Twersky explained in an interview with CNBC. "[They] always say they never imagined they'd have a cheesesteak that tasted like this."
For the price, you'll also receive half a bottle of champagne, because who drinks a soda with a hundred-dollar cheesesteak?
Berco's Billion Dollar Popcorn
"Now, come on," you say. "How could they possibly make popcorn overpriced?" Reader, they did it. They did, and then some.
According to their website, Berco's Billion Dollar Popcorn is made from organic sugar, butter from Vermont Creamery, and Nielsen Massey Bourbon Vanilla. The salt is harvested from the Danish island of Laeso, said to be home to the most expensive salt in the world. (Berco's makes quite a point of the efforts they undertook to acquire this salt, which involved a visit to the Danish Consulate in Chicago.) And yes, like many of the other things on this list, each kernel is covered in 23 karat edible gold flake.
As an aside, this seems like as good a time as any to point out that gold leaf isn't ever as expensive as restaurants will tell you, and certainly doesn't warrant a huge mark-up in the price. Don't let yourself get tricked!
Anyway, the popcorn. It costs $5 for a kernel, $25 for an 8-ounce bag, $250 for a gallon tin and $2,500 for a 6.5 gallon tin. Which, in fairness, is a lot of popcorn.
Momofuku's fried chicken feast
Arguably the priciest fried chicken in the world comes from Momofuku, a chain of restaurants with stores across New York, Washington D.C., Las Vegas, Los Angeles, Sydney and Toronto. The dish in question is more of a feast than anything else (yes, even more so than a KFC bucket), and consists of two fried chickens, two different types of caviar, chive crepes, white miso cured cream cheese, ramen-seasoned shoestring potato chips, cucumbers, and scallions. The whole thing is actually supposed to feed anywhere from four to eight people, so you could be chowing down on some chicken for as little as $62 each — if you're conservative with your portions.
If that's still too vague to consider splashing your cash on, however, here are some specifics on the $500 meal: the caviar is shiso cured trout roe, cured in-house, as well as wild caviar from Atlantic Sturgeon caught in New Brunswick. Alternatively, you can upgrade the former option to ginger-seasoned chum salmon roe for an extra $100, or Acadian Gold Caviar for an extra $400. The restaurant themselves suggest beginning the dish by making wraps with the chive crepes, chicken, caviar and sauce. Considering you're paying almost $1000 for the higher-end option, however, it's not like they're going to stop you from eating it however you want.
The Velvet Goldmine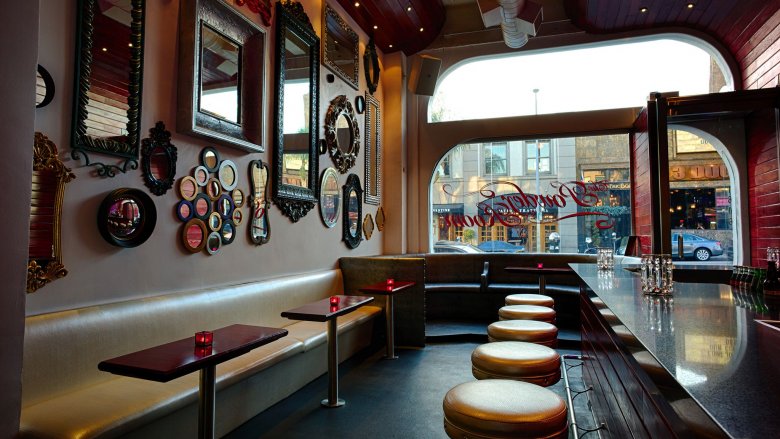 The Powder Room in Los Angeles has long been known as a hotspot for the city's movers and shakers, so it's hardly a surprise to find that they're not afraid to gouge the wallets of their clientele. Chief among their pricey drinks and cocktails is the Velvet Goldmine, a milkshake that costs $500.
So what goes into a Velvet Goldmine? Time and effort, for one — it takes up to 40 minutes to prepare. In terms of actual ingredients, you're looking at Amedei Porcelina chocolate (which is usually sold at $90 per pound), four scoops of English lavender and Tahitian vanilla organic ice cream ($25 per pint, naturally), caramelized bananas, and imported Belgian chocolate truffles. On top of all that, however, is an ounce of Remy Martin Louis 13 cognac, which has a price tag of over $3,200 per bottle. Then you've got your Bacardi Reserve Limitada, 15-year Drambuie whiskey and a selection of 15-year-old Speyside malt whiskeys.
Finally, the whole thing is garnished with — danger zone — 24-karat edible gold flakes. But you know better than to fall for that, don't you? Yeah? Well, how about the commemorative Swarovski crystal cocktail ring which comes packaged with the milkshake?
Thought so.
The 777 Burger
The clue's in the name with this one. The 777 Burger can be purchased from Le Burger Brasserie (again, clue's in the name) in Las Vegas. It starts with a choice of bun: sesame seed, caramelized onion, aged Parmesan cheese or oven-dried tomato ciabatta, and then topped with surf and turf. Specifically, you're looking at Kobe beef with Maine lobster topped with caramelized sweet onions, prosciutto and triple cream brie. 100-year aged balsamic vinegar is splashed on the top and the whole thing comes with a bottle of Dom Perignon.
At $777, it's anything but cheap. Considering the bottle of Dom comes packaged in the price, however, you can probably assume the actual burger is worth a little less. And even with that in mind, it's not the priciest burger on this list. Not by a long shot.
The Glamburger
Enter the Glamburger. We've made quite a jump here from the 777 Burger — this monstrosity clocks in at $1,770 dollars. It was created at a diner-style restaurant in London by Honky Tonk chef Chris Large. The Glamburger is made with Kobe Wagyu beef and New Zealand venison seasoned with smoked Himalayan salt, surrounding a heap of melted black truffle brie. It also contains lobster poached in Iranian saffron, maple syrup-coated bacon, Beluga caviar and hickory smoked duck egg covered in — ding, ding, ding — edible gold leaf. Finally, the whole thing is Finally, the whole thing is topped with Japanese matcha, cream mayonnaise, mango and champagne jus, and grated white truffle.
In a partnership with Groupon to celebrate the website selling its five millionth food and drink voucher, Honky Tonk gave one lucky person the chance to try the burger for free. In a press release shortly after the burger's inception, Large said: "After sourcing the best possible ingredients to create this masterpiece, the winner will certainly have a dinner to remember." Who said there's no such thing as a free lunch?
The Westin Bagel
Bagels are a great snack-on-the-go for anyone who often finds themself in a hurry. For this bling ring, however, you're going to need to throw on your glad rags. Sold by the Westin Hotel in New York, their bagel costs $1,000 — and comes with far more than just salmon and cream cheese. The bagel is topped with white truffle cream cheese, in fact, as well as goji berry-infused Riesling jelly and — uh-oh — edible gold leaf flakes. You've also got to order it at least 24 hours in advance, presumably to give you time to settle your accounts before eating it.
"I wanted to create something that speaks to New York," the bagel's creator Frank Tujague told Reuters, "and is also a reflection of my culinary passion for seasonality and fine ingredients. Bagels are a New York food landmark, which is where the base for this dish came from. White truffles are a simple, quality ingredient that takes the meal, or the bagel in this case, to the next level."
According to the hotel itself, the $1,000 bagel is enormously popular with guests, and during at least one iteration of its many limited edition runs, proceeds made have been donated to the Holy Apostles Soup Kitchen.
The Pizza Royale 007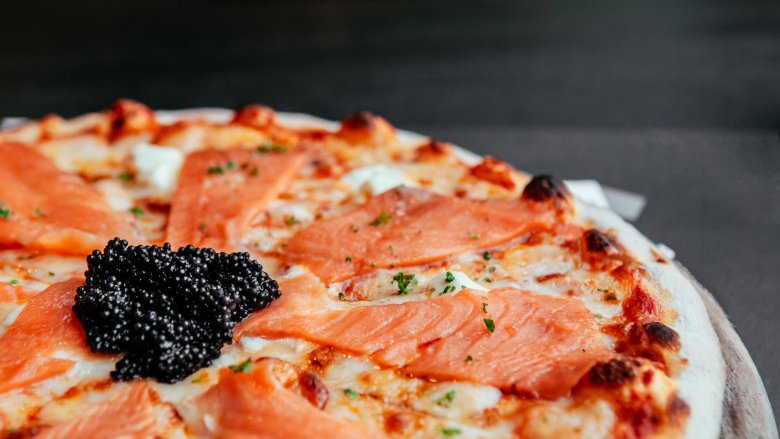 Shutterstock
This is the first pizza to hit our list (not the only one, mind you) and it's a doozy. Created by award-winning Glasgow-based chef Domenico Crolla, the Pizza Royale 007 is made with champagne-soaked caviar, lobster marinated in cognac and — you guessed it — edible gold leaf. Other toppings included Scottish smoked salmon, prosciutto drizzled with vintage balsamic vinegar, grilled venison and Aberdeen Angus fillet, corn-fed chicken, white truffle, and medallions of venison, all atop an organic base spread with a sunblush tomato sauce.
The Pizza Royale 007 was actually offered as a prize in a charity auction on eBay in 2013 for over $4,000. Crolla flew to Rome to prepare the pizza as a Valentine's day surprise for the winner's wife. "This is the perfect romantic Valentine's gift," Crolla explained. ""We Italians are experts at 'amore' and I think this pizza will show that the way to a woman's heart is definitely through her stomach."
Proceeds went to the Fred Hollows Foundation, which was set up to help prevent curable blindness in developing countries.
The FleurBurger
This is what it sounds like when wallets cry. Fleur, in Las Vegas, is home to the FleurBurger: the creation of Top Chef Masters star Hubert Keller, which will make you poorer to the tune of no fewer than $5,000. Yeah, you read that right. But hey, that's Vegas, baby.
The FleurBurger 5000 (to give it its full name) is made up of a Wagyu beef and foie gras patty topped with truffle sauce and shaved black truffles, sandwiched inside a brioche truffle bun. As you'd hope, it comes paired with a 1995 Chateau Petrus, which is served in Ichendorf glasses that are given to diners to take home at the end of their meal. Even better, eating a FleurBurger will qualify you for a special certificate of authenticity, just so you can be one of those people who spends five grand on a burger and then boasts to their friends about it. You monster.
The $6,000 combo meal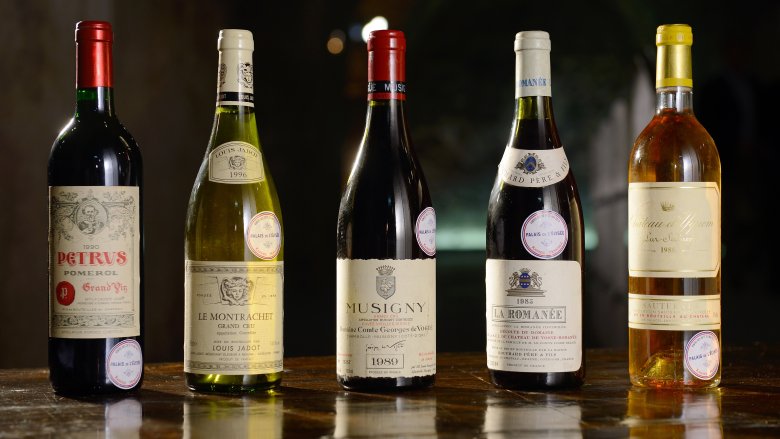 Eric Feferberg/Getty Images
This $6,000 burger meal came not from a high-end gourmet restaurant or some charity auction event, but from... Carl's Jr.
More specifically, from Carl's Jr. in Las Vegas, which makes a whole lot more sense. The $6,000 Combo Meal didn't actually feature a particularly snazzy burger when it debuted in 2006, though. In fact, the face value of the burger in the combo was exactly $6. The rest of the price comes from the bottle of 1982 Château Pétrus Pomerol served alongside it. 
Château Pétrus Pomerol is a Bordelaise wine house which sells one of the region's most expensive wines, having been established in the region since as far back as the mid-1750s. The estate was given a reputation boost during the 20th century when it turned out that one John F. Kennedy was partial to a bottle or two, and the attention of wine collectors helped develop its reputation for opulence.
A typical Carl's Jr. burger comes topped with lettuce, tomato, onion, and pickles.
Pizza for Lovers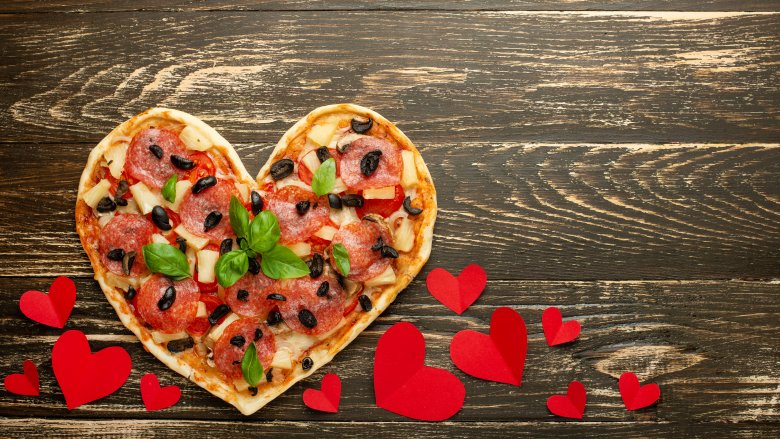 Shutterstock
Probably better referred to as the Pizza for People Who Work in Financial Services, this concoction by Favitta's Family Pizzeria in Henrietta, New York sold for over $8,000 in 2007. There is, however, one little catch.
The majority of the pizza's price tag came from the engagement ring which was included with it. Offered as a Valentine's Day special, the feast also included bottle of bubbly for $160. The pizza's value was around $19. "We'll bring the ring," said Tom Favitta of the Favitta's Pizzeria, "and I'll personally deliver it, with a little white cloth over my arm, and open the bottle for them."
That's the target consumer, then — not so much oligarchs and kings, but more love-besotted romantics who are looking to find a special moment to pop the question. "It's certainly not out of the price range of somebody that's legitimately looking for an engagement ring," Favitta explained at the time.
The Louis XIII Pizza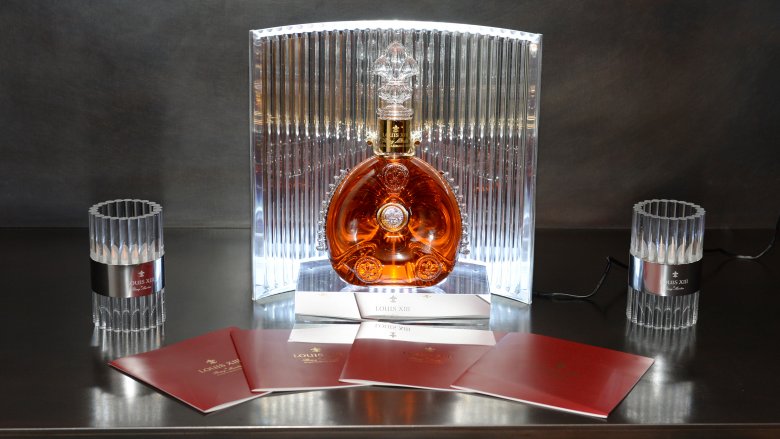 Andrew Toth/Getty Images
The Louis XIII Pizza is described on the website of chef Renato Viola (who created it) as a "very expensive pizza." He's not wrong. Made on a base with a diameter of just 20 centimeters and intended for two people, the Louis XIII is served at the home of the diners under the guidance of Viola himself, a sommelier, and another chef. The dough is made 72 hours beforehand with certified organic flour, Australian pink salt and natural yeast. On the pizza itself, you're looking at organic DOP buffalo mozzarella, three different varieties of caviar, red acciaroli prawns, lobster, squilla mantis shrimp, and Remy Martin Cognac Louis XIII.
That cognac is the highest quality sold on the market, and has been served up to some of the world's most powerful people, including Queen Elizabeth II, Winston Churchill and Tom Cruise. The whole thing comes with a 1995 Krug Clos du Mesnil champagne, and comes to a price of well over $9,000. Not a bad night's work for Renato.
The Frrozen Haute Chocolate
How much would you be willing to pay for a few scoops of ice-cream? $5, maybe? $10? $15, if it was really good stuff? Maybe even a few hundred dollars, if you were a Hollywood celebrity living it up at the Powder Room.
How about $25,000? Well, that's the price tag attached to the Frrozen [sic] Haute Chocolate dessert at Serendipity 3 in New York. The dessert is served in a goblet lined with — sigh — edible gold, at the base of which lies an 18-karate gold bracelet studded with white diamonds. The sundae itself (which, presumably, sits on top of the now-sticky bracelet) is topped with whipped cream, more gold and La Madeline au Truffle from the chocolatier Knipschildt — which has a market value of $2,600 per pound. And the whole thing is eaten with a gold spoon, itself decorated with chocolate-colored diamonds.
The restaurant's owner Stephen Bruce told Reuters in 2007: "It took us a long time to experiment with all the ingredients and flavors, and more than three months were needed just to design the golden spoon."
According to Bruce, most of the inquiries into his dessert come from Europeans planning to visit New York. But he's expecting even higher echelons of society to show interest. "I wouldn't be surprised," he said, "if soon we get a call from a Middle Eastern prince or Shah willing to give something sweet to his many wives on his next trip to the city."
We'll stick to the soft serve, thanks.