Burger King's Impossible Whopper Might Not Be Vegetarian After All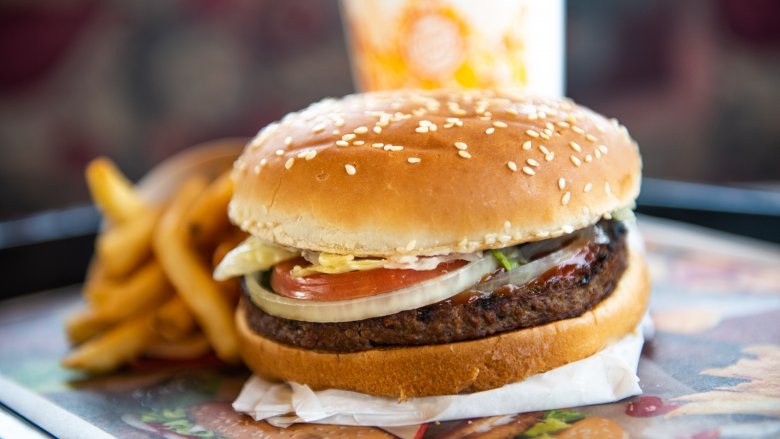 Michael Thomas/Getty Images
Following in the footsteps of restaurants including Red Robin, White Castle, and Fatburger, Burger King will offer the Impossible Burger in their new Impossible Whopper starting August 8. The plant-based burger features a flame-grilled Impossible patty topped with tomatoes, lettuce, mayonnaise, ketchup, pickles, and sliced onions on a sesame seed bun, but some are questioning whether the burger, though it doesn't actually contain any meat, is vegetarian at all (via Today). 
That's because of a disclaimer listed on Burger King's website that says that the meatless patty, described as "100 percent Whopper, 0 percent beef," is grilled in the same broiler used for their beef and chicken items. For some vegans and vegetarians, this is a total deal-breaker, as this means that technically there could be particles of meat that end up on the Impossible patty. However, in neither the press release announcing the nationwide rollout, nor on their website does Burger King ever refer to the Impossible Whopper as vegetarian or vegan. Instead, they call it plant-based, so technically they're covered (via Business Wire).
According to Fox News, customers can ask that their Impossible Whopper be prepared in the oven instead of the meat-covered broiler, though Burger King still says that the patties can't be labeled as vegan or vegetarian due to the "open kitchen environment."
Another question about the Impossible Whopper is whether or not it's actually any healthier than the original Whopper. While some critics have pointed out that they have a similar calorie count, and that the Impossible Whopper actually has more carbs and sodium, most of those criticisms have been of the Impossible Whopper with mayonnaise. That's relevant to meat-eaters who occasionally do a meatless Monday or who are trying to eat less meat, but not so much for people following a vegan diet who would not actually eat mayonnaise to begin with, since mayo contains eggs. 
If you use Burger King's nutritional calculator to look at the nutritional value of the Impossible Whopper without mayonnaise (as a vegan would eat), it actually does appear to be quite a bit healthier than a traditional mayo-schmeared Whopper, with almost 200 calories less, 24 less grams of fat, 4 less grams of saturated fat, and no trans fats. Skipping the mayo also makes the Impossible Whopper cholesterol free, and lowers its sodium by 140 milligrams. 
It may not be strictly vegan or vegetarian, but for those looking for a plant-based burger option, the Impossible Whopper fits the bill.