Chick-Fil-A Just Added A Cheesy New Menu Item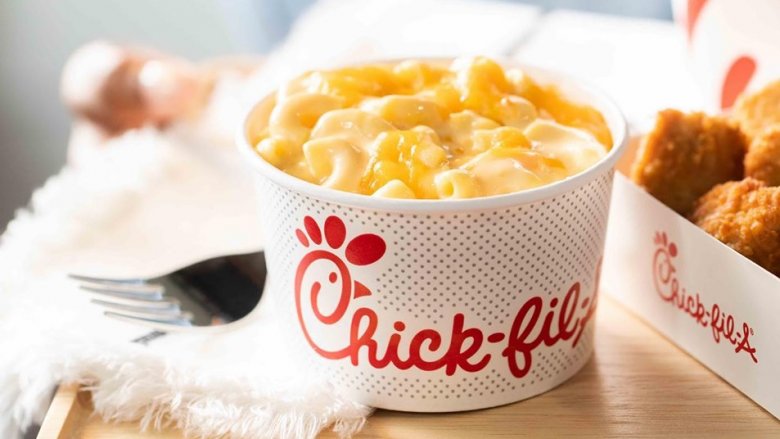 Facebook
If you love Chick-fil-A and are hoping for a new side item to pop up on their menu, get ready for some incredible news. The super popular fast food chain may be well-known for its chicken and waffle fries, but starting Monday, August 12, you can hop into your nearby location and grab something completely new — macaroni and cheese (via USA Today).
You're certainly familiar with Chick-fil-A's famous waffle fries, and you probably know there are a bunch of other sides to choose from if you're not in a fried potato mood (such as side salad, chicken noodle soup, or a fruit cup). However, the company rolled out this new comfort food menu item nationwide as another alternative.  
According to Chick-fil-A's announcement, this is the first permanent addition to their side menu since 2016. The mac and cheese recipe, which is baked in-store daily, features a blend of cheddar, Parmesan, and Romano, and can be ordered as a side item with lunch and dinner entrees, or as part of a Kid's Meal. It's also offered as an option in catering orders. 
Chick-fil-A has over 70 years of success behind its name, and over 2,000 stores spread across the United States (via Business Insider). They're an extremely popular and profitable fast-food chain, and they treat their employees well. They also offer renowned customer service, which can be hard to find at any fast food restaurant. They also use quality ingredients, don't use trans fats, and are constantly looking for ways to improve their menu. 
"Mac & Cheese is the quintessential comfort food, and something we are so excited to offer our guests at Chick-fil-A. We think it's the perfect pairing with our Original Chicken Sandwich, nuggets and our grilled chicken offerings, but it's also great on its own as a snack," said Amanda Norris, executive director of menu and packaging.
Norris explained that the new side dish was tested in five markets before becoming a permanent offering. "We have a very high bar when it comes to adding a menu item," she said, "but the feedback from our customers in the test markets made this decision easy. I am excited it will be available for all of our guests across the country starting today."