Bobby Flay's Net Worth: Exactly How Rich Is The Celebrity Chef?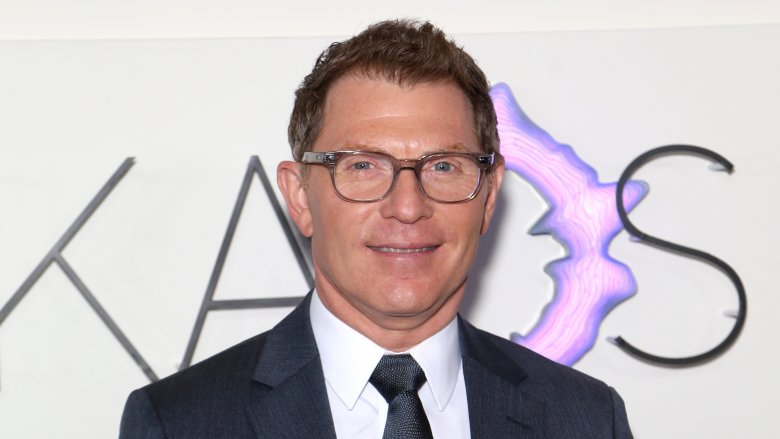 Gabe Ginsberg/Getty Images
At the age of 17, Bobby Flay became a high school dropout. He passed the time scooping ice cream at Baskin Robbins and working at a pizza restaurant (via Money Inc). That was Flay's first real taste of the food industry, an industry that would eventually make him a multi-millionaire. The Food Network star has come a long way since his days at Baskin Robbins. He's been everywhere from television to The New York Times Best Seller list, and has racked up a huge fortune.
Though Flay didn't officially finish high school, he did receive his G.E.D., and in 1984 went on to become a part of the first graduating class of the French Culinary Institute before opening his first restaurant, Mesa Grill, in New York City in 1991. Though the original Manhattan location closed in 2013, a second Mesa Grill at Caesars Palace in Las Vegas has been operating since 2004. Flay has continued to expand his restaurant empire, including the introduction of the multi-city chain Bobby's Burger Palace. According to CNBC, Flay owns 20 restaurants across the country (as of May 2019).
In between making a name for himself in the restaurant industry, Flay has appeared on multiple television shows, leading 14 series for the Food Network and becoming one of their most visible brands. He is most well-known for his stint on Iron Chef, which he famously left in 2018 after a 17-year on-again, off-again relationship with the show. Flay's television persona has made him so successful that his paycheck for a single public appearance can earn him around $100,000 (via Vanity Fair).
Flay has also published 10 cookbooks, invested in the frozen meal company Daily Harvest (via Forbes), and according to his website, has even gotten involved in the fitness industry with Bobby Flay Fit. All of this has amassed the celebrity chef an estimated net worth of $30 million.
Not bad for a high school dropout, but, you know what they say: Money can't buy happiness, and apparently for Flay it can't buy friends, either. Flay has been known to do what he wants, when he wants, and for that he hasn't always been a fan favorite. There are plenty of celebrity chefs who aren't too fond of him, either. He does have one person he can always count on, though — his daughter Sophie. Sophie has made guest appearances on Flay's cooking shows and even has a recipe named after her (via Food Network). With everything he has going on, Flay seems too busy building an empire and raising a daughter to care about the backlash. His bank account balance probably helps heal any wounds, too.