How To Get A Free Subway Footlong Sandwich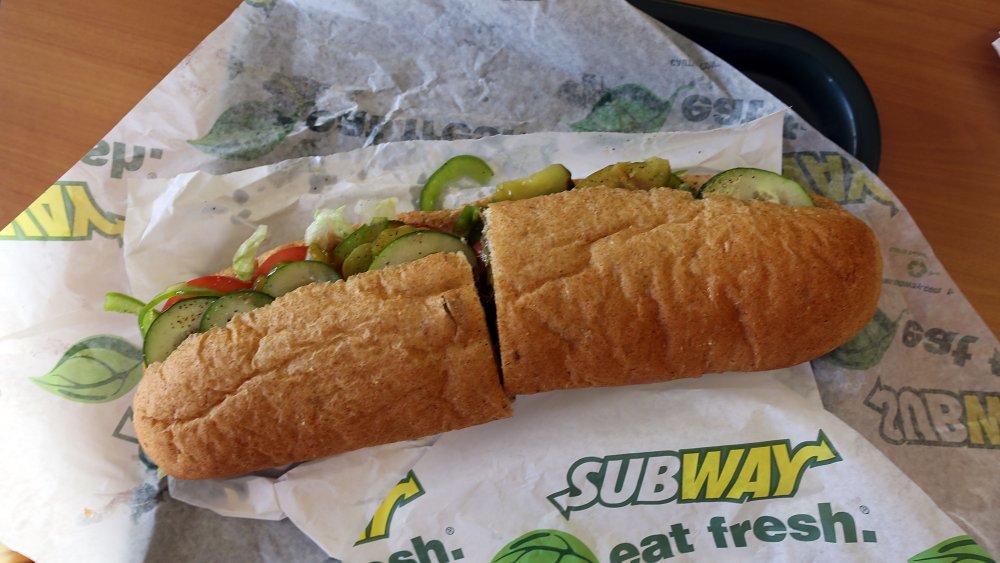 Joe Raedle/Getty Images
Those who have made or eaten muffuletta sandwiches know they only get better with time as the many layers meddle together in the fridge. Subway's sandwiches seem to have the same magic that goes on inside the wrapper. Now, and for a limited time only, you can have your sandwich, pop it in the fridge for that muffuletta-style magic, and eat your sandwich too. Subway has a brand new promotion that includes getting a free footlong when you buy one (via Delish).
On Monday, March 2, Subway announced that participating locations in the United States will let customers pick two of their favorite footlongs for the price of one. While this promotion is certainly easy enough to take advantage of, there are a few rules to play by. First and foremost, the order has to be placed either online or within the Subway mobile app (via Subway). You also won't be able to sneak anything by employees — no extra add-ons or a bag of chips. Whatever your second choice of sandwich is, it will have to be the same price or cheaper than the one you pay for, so no playing the system.
How long you can BOGO a footlong?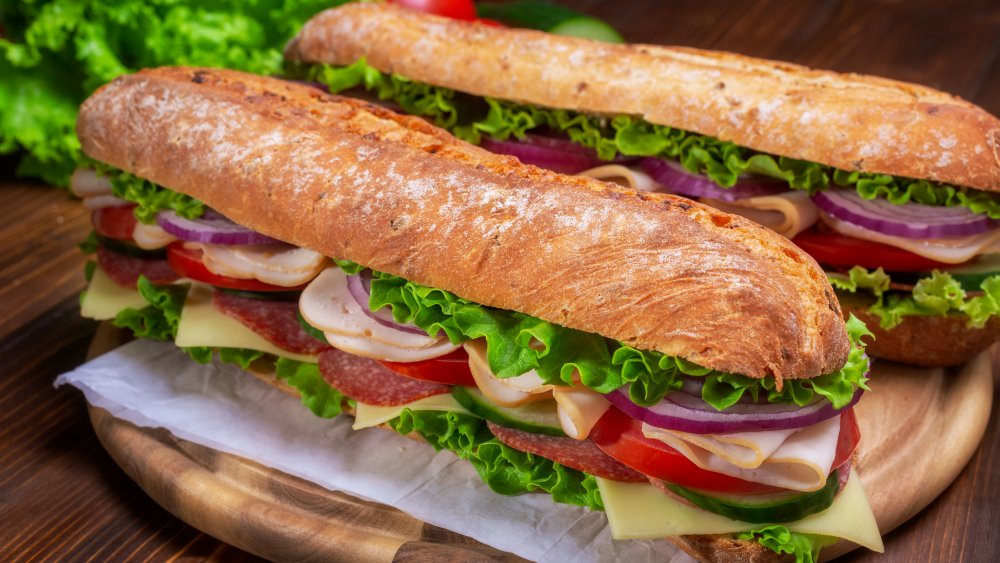 Shutterstock
Subway comes from humble beginnings as a means for paying the college and medical school bills of one 17-year-old. In 1965, Fred DeLuca asked a family friend for a $1,000 loan to open a sandwich shop in Bridgeport, Connecticut. While there were some missteps along the way, like an initial shop name that sparked some confusion (Pete's Submarines sounded like Pizza Marines on the radio), DeLuca saw success with speed. On the very first day the shop opened, he sold more than 300 sandwiches (via Entrepreneur).
Ultimately, DeLuca made enough money to put himself through college — and then some — with the success of Subway and its franchises. DeLuca remained the president of Subway from its very first day up until his death in 2015. The major chain is now overseen by DeLuca's sister, Suzanne Greco.
As for this current promotion, the sandwich chain notes that the BOGO footlong is only available for a limited time, but they didn't say for how long, so hop on in to your local (participating) Subway and get the footlong of your dreams — and another for later, too.