How Instagram Cooking Classes Are Keeping People Together During The Pandemic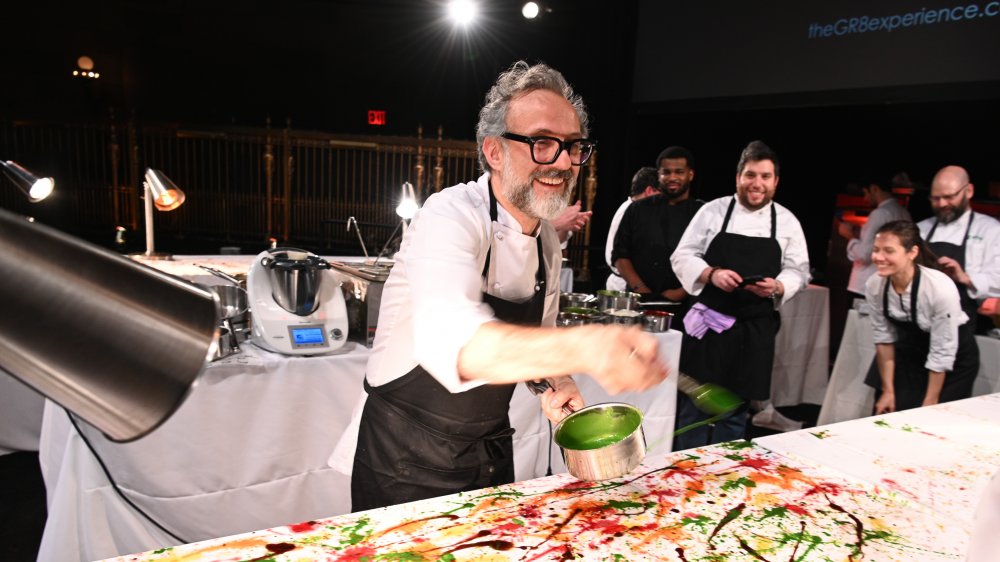 Dave Kotinsky/Getty Images
Back before the days when we knew nothing about the COVID-19 coronavirus, chefs who embraced Instagram used the social media platform in various ways — to show off their latest projects, display some of their most stunning creations, or share images of places or things that have inspired them (via Michelin Guide). But in the age of social distancing and shelter-in-place, a number of cooks and chefs have turned to Instagram as a way of inviting diners into their kitchens. One such chef is Massimo Bottura — the Italian, three-Michelin star chef of Osteria Francescana in Modena, Italy, and which Robb Report called, "The World's Best Restaurant" in 2018.
Bottura's Instagram show, called Kitchen Quarantine, is a fun, tongue-in-cheek live stream that showed fans how a Michelin chef prepares a family dinner for his wife and two children in the time of COVID-19. The recipes are easy and meant to be doable in any home kitchen and included how-tos for Thai Curry, tortellini, and an "everything Mac and Cheese," created with ingredients found in Bottura's pantry (via Robb Report).
Other cooking shows have taken off on Instagram
The effervescent Italian chef isn't the only creative who has taken to Instagram to inspire home chefs to discover the depths of their own kitchens. An Italian grandma who goes by the name of Nonna Nerina has gone online to teach viewers the traditional way of making pasta, after her original business, that of bringing tourists to a small town north of Rome in an Airbnb Experiences page, was forced to shut due to COVID-19, which has slammed Italy hard (via Insider). 
Closer to home, Delish.com's editorial director used Instagram to run "Kids + Parents Cooking Class," with cook-along videos that keep parents and their children occupied as society collectively navigates a world of social distancing and shutdowns (via PennLive).
While Instagram was once a platform for people to show off new experiences and new things, the lockdown has turned that, and other forms of social media, into a way of keeping in touch with the outside world. It has also become, at least for Nonna Nerina's granddaughter Chiara Nicolanti, a way to do something different. "I think that this moment is forcing us to stop, and we can use this time to speak and share memories and share traditions and good bites. I think it's very important in this moment when everybody is forced to stay alone to not feel solitude," she says.