This Is The Most Overpriced Item On Red Lobster's Menu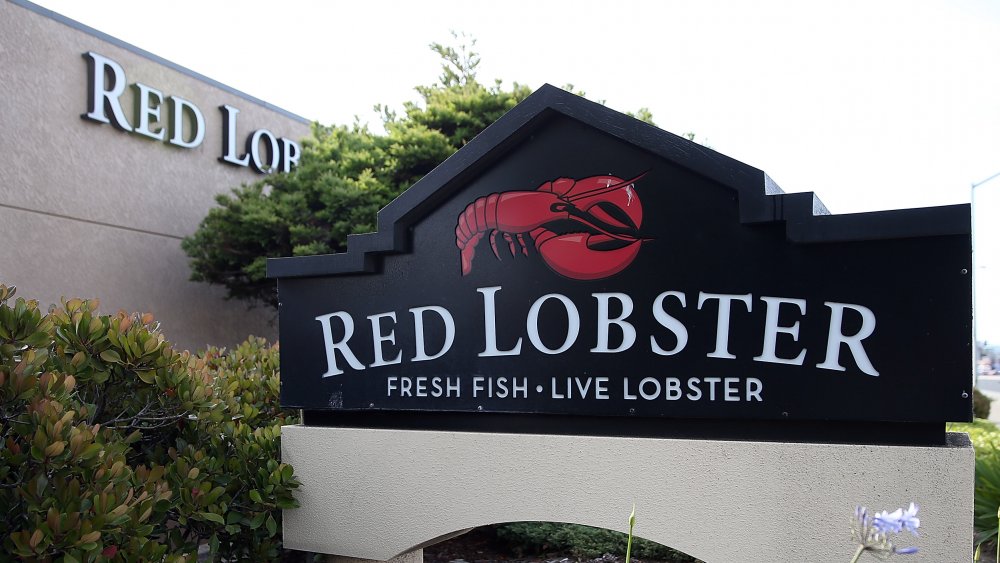 Justin Sullivan/Getty Images
What's your favorite: the Ultimate Feast with crispy crab legs, garlicky shrimp, and a fluffy baked potato with the salt on the outside, or the Lobster and Crab Stuffed Mushrooms, sizzling in a cheesy dish that you dip into with a Cheddar Bay Biscuit?
Red Lobster has long been a Darden Restaurants leader when it comes to mouth-watering combinations of seafood and seasoning. As you might know, good seafood isn't necessarily cheap, which is why many meals have traditionally sat around the $20 price point on the restaurant's classic menu. Items like live Maine lobsters can easily extend your bill past $30 a plate, and that's before you add drinks like a giant Lobsterita.
But when it comes to the most overpriced item, we'd have to pick just one — the Lobster and Chips at $19.99. This new offering from Darden features your classic thick-cut fries with deep-fried lobster tail in the shell, packaged in fine mock newsprint.
Treat lobster like the delicacy it is
Don't get us wrong — this dish sounds delicious, it's just that it also sounds confused. For just a few dollars more, you could get an Ultimate Feast with lobster tail and crab legs, two kinds of shrimp, rice, and your choice of side including fries as an option. Alternatively, you could get a very decent fish and chips for $12.99 (via Fast Food Menu Prices), plus add on a lobster tail for an additional $9.99.
The Lobster and Chips simply feels like you're paying a lot more for the word "lobster" than you are for the food, especially with so many great restaurant alternatives. Add this to the fact that frying a sweet and tasty lobster is controversial in and of itself, and this dish just doesn't seem like a winner. The experts at Lobsters Anywhere detail four highly effective ways to cook this specialty seafood — and coating it in batter and frying it aren't on the list.
We're sure this dish tastes delicious, but when it comes to value at Red Lobster you can do better.