What Is Whipped Coffee, Really?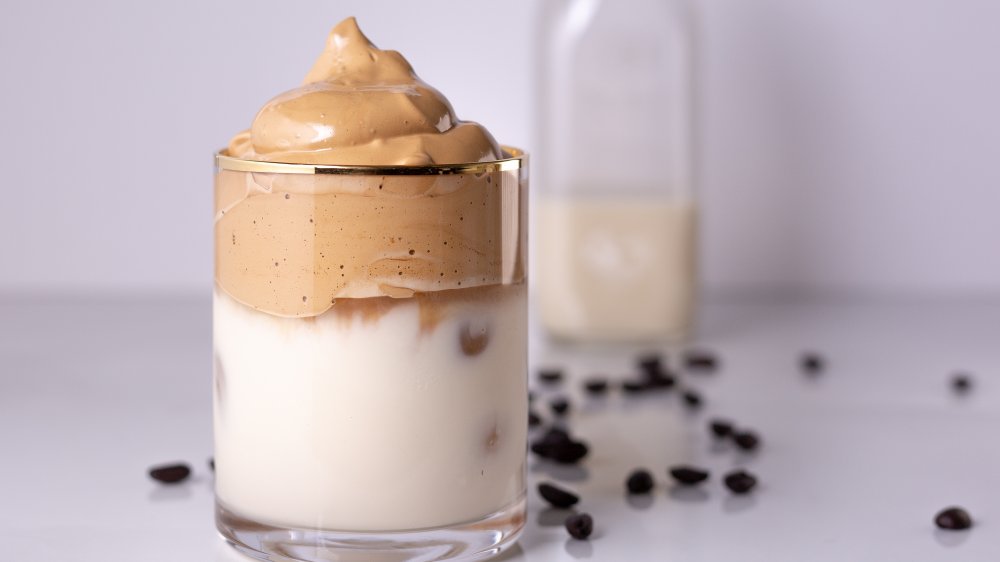 Shutterstock
If you're a coffee lover, there's a pretty good chance you encountered the recent viral hashtag #dalgonacoffee (or #달고나커피) on Instagram. The craze recently started in South Korea but has definitely made its mark in America, and fans of the whipped coffee drink are taking to TikTok in hopes of connecting with others over their shared love of current caffeine trend (via the Los Angeles Times).
It seems as though one particular TikTok user brought the trend to Starbucks-craving Americans, when Hannah Cho gained almost 10 million views on her drool-worthy whipped coffee video. The video consists of dreamy music and a cloud-like mousse she quickly prepares. Cho dumps coffee, sugar, and water into a bowl, fluffs it up, then fills a glass with milk and makes what looks like an artisan coffee drink within minutes, TikTok users ate it up (via Today). 
South Koreans deemed the floof "Dalgona coffee" because it's similar to a popular toffee in the country. The totally delicious looking caffeine fluff is ultra-easy, and if you want to avoid the coffee shops to make it at home, we've got you — and your wallet — covered. 
Dalgona coffee is totally simple and totally tasty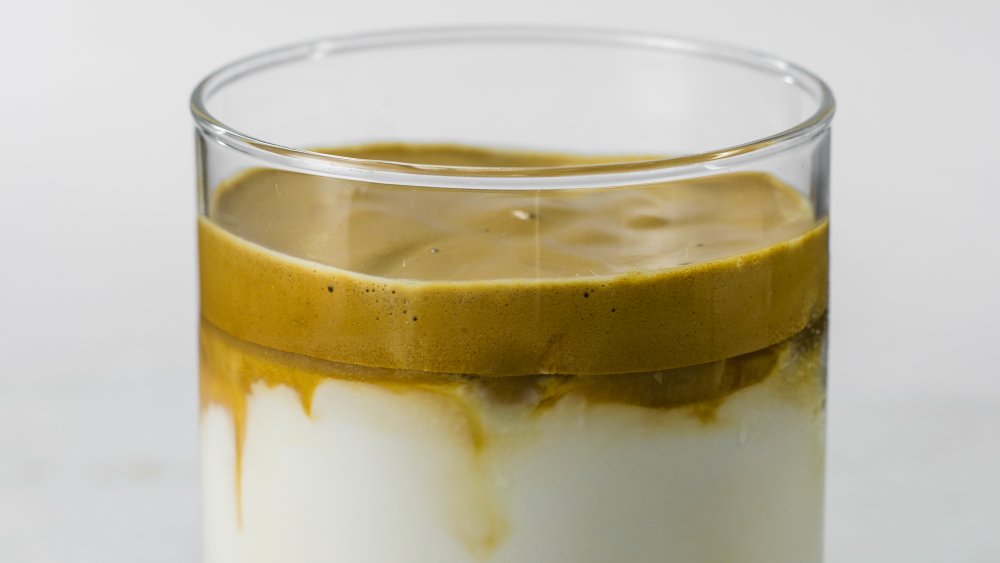 Shutterstock
All you need for this fancy beverage are three very simple — and cheap — ingredients. Most recipes suggest combining equal parts instant coffee, granulated sugar, and hot water into a bowl and then mixing with an electric mixer. If you're only equipped with a whisk you can get a little 45-second workout in and reward yourself with a light and fluffy coffee mousse. It tastes, unsurprisingly, like the culmination of your chosen instant coffee and sugar, but with a pleasant "latte-like mouthfeel." It's a definitely a fun and super easy way to mix up your caffeine routine (via The Kitchn). 
Most people are plopping a dollop of it on top of cold milk, but arguably you could put it on dessert, cold brew, or eat it alone if you're feeling really lazy.
Not into coffee but want to get in on all the Dalgona fun? Some people are switching the instant coffee out for cocoa powder or matcha and magically ending up with the same photo-worthy results (via PopSugar).
Dalgona coffee might just convince you that you really have been making coffee wrong your whole life.