Here's How To Get Shake Shack Burgers Through The Mail
Beloved burger chain Shake Shack is known for its quality ingredients and long wait times. According to the Shake Shack website, Shake Shack came from humble roots. Originally created to help fund the Madison Square Park Conservatory's art installations, Shake Shack began as a simple hot dog stand in New York City's Madison Square Park. After seeing huge success over the initial three summers it operated, the brand opened its first permanent kiosk in 2004. Shake Shack prides itself on using antibiotic- and hormone-free meat and sourcing all their ingredients from ranchers, bakers, farmers, and food purveyors who share their values. 
Shake Shack used to be something you had to travel into a city for, with the chain claiming on their website to have 290 locations worldwide, but now, according to Business Insider, you can get Shake Shack delivered directly to your door through the company Goldbelly — provided you live in the United States. Goldbelly was formed with the purpose of evolving delivery beyond local businesses, allowing customers to order from small businesses and restaurants from across the country.
You can order a ShackBurger Kit and recreate the Shake Shack experience at home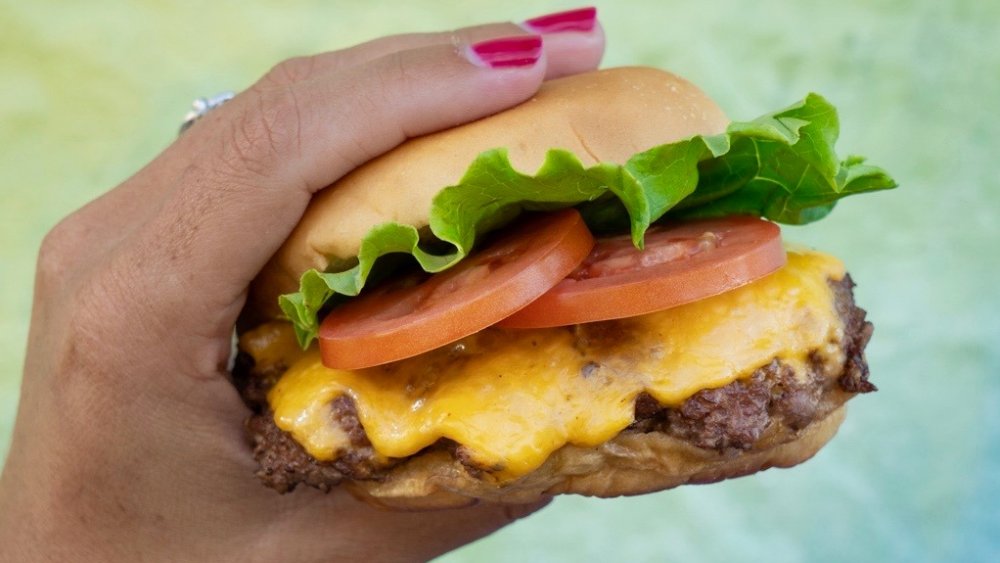 Food & Wine notes the Shake Shack is offering up cooking kits, which will allow customers to make the chain's famous ShackBurger from the comfort of their own kitchen. They state this is the only menu item that is currently available for delivery on the Goldbelly platform. In a statement, Mark Rosati, the Culinary Director at Shake Shack, said, "We're thrilled to... offer our guests the ability to recreate the Shack experience in their own homes. Shake Shack has always championed innovation, and now more than ever, we need to find new ways to connect with our guests."
On the company's site, Goldbelly lists the Shake Shack ShackBurger Kit as containing eight of Shake Shack's fresh custom blend Pat LaFrida patties, eight Martin's Potato Rolls, eight slices of American cheese, and four ounces of the signature ShackSauce. They state you will have to provide lettuce, tomato, butter, salt, and pepper for an authentic ShackBurger, plus any additional toppings you desire. This kit serves eight and will cost $49 plus shipping.