The New Aldi Item That Has Everyone Talking
Aldi has been noted in the past for its meticulous in-house test kitchens, and now those efforts have unleashed two new styles of frozen pizzas that offer the tried-and-true combo of sweet and heat. In the category of "Upcoming Aldi Finds," the grocery chain's house brand, Mama Cozzi's Pizza Kitchen (via Trademarkia), has introduced a Hot Honey Pizza duo in BBQ Recipe Chicken and Pepperoni varieties, both baked on a pretzel crust (via Aldi). 
These pies may be rolling out to compete with similar styles at competing chains, like the Hot Honey Pepperoni Pizza With Chile Flakes at Kroger and Walmart's Great Value brand Hot Honey Pepperoni Pizza, which also features a "Bavarian Style Pretzel Crust" (via The Impulsive Buy). Fittingly, Aldi lists the specialty pizzas at a bargain price, only $4.99 each. 
Aldi-obsessed Instagram user @theamazingaldi posted this week about the new Pepperoni variety, raving, "I'm pretty excited to try this Hot Honey Pizza!!" Followers chimed in with comments like "we're trying this," "omg," "Wow!," and "Hope I can find this!" Delish quickly picked up on the craze, saying, "Just ... everything about this," and proclaiming, "now there's a new offering that seems destined for the Aldi Hall of Fame."
Hot honey and pizza: perfect together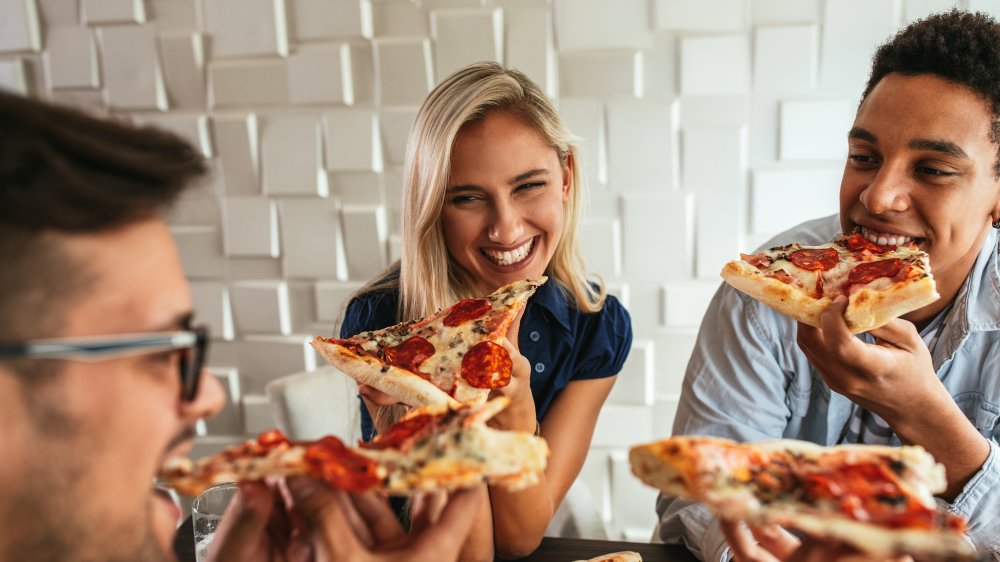 Shutterstock
Incorporating spicy honey is by no means a new development in the pizza world; it's been steadily gaining steam for about a decade. According to an interview with Mike's Hot Honey founder Mike Kurtz with chain MOD Pizza, he brought this unique homemade product to Brooklyn, New York's Paulie Gee's pizzeria in 2010, after a visit to Brazil found him falling in love with chili-infused honey jars on tables at a pizzeria (via MOD Pizza). Combined with spicy sopressata on a specialty pie at Paulie Gee's, the hot honey soon took off as a "bonafide pizza condiment." By the mid-2010s, hot honey-drizzled pies graced handcrafted-pizza menus from coast to coast (via Taste).
So, while grocery chains like Aldi surely did not reinvent the wheel (or, in this case, the pie) for their latest flavor creations, they will certainly do their part to introduce them to entirely new legions of pizza fans, no doubt keeping honey-laced pies hotter than ever, even in the frozen aisle.