How To Make Bang Bang Chicken Using Chick-Fil-A Ingredients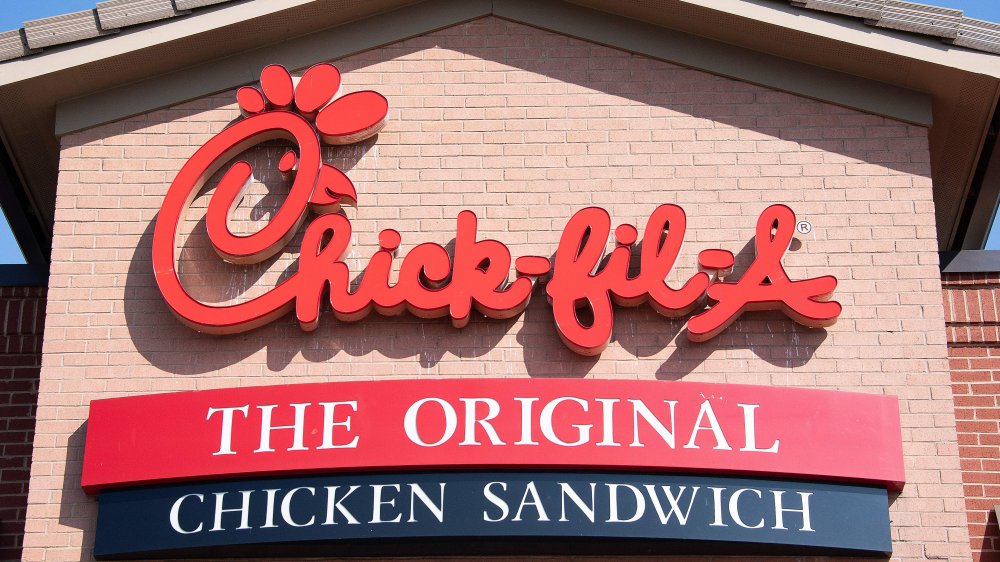 Jim Watson/Getty Images
Chick-fil-A is coming up with some inventive new ways to make dinner fun and exciting with their social media campaign "Nightly Nuggets." Six days per week, Monday through Saturday, the fast food chain is posting recipes that customers can make using Chick-fil-A products. So whether you are out of dinner ideas or just want to spruce up any leftover chicken nuggets you might have on hand, the series is there to inspire with their easy recipes (via Delish).
The recipes are appearing on Instagram, Facebook, and Pinterest, and each one is complete with an ingredient list and directions. Be warned, though — some recipes call for a lot more chicken nuggets than a simple 12-pack, though.
If you and your family are Chick-fil-A fanatics, then there might be an easier way to join in this project. To make several nights of recipes following the "Nightly Nuggets" series, consider purchasing a party platter. This will ensure you have enough nuggets, and they can easily be reheated as you make the new, exciting recipes Chick-fil-A is releasing.
How to make Chick-fil-A bang bang chicken
For the 10th episode of "Nightly Nuggets," Chick-fil-A released a recipe for bang bang chicken that sounds delicious. It only calls for a few extra ingredients beyond the Chick-fil-A menu items, too. To make this easy recipe, all you'll need are 30 Chick-fil-A chicken nuggets, an 8-ounce container of Chick-fil-A sauce, an 8-ounce container of sweet and spicy Siracha sauce, and a quarter cup of scallions (via Instagram).
To make the bang bang chicken, simply add the chicken nuggets, all of the sweet and spicy Siracha sauce, and half the container of Chick-fil-A sauce to a large mixing bowl. Toss the nuggets in the sauce then add in the quarter cup of scallions. Again, gently toss. Next, serve up the bang bang chicken on a bed of lettuce, in a tortilla wrap, or over rice for the Chick-fil-A treatment.
As the 10th recipe to debut on the "Nightly Nuggets" series, there are clearly quite a few other recipes that the chain has posted. So, check in with their social media platforms to see what's already been shared as well as what's new each day. It's a fun and easy way to spice up your homecooked meals.