This Is Guy Fieri's Secret To The Perfect Cheese Sauce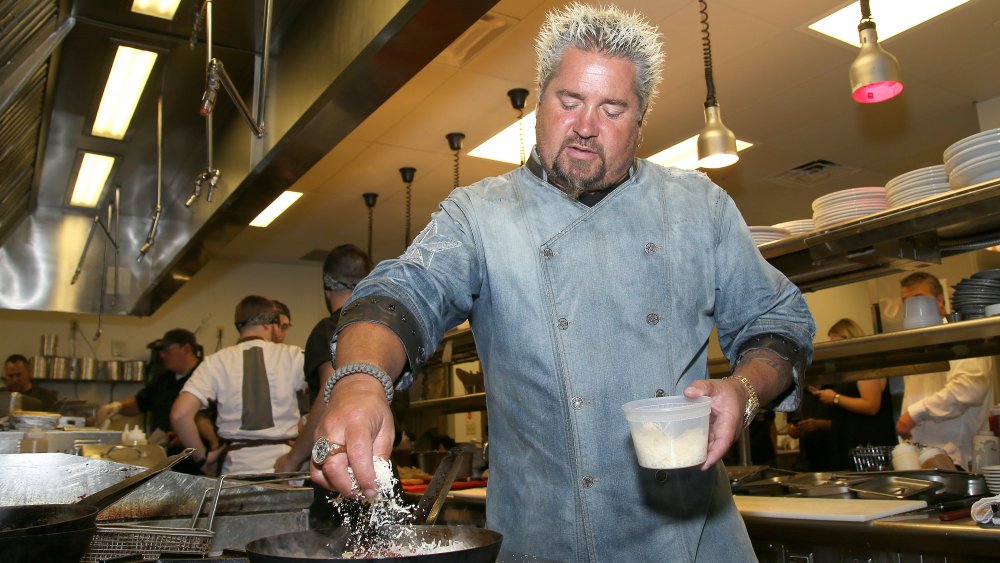 Paul Zimmerman/Getty Images
If there's anybody who knows what makes for a cheese sauce so tasty that you want to drink it with a spoon, it has to be Guy Fieri. The food personality has been crisscrossing the United States for years with Diners, Drive-Ins and Dives and he's no doubt tasted plenty of cheese sauces on his travels. 
So what makes for a good cheese sauce that will impress the taste buds of the Mmayor of Flavortown? Well, Fieri told Pop Sugar that the secret isn't some hard to find exotic cheese, but patience. "Slowly at a low-to-medium temperature, start stirring in crumbled or shredded cheese," Fieri explained. "A little gouda, a little provolone, a little cheddar, a little parm. Keep it warm in a double boiler."
The recipe Fieri is referring to is what he calls his Super Melty Cheese or simply SMC for short and the key is "don't rush it." Just keep telling yourself "slow and steady" and you'll be dipping chips in SMC in no time. 
SMC is perfect for Fieri's signature nachos
Perhaps now that you know the key to making a good cheese sauce, you're wondering what to do with it? Don't worry, because Fieri has a solution for that too and it's very Fieri-esque — Trash Can Nachos. The Guy's Grocery Games host appeared on Live with Kelly and Ryan to cook up his garbage nachos and it starts by putting tortilla chips on a metal tray lined with parchment paper and sprinkling a healthy amount of cheddar cheese over them. "This is gonna glue the nachos together," Fieri said. 
Next, hit your nachos with a few spoonfuls of refried beans. Now is when the SMC comes into play. Fieri said he adds it to all the burgers at his restaurants and the cheesy blend is the perfect component for nachos. Add your meat or choice — Fieri prefers smoked brisket — and then top it with a barbecue sauce drizzle. Warm the nachos in the oven. 
Now comes the trash can part.
Yes, you'll be adding more SMC
You'll need a clean metal can of some sort with a hole in the bottom. Place it on a large plate and add a big spoonful of SMC to the bottom of the can before scooping all of your nachos in it. Obviously, this is the part where you add even more SMC to the top of your can full of nachos. Sprinkle on some pico de gallo, cilantro, red onions, and diced jalapenos. If you really want to see how many calories you can fit into a single meal, add a few dollops of sour cream and you're done. 
Here's where that hole in the bottom of the can comes into play. Slowly, pull the can up and you should be left with a humongous mountain of nachos, dripping with cheese sauce. Gracias, Guy Fieri.