Chinese Foods You Need To Try Before You Die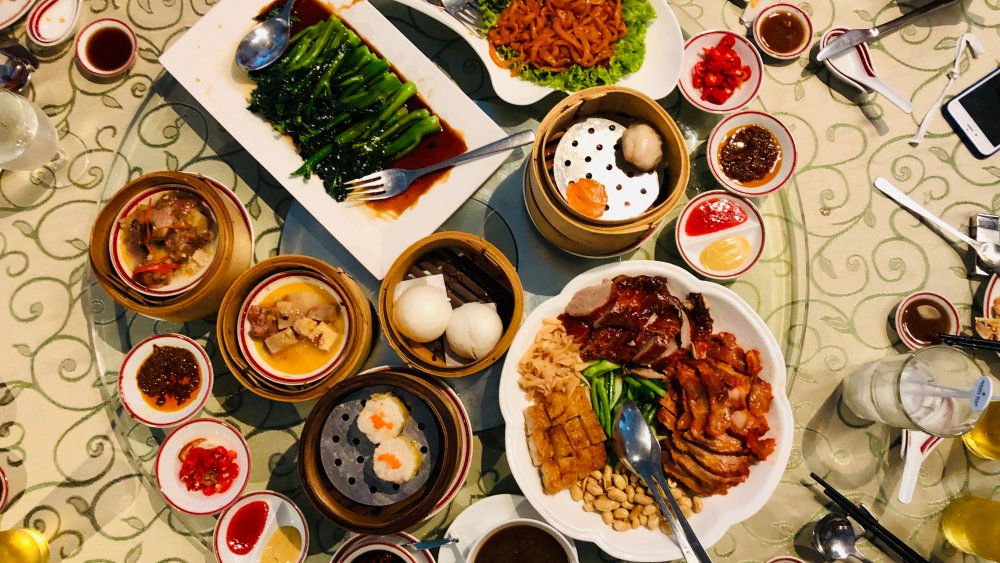 Shutterstock
Foodies who know their xiaolongbao from their crab Rangoon probably know that what passes for Chinese food in America isn't really Chinese food, but is instead the end result of decades of change and adaptation to fit the American palate. "It's important to keep in mind that there's no such thing as 'Chinese' cuisine," John Carroll, Chinese history professor at Hong Kong University, tells USA Today. "Within Chinese communities, there are different languages, foods, customs — it's a highly diverse culture and each region has its own traditions."
Given that there is an entire range of regional Chinese dishes to choose from, we thought we'd pick out a few perennial favorites — ones that we can honestly say that you would need to try if you want to say you know Chinese food at all.
Dishes to try from Guangdong and Fujian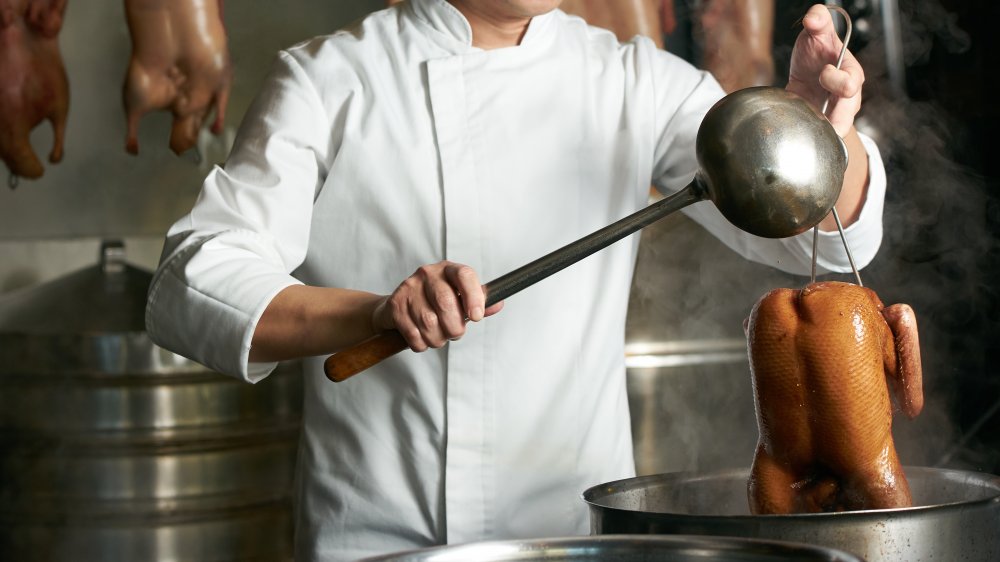 Shutterstock
Guangdong, or Cantonese Cuisine, is everywhere, simply because it was the first of the Chinese regional cooking styles that was introduced to the world. You'll probably recognize Cantonese cooking through dim sum, the Chinese parade of small bites presented in bamboo baskets. Don't forget to try the har gow (shrimp dumplings), cheung fun (steamed rice rolls), and char siu bao (steamed pork buns). Other Cantonese cuisine standouts are its barbecued meats, served with sauces like hoisin and oyster. The Cantonese version of roast duck is very different from Peking duck, which is also a must-have, and which Culture Trip says originated from the southern Chinese capital of Nanjing. The duck is tender and succulent and covered with crisp, evenly-browned skin.
Because Fujian is by the sea, you'll find plenty of seafood, which could be braised, boiled, and steamed. The resulting dishes from this coastal region is less salty and more sweet and sour. Of the dishes that come from this part of the world, look out for "Buddha jumping over the wall," a 28-ingredient wonder that includes abalone, sea cucumber, fish stomach, ham, and mushrooms, spiced up with Shaoxing Wine and then simmered for eight hours. The resulting dish was said to be so aromatic that it could Buddhist monks to jump over the wall to enjoy the delicacy (via Top China Travel).
Must-have foods from Sichuan and Taiwan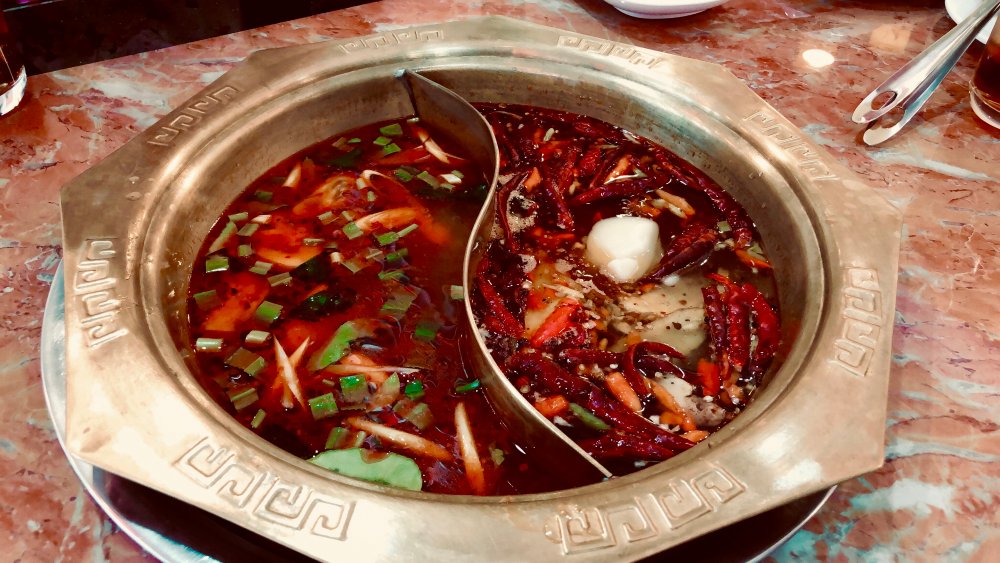 Shutterstock
If you want fire in your Chinese food, the cuisines to try are from Sichuan, home of the mouth-numbing peppercorn and of culinary classics including the adaptable Kung Pao Chicken, made with chicken, peanuts, and dried chilis, which originated as a Beijing court dish. Don't forget about and ma po tofu, a fiery tofu concoction made up of spicy bean chili sauce, ground pork, and Sichuan peppercorns. Sichuan is also home to a turbo-charged chili oil hotpot (ma-la) in which you can cook vegetables, meats — and a few other unusual ingredients like beef tripe and pig brains (via Travel China Guide).
To the east of Sichuan (and sitting on either side of Shanghai) is Jiangsu province (via Travel China Guide). The region's cuisine is described as mild, lightly sweet, and umami. Its most popular export is Yangzhou fried rice, a fried rice dish made with eggs, carrots, green onions, corn, and ham (found everywhere in China). But Jiangsu is equally for its beggar chicken, which is where a whole chicken is wrapped with lotus leaves and mud before it is baked (via Travel China Guide). USA Today says Jiangsu cooking is the go-to for state dinners and expensive banquets, thanks to its chef's skills with a carving knife, which helps make dishes look delicate. It is said that a Jiangsu chef can cut a 2 cm piece of tofu into 30 slices.