We Finally Know How To Make Shake Shack's Cheese Sauce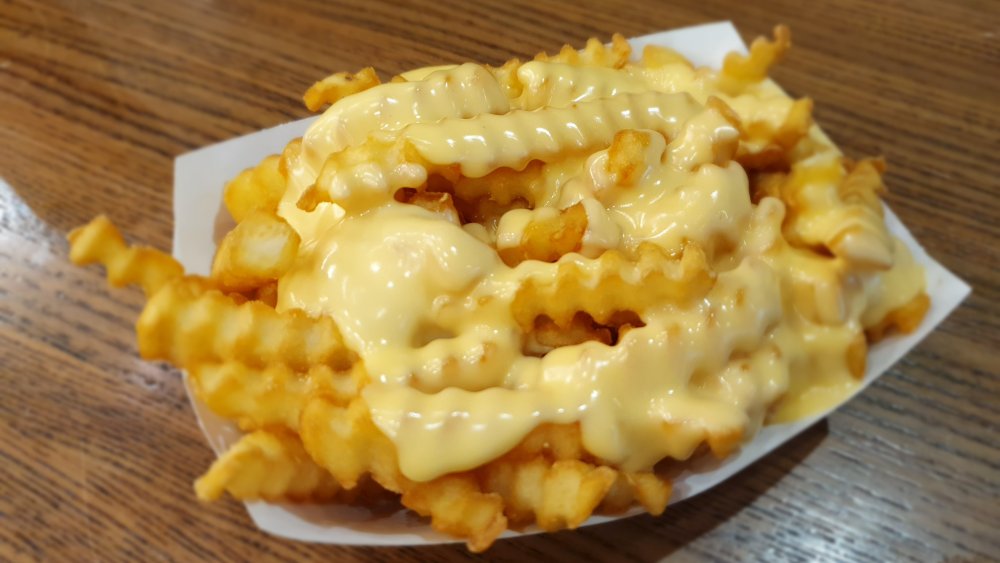 Shutterstock
Another favorite restaurant just dropped one of its recipes, and the Shake Shack cult has a lot to be happy about. The heralded fast-casual chain recently released how to make its delicious and famous cheese sauce, and the internet is excited. While people have raved about Shake Shack's burgers for a long time, rejoice, because that creamy, savory sauce we all love dipping fries into is about to be accessible at home (via Thrillist).
Though everyone knows the Shake Shack cheese sauce is perfect on the chain's crinkle-cut fries, we cannot even imagine all the possibilities for home creations. Like, on a baked potato. While you start thinking over all of the things you're planning to dunk or drown in homemade Shake Shack cheese sauce, rest assured it does not call for any outlandish ingredients. The process is not quite as easy as melting Velveeta, but it's also so much better (via Delish).
How to make Shake Shack's cheese sauce
To make Shake Shack's addictively-good cheese sauce, you will need several ingredients: 1 tablespoon of canola oil, 6 thin slices of jalapeño, 3/4 cup sliced onion, 1/2 teaspoon of salt, and 2 teaspoons of peppercorns. You'll also need 1 tablespoon of white wine vinegar, 2 cups of heavy cream, and 2 teaspoons of white wine. Don't forget the 2 cups of American cheese, and 2 cups of cheddar cheese.
To make the sauce, combine the oil, jalapeño, onion, salt, and peppercorns. Sauté until the onions are translucent, and add the white wine and the vinegar. Once the liquid reduces down, add the heavy cream, turn off the heat, and let all of the ingredients steep together for half an hour to infuse the flavors.
Finally, strain the cream sauce, put it back in the pot, and bring it to a boil. Add the cheese, and whisk it well to prevent any lumps. In the end, you'll get a delicious bowl of Shake Shack cheese sauce.
If you get lost, turn to Shake Shack's Twitter account for a step-by-step video. Culinary Director Mark Rosati will lead you to cheesy glory, guaranteed.