Why The Pandemic Has Been Good For Walmart's Bottom Line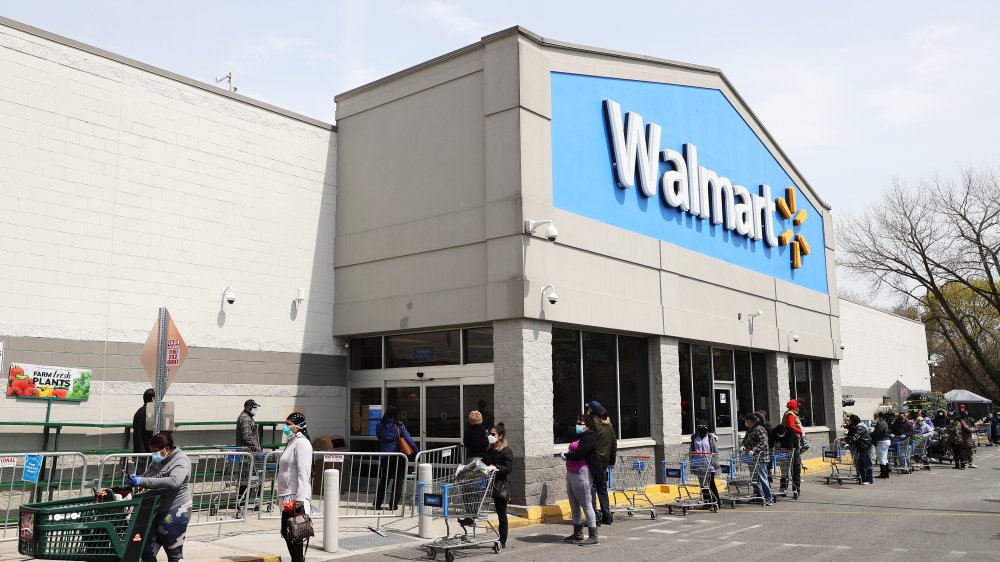 Al Bello/Getty Images
Thanks to the coronavirus, April 2020 will go down in U.S. economic history as one of the worst months the country has ever experienced. Production was at its slowest in more than a hundred years, and retail sales nosedived 16.4 percent — which, in real terms, caused Neiman Marcus, J Crew, and the historic JCPenney to declare bankruptcy. Economist Chris Rupkey says today's scenario defies description. "This isn't a recession, and it cannot even really be called a depression as the fall is so fast and swift that this downturn defies everything economists have seen in the last century," he tells Reuters. "It is sobering if not downright scary."
Just as the pandemic has created losers, it has also created winners. Internet giant Amazon earned a cool $75.45 billion in revenues in the last quarter, and says it plans to spend all of its profit (around $4 billion) on a pandemic response (via CNBC). Also, Walmart saw its e-commerce sales rise by 74 percent, while same-store (or in-store) sales went up by 10 percent — and the company as a whole earned $134.62 billion from January to April (via CNBC).
Because of increased demand driven by the pandemic, Walmart's biggest challenge during the January to April period had to do with keeping its shelves stocked. To illustrate the magnitude of the buying, CEO Doug McMillion said, "For many of these items we were selling in two or three hours what we normally sell in two or three days." 
Walmart doesn't know what directions their earnings will go next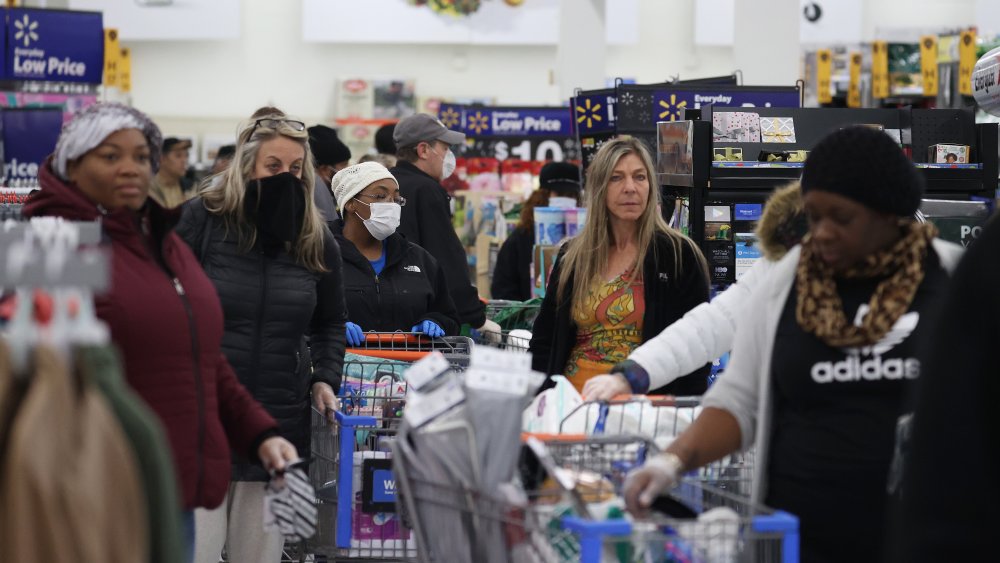 Al Bello/Getty Images
Walmart says it saw three phases to the pandemic-led buying — in the early stage, customers stockpiled groceries and household essentials. Then they bought games and puzzles to keep themselves entertained, office and exercise equipment so they could establish new routines at home, and home decor. Once the stimulus checks came in, Walmart saw people come in to buy less essential items like clothing, TVs, and toys. All the spending has resulted in empty storage spaces for the retail giant.
"Not only have products and categories like hand sanitizer, disinfecting wipes and sprays, toilet paper, beef, and pork been hard to find but items such as laptops, office chairs, and fabric have been cleared out in some of our stores and online. We're working to recover our in-stock position as we begin the second quarter," the CEO told reporters during a call to explain the numbers.
The company says it spent $900 million on COVID-19 related expenses, including cash bonuses to its hourly staff, which totaled around $755 million. Walmart and Sam's Club have also said that they will give their hourly workers a second round of cash bonuses worth a total of $390 million. Because of the pandemic, Walmart won't say what direction its bottom line might head next, because the virus was causing what the company describes as "unprecedented variability" for the company (via USA Today).