Why Everyone Is Talking About Cheetos Hot New Snack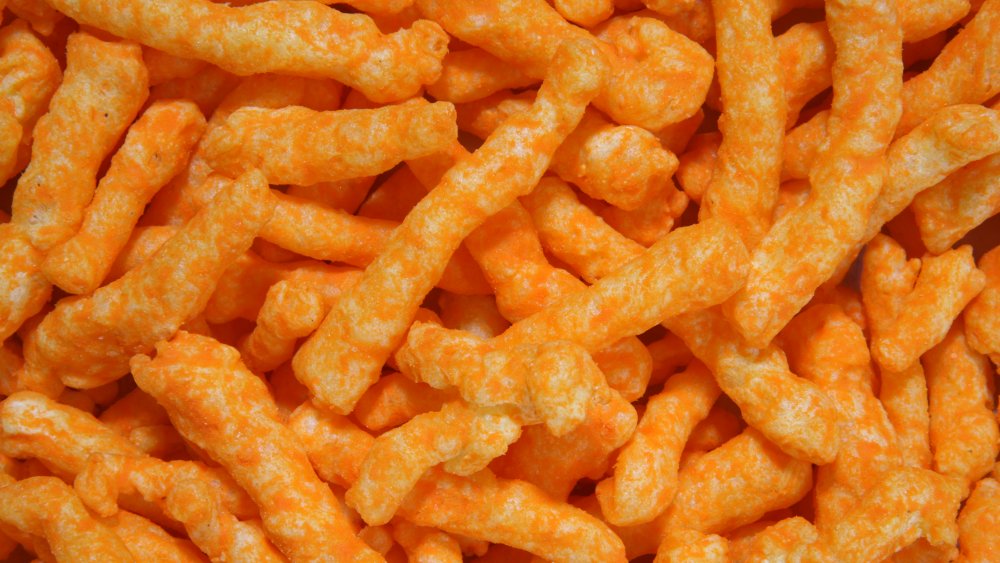 Shutterstock
Flamin' Hot Cheetos lovers everywhere should get ready. The deliciously cheesy, fiery snack just got surpassed with the latest release from Cheetos. The hot new snack is actually the hottest one Cheetos has released yet, so it might be best to keep something cold to drink nearby when you try these for the first time (via My Recipes).
If this already sounds like a must-try item, then you'll need to act quickly, because the new Flamin' Hot Pepper Puffs are only being sold for a limited amount of time. Though bags hit the shelves this week, we are not sure when we will have to say goodbye to what sounds like a delicious new take on a favorite Cheetos flavor. 
Also, keep in mind that you can only find the Flamin' Hot Pepper Puffs at Walmart and Circle K, so don't waste your time looking anywhere else. The new snack comes in two sizes — a 7-ounce bag and a 2.375-ounce bag. The larger option is $3.99 and the smaller is $1.80 per bag (via Delish).
What you need to know about the new Cheetos Flamin' Hot Pepper Puffs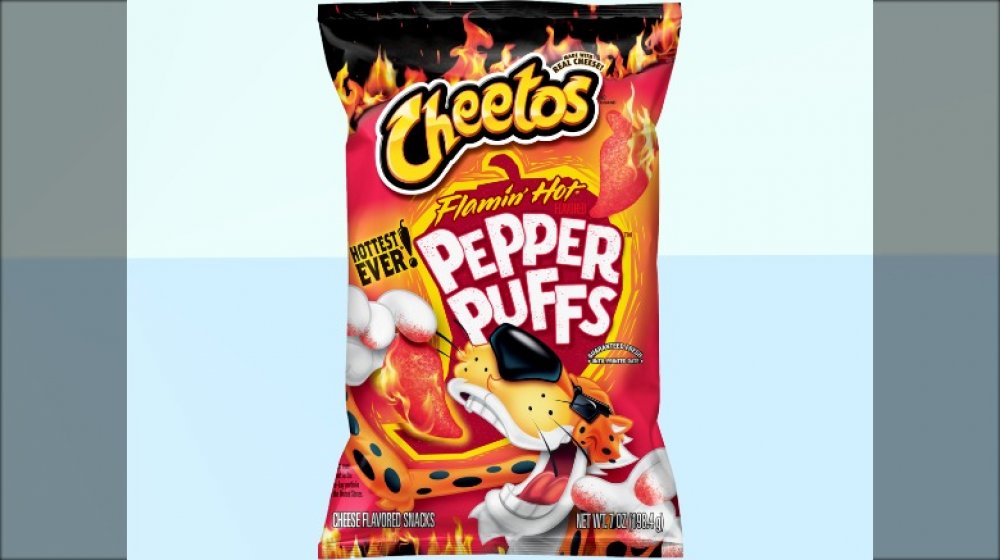 Frito-Lay
Cheetos have always had a few distinct characteristics, like Cheeto dust, and this new flamin' hot snack doesn't stray from the primary look. Just as Flamin' Hot Cheetos features a brighter, fiery color of Cheeto dust, this new hot pepper snack is even brighter and fiercer with a bright red color. The Flamin' Hot Pepper Puffs are also shaped like hot peppers (just in case you doubt the level of heat they might pack).
In case you only think of Flamin' Hot Cheetos when you think of the brand's Flamin' Hot line, then you might want to think again. The Flamin' Hot line of Cheetos products includes hot and spicy popcorn, Flavor Shot asteroids, classic Flamin' Hot Crunchy Cheetos, Flamin' Hot Lime Crunchy Cheetos, Xxtra Flamin' Hot Crunchy Cheetos, Flamin' Hot Puffs, Flamin' Hot Fantastixs, and even a baked version of the Flamin' Hot Crunchy Cheetos. That's quite a line-up, and to think the Flamin' Hot Pepper Puffs top them all in terms of heat, well, that's a lot to look forward to (via Cheetos).
So, head out to Walmart or your local Circle K to pick up a bag if you're looking to add a bunch of spice to your summer.