This Boozy Aldi Treat Is Like Dessert In A Glass
Back in time for the hottest days of summer, discount grocery chain Aldi is selling a strawberry cream flavored alcoholic drink that fans claim is basically dessert in a glass. Instagram Aldi fan account @Aldi.mademedoit posted a photo of the sweet beverage, Connellys Strawberry Country Cream, stating that they were unable to find the product during its first release due to popularity, even though they were very interested in trying it. In their caption, the account asked fellow Aldi enthusiasts the best way to drink the strawberry cream beverage.
Connellys Strawberry Country Cream was originally released in time for Valentine's Day 2020, according to Best Products. They describe the beverage as similar to Bailey's Strawberry & Cream and suggest you drink it over ice, add it to coffee, or make a milkshake with it. If you are interested in the product, but not a fan of strawberry flavoring, Aldi has produced a few other flavors of Connellys Cream drinks, including Caramel, Pumpkin Spice, and Mint Chocolate. Delish states that the strawberry beverage comes in a 750-milliliter bottle, contains 13.9 percent alcohol, and has reportedly been sold for $8.99 at some Aldi locations. They love that the drink and bottle both come in a pretty pink color, and call the price pretty unbeatable.
When Aldi says limited time item, they mean it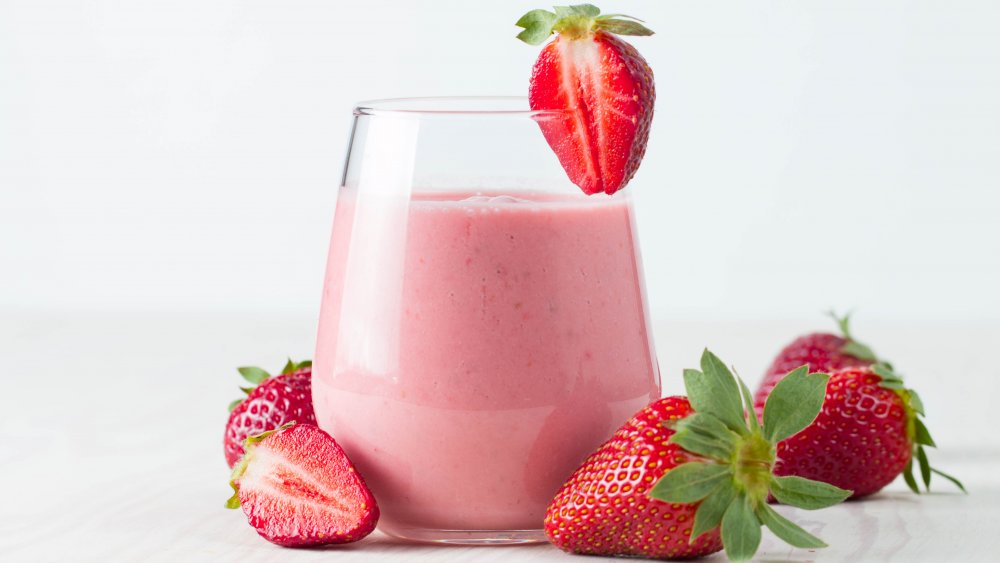 Shutterstock
In a review on Tastings of Connellys Strawberry Country Cream, the drink is categorized as a wine-based cream specialty. The smell is described as a combination of strawberry soft serve ice cream, bubble gum, and canned fruit punch, and the taste has the flavor of marshmallows added to the sweet mix. They state that the drink is a light pink color, and describe the texture as silky and light-to-medium bodied. Suggested foods to pair with the drink are desserts like crème brûlée and strawberry shortcake, or the healthier alternative of fresh berries.
When Best Products reported on the beverage in January 2020, they warned readers that it was a limited-time item, which at Aldi stores is a serious threat. It has taken five months since its first release for customers to spot the pink drink on the shelves again. If you think this sweet, strawberry beverage sounds perfect for summer, we suggest you start searching your local Aldi ASAP before it disappears once more.