This Chick-Fil-A Nugget Sheet Pan Dinner Changes Everything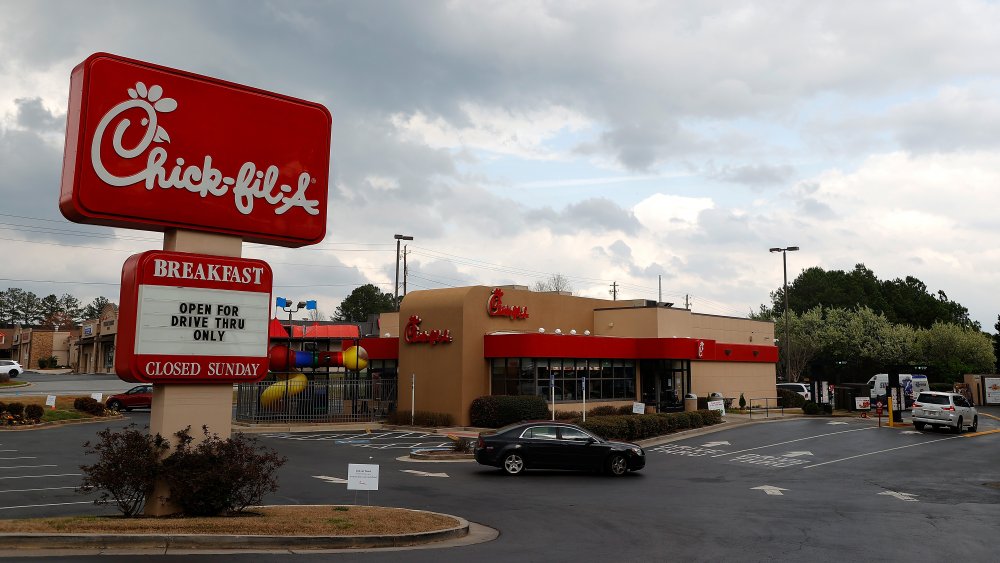 Kevin C. Cox/Getty Images
Chick-fil-A's recipe series, Nightly Nuggets, makes a quick and easy dinner at home so much faster than ever before. The series is serving up inspiration in the moments when we need them most. We're sure you know that feeling when you cannot think of a single thing to cook, when nothing sounds good anymore, or the pantry is looking pretty sparse (via Delish). 
While fast-casual food can get old when you go through the drive-thru too often, the beauty of these take-home dinners is that you can assemble them yourself with Chick-fil-A chicken and just a few extra ingredients. The nuggets sheet pan dinner has introduced a new level of simplicity that we love. We also love that the recipe only uses a few kitchen tools, which means minimal clean-up (via The Chicken Wire).
Seriously, making Chick-fil-A's nugget sheet pan dinner is almost as easy as going through the drive-thru. You will need 30 Chick-fil-A nuggets, two sweet potatoes, two green bell peppers, one onion, and some olive oil. That's it! You will also want to use whatever seasonings you like such as salt and pepper, or garlic powder. You can add in or substitute other vegetables to your preference.
How to make Chick-fil-A's nugget sheet pan dinner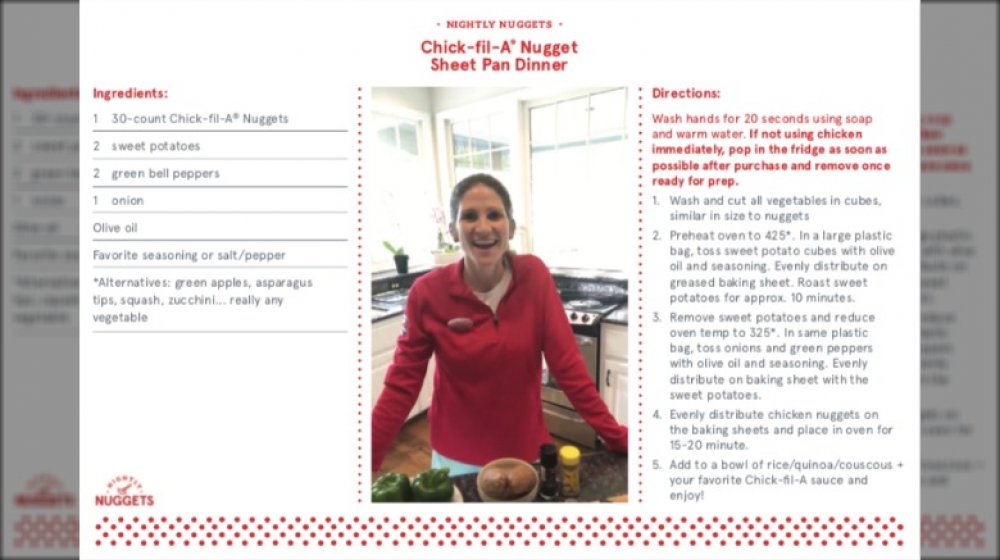 You can watch a video about how to make the dinner on Facebook, but honestly, it's so simple you don't even have to.
Wash and cut all the vegetables to be roughly the same size as the chicken nuggets. Preheat the oven to 425 degrees. Place the sweet potatoes a big, sealable plastic bag, and toss them with the olive oil and seasonings just to coat. Then place the sweet potatoes on the sheet pan and roast for 10 minutes.
Reduce the oven heat to 325 degrees, and toss the peppers and onions in the same bag with olive oil and seasonings. Add the chicken nuggets, peppers, and onions to the sweet potatoes on the sheet pan and roast for another 15 to 20 minutes. Once the meal is done, you can enjoy the vegetables and chicken nuggets on their own, or over a bed of rice, quinoa, or couscous. And leftovers? Yum!