The Sneaky Reason Food Network Food Looks So Good
We may receive a commission on purchases made from links.
On your screen, The Pioneer Woman's Maple Sausage Breakfast Burritos look like adorable tortilla pillowcases, stuffed with clouds of fluffy eggs, the sweetest, most tender meat, with those fun tater tots playing peek-a-boo from under streaky layers of hot, melted cheese (via Food Network). You follow Ree Drummond's instructions religiously, but what's on your plate more closely resembles the scraps in a diner kitchen after the breakfast shift. What went wrong?
Don't don't worry — you're not a kitchen klutz. It turns out, there's a lot of behind-the-scenes food styling that goes on when Food Network is producing a recipe, and some of the things being added to those delicious-looking dishes aren't even edible. From using toothpicks to prop up ingredients, to adding volume to give the impression of fullness, the world's most beloved cooking channel has a lot of sneaky ways to make food look better than it would actually taste.
Food stylist confesses behind-the-scene tricks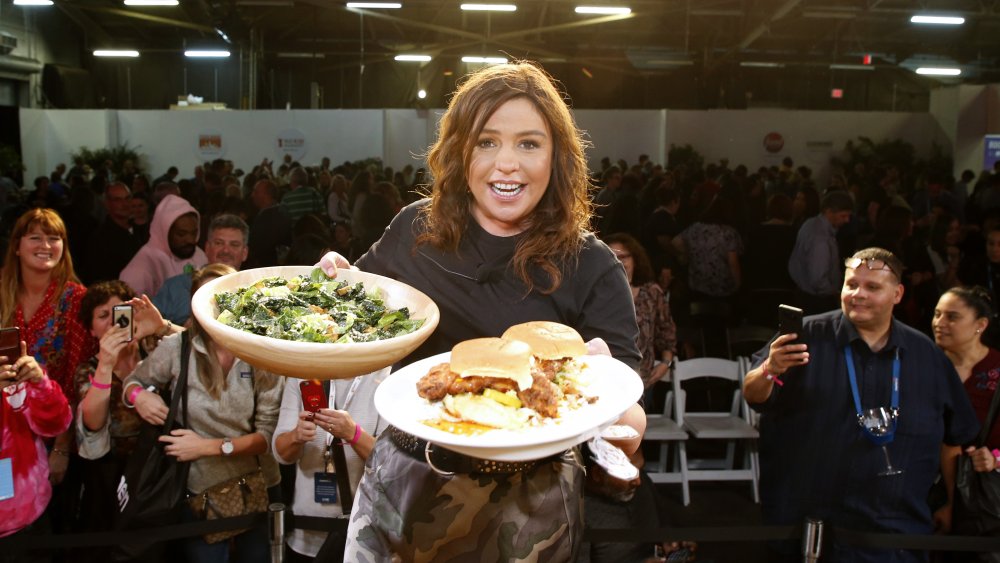 John Lamparski/Getty Images
We already know that food TV commercials use all kinds of tricks to make the products they're advertising look drool-worthy — hairspray on your lettuce, anyone? Cooking television shows usually have a final product that is enjoyed on camera, so Aquanet on an omelet isn't going to be likely. But, the Food Network recommends having chopsticks, tweezers, brushes and other tools to craft that perfect photo finish.
Behind the scenes, though, a professional stylist may go a bit further than using a chopstick to wiggle an errant noodle back into the bowl. Their goal is to make the final product look so good, you'll want to lick the screen. Rebecca Jurkevich has styled for Rachael Ray Every Day, and Food Network Magazine, and while she says she mainly sticks with the chef's ingredients, Jurkevich admitted that she's done some sneaky things to make a plate look more photogenic.
"Sometimes I will use instant mashed potatoes to stuff a burrito that you're not going to see the inside of, so it holds its shape, or to fill enchiladas, which collapse very quickly after cooking, so that they're perfectly round and beautiful," she told Kitchn. Jurkevich also said she won't leave home without Kitchen Bouquet in her toolkit; this edible product enhances the color of gravy, sauces, and meats.