Read This If You've Recently Purchased Juice From H-E-B
H-E-B grocery stores have a fierce following. In January 2020, consumers voted H-E-B grocery stores to be the best in the country over Trader Joe's (via Business Wire). It's not hard to understand why. H-E-B is big on community, supporting environmental, educational, and disaster relief initiatives, and they also recently launched a delivery service for senior citizens (via Grocery Drive). Then there's the fact that H-E-B is all about Texas. The grocery store sells over 300 "totally Texas" products, and social media loves it (via BuzzFeed).  
On whole, not a bad year for the supermarket. But last week, things went wrong. If you've recently bought Hill Country Fair juices form an H-E-B supermarket in Texas, Mexico, or at Joe V's and Mi Tienda stores, read this carefully. According to the FDA, on June 19th, the supermarket removed all contaminated, gallon-size bottles of Hill Country Fare Pink Lemonade, Citrus Punch, Fruit Drink and Grape Drink, due to the presence of a potential milk allergen, and the company is offering consumers who bought any of the affected drinks a full refund.  
What are the details behind H-E-B's recall and what should you do if you're affected?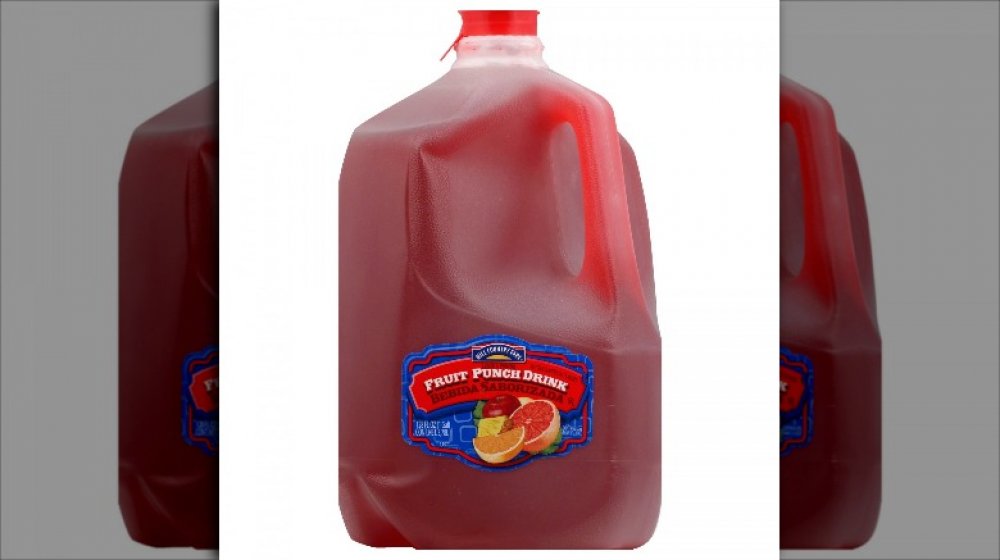 H-E-B
According to the company announcement, consumers who have "an allergy or severe sensitivity to milk run the risk of a serious or life-threatening allergic reaction if they consume these products." It's worth taking their warning seriously. The American College of Allergy, Asthma, and Immunology lists hives, upset stomachs, vomiting, bloody stool, and anaphylaxis as common milk allergy symptoms.
How do you know if you've bought a potentially contaminated bottle? 
Look at the back of your jug, beneath the lid. Potentially affected Pink Lemonade Gallons have the UPC code 412200517 and code date 8/1/2020. Potentially affected Citrus Punch Gallons have the UPC code 4122081863 and code dates 9/30/2020 and 10/1/2020. Potentially affected  Fruit Drink Gallons have the UPC code  4122005172 and code dates 8/1/2020 and 8/2/2020. Finally, potentially affected Grape Drink Gallons have the UPC code 4122005176, and code dates 8/2/2020. 
If you've bought a contaminated bottle, you can return it to your local H-E-B supermarket for a full refund. If you'd like to contact H-E-B's customer support, you can do so, Monday through Friday between 8 a.m. to 6 p.m CST, at 1-855-432-4438.