The New Hostess Snack Cakes Have Everyone Talking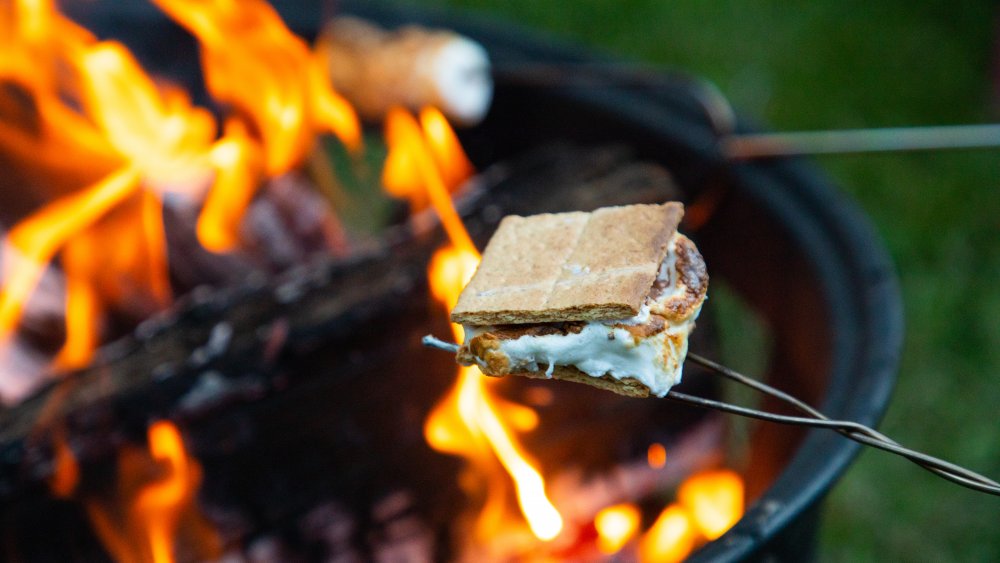 Shutterstock
The new treats from Hostess we are here to discuss have a limited window of availability, so we won't keep you in suspense. Available exclusively at Walmart beginning on July 9, Hostess S'mores CupCakes will debut at $2.68 for a limited time (via Delish). No fire pit? No problem. These compact, individually-wrapped flavor bombs deliver everything you'd expect from a traditional s'more. The yellow cake features graham cracker flavor, a marshmallow creme filling, and is topped with chocolate icing, according to Foodsided.
This isn't the first time Hostess has offered limited-time-only cupcakes. The Hostess CupCake brand celebrated 100 years in 2019. In fact, CupCakes were the first sweet that Hostess introduced, long before Twinkies and Zingers. CupCakes fans can indulge in seasonal offerings, such as Star Spangled CupCakes that celebrate the Fourth of July, Baseball CupCakes, and Spring CupCakes. Some folks have even skipped the fair, opting for frozen Deep-Fried Twinkies you can make at home (via USA Today). 
Why is there so much excitement over the new S'mores CupCakes?
As humans, we gravitate toward things that might drum up nostalgia. It could be '80s music, a vintage video game, or mom's spaghetti recipe. The experts at Psychology Today say that nostalgia produces positive emotions, and who wouldn't want more of those? Nostalgia can make us crave certain foods at different times of the year, too. In the summer, our minds wander to barbecues with hamburgers and hotdogs, and campfires with toasted marshmallows and s'mores. It's the same reason your brain tells you to eat stuffing and mashed potatoes at the end of November, and every candy imaginable at the end of October.
A Girl Scout guidebook introduced "Some Mores" to the world back in 1927, and we've loved them ever since (via Food & Wine). Hostess CupCakes S'mores contain all of the flavors needed to elicit that perfect summertime memory — graham cracker, toasted marshmallow, and chocolate. If Hostess gets it right, there will be plenty of people lining up for a bite of summer when the S'mores CupCakes hit shelves soon.