Why You Should Think Twice About Eating A Ball Park Hot Dog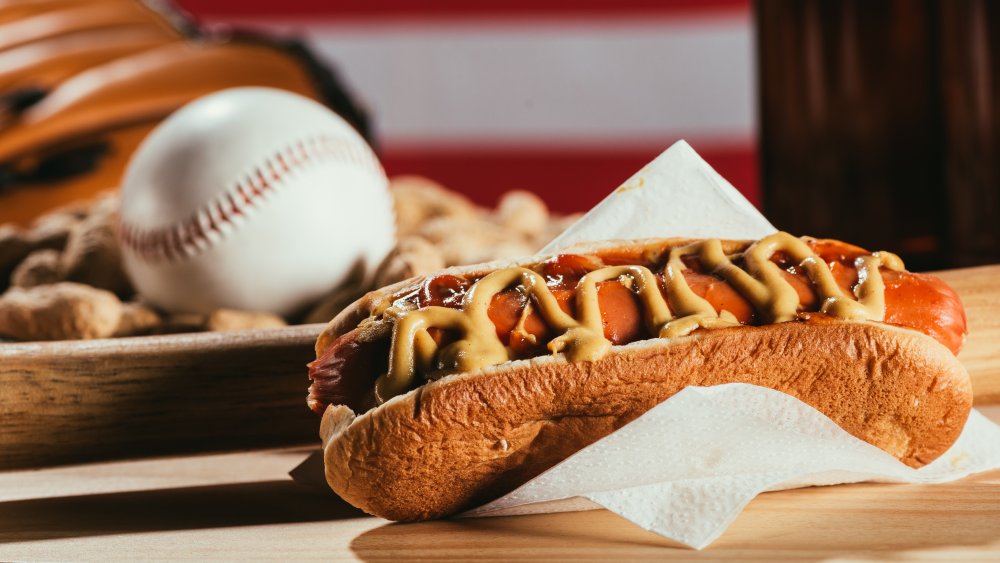 Shutterstock
In 2018, an airborne hot dog proved that not all Philadelphia Flyers play hockey. Per 6abc Action News, during a baseball game against visiting the St. Louis Cardinals, Philly's silly mascot, the Phanatic, fired a hot dog cannon at the crowd at Citizens Bank Park. In what might be described as a "foul strike," a flying frank wrapped in duct tape thwacked Kathy McVay in the face.
McVay needed shoulder surgery at the time and couldn't block the speeding meat bullet. "It hit me like a ton of bricks," she recalled. "My glasses flew off." Despite developing a small pool of blood in her eye, she was a good sport and didn't mind others laughing at the ridiculous collision. However, McVay also conveyed a serious warning: "Just to be aware, because you never know. I understand a baseball, but not a hot dog."
Frankly, that's probably not the only kind of ballpark hot dog you should keep a wary eye on. Ball Park brand franks might negatively impact your health even if they don't come flying out of left field.
Three strikes against Ball Park beef franks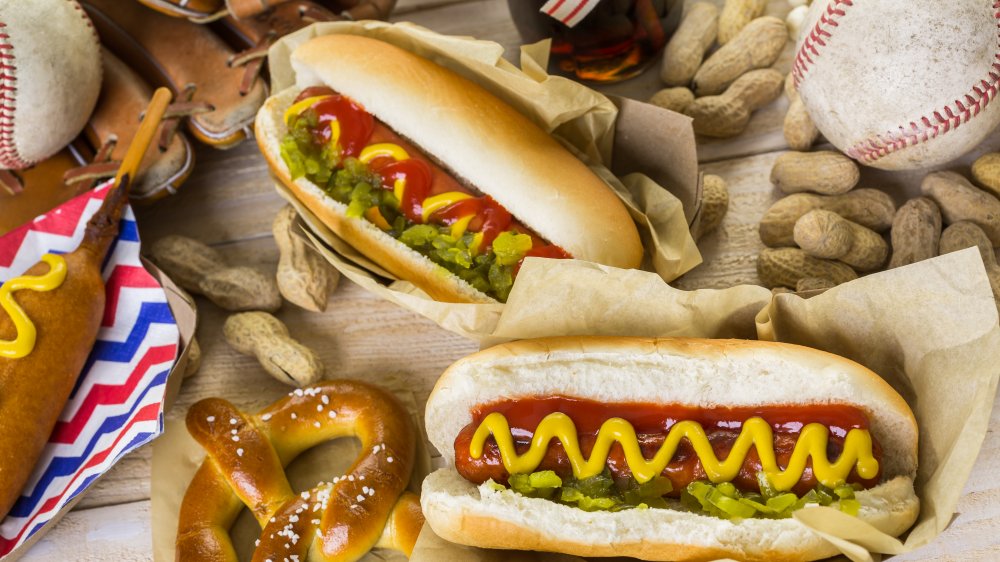 Shutterstock
One of Ball Park's famous all-beef franks packs 15 grams of fat, including 6 grams of saturated fat (30 percent of your daily value), per Ball Park's website. Plus, each frank contains 510 milligrams of sodium. The Angus beef franks have identical amounts of fat and slightly less sodium while the prime beef variety provides a staggering 20 grams of fat, including 45 percent of your daily value of saturated fat. The classic franks compare favorably, with 11 grams of total fat and 480 milligrams of sodium, but they're still not great. Even so, you might wonder why Ball Park franks should be singled out. After all, it's no secret that hot dogs are basically edible red flags. Time reported in 2017 that your average pork hot dog packed 18 grams of fat and 620 milligrams of sodium without condiments, like ketchup and mustard. 
However, Ball Park is in a league of its own in terms of popularity. According to Statista, in 2019, roughly 89 million Americans sank their teeth into Ball Park franks, making it the most frequently eaten brand in the country. Fortunately, the brand's smoked turkey franks are a whole different ball game. The company website says they're made with 100 percent white meat and contain zero fat. They also have lower sodium (430 milligrams). Compared to beef franks, these "fowl" hot dogs knock it out of the park.