Hershey's 2020 Halloween Candy Lineup Has Everyone Talking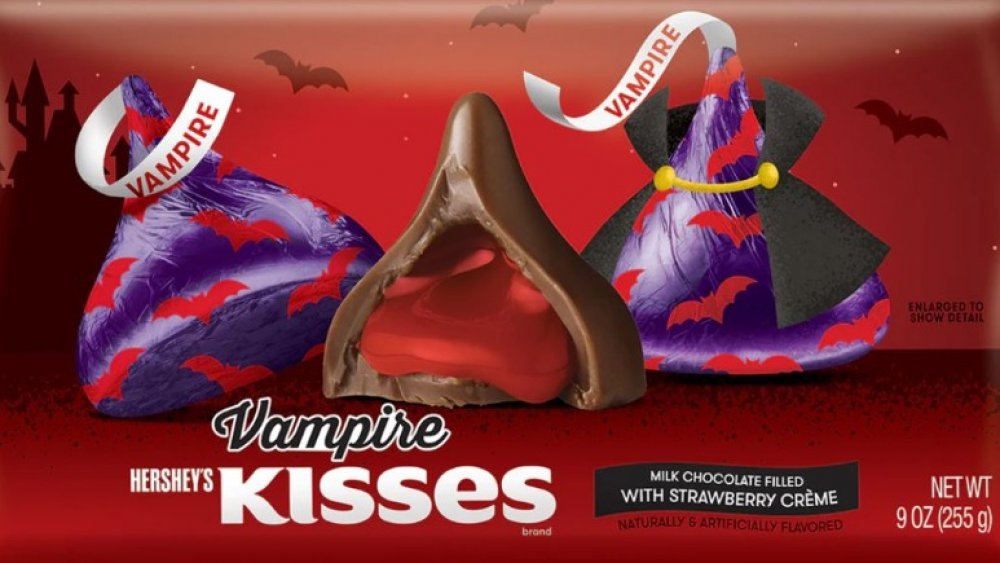 Hershey's
We might not be done with the red, white, and blue desserts from the Fourth of July, but Hershey's is already looking forward to Halloween. On July 7, the candy company announced the holiday spins on the beloved classics everyone looks for in their pumpkin buckets, and we could not be more excited. We will have four new holiday-themed treats to try this year — and, yes, it does include a new Reese's cup (via Delish). 
Whether you are a strictly classic kind of person or you swear that the holiday-themed treats just taste better, you will love the new sweets that are launching. Hershey's typically does give us a twist around the holidays, like the 2019 Reese's pumpkin that was filled with Reese's Pieces. This year, the packaging is changing, but there are even bigger transformations inside (via Elite Daily). Expect different colors, different flavors of chocolate, and even a blood-curdling surprise.
These haunting Hershey's treats are the ones to try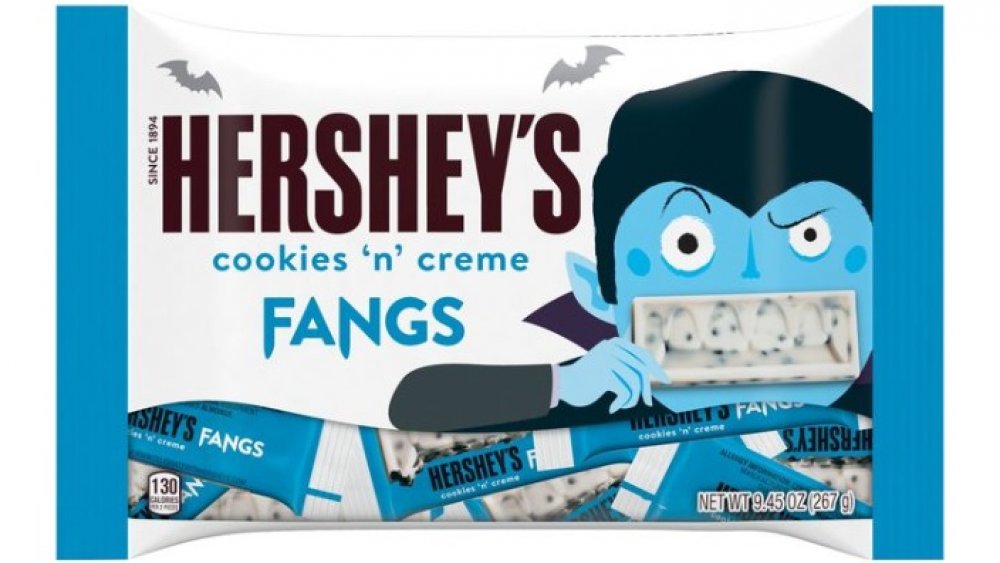 Hershey's
To kick things off, the new Reese's is called a Franken-Cup. The top looks familiar, but the bottom of the cup is a green creme. Overall, the classic peanut butter cup flavor is the same, but if you plan to bake some of your own desserts, the green bottom could be really useful — we're envisioning them as a witch's face in a sweet baked good.
Another classic candy with a makeover is the Cookies 'n' Creme chocolate bar, which will be known as Cookies 'n' Creme Fangs this Halloween season. This year, the bars are molded into fangs, so you can eat along the edges to reveal the shape of the sharp teeth. It's the perfect treat for taking some spooky selfies with friends.
The next white chocolate treat is a beloved Halloween favorite, the Kit Kat. The milk chocolate has been replaced with white chocolate dyed a soft green color and called Witch's Brew. The same snappy wafer is under the chocolate, but those who prefer creamier white chocolate will love these.
Finally, Hershey's Kisses will be transformed into Vampire Kisses. The normal-looking chocolate kisses are actually filled with strawberry creme, but the fruity flavor comes through well before biting in. We love that it looks like blood oozing out and that it's a much easier way to get a chocolate-covered strawberry flavor than painstakingly dipping your fresh berries into melted chocolate.
Don't worry if you're a strict traditionalist, though. The original candies and previous spins will be on the shelves this year too, which will make all the goblins in your neighborhood happy.