Why Everyone Is Talking About Olive Garden's New Alfredo Sauce Menu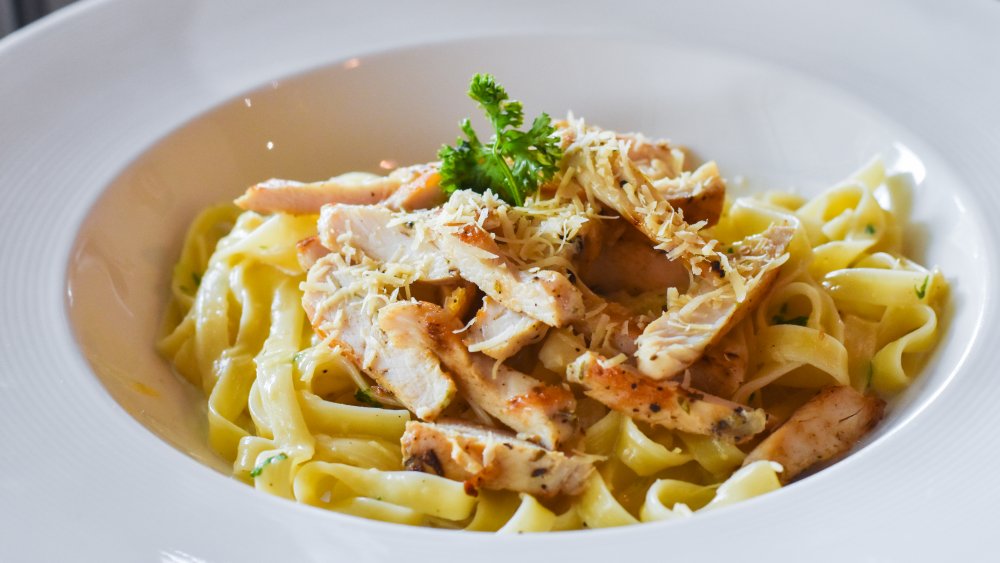 Shutterstock
While people have some definite opinions on how to prepare Alfredo pasta sauce, it's with good reason. Alfredo sauce seems to be a universal favorite whether it is traditionally made or not. It's warm, creamy, and cheesy, so it's pretty perfect if you ask us. The love for this popular sauce is probably why Olive Garden is dedicating an entire menu to it. The casual Italian chain is calling the latest promotion 'Amazing Alfredos' on its menu, and it's making ordering a lot simpler if that's your go-to entrée (via Delish). 
Now every option of Alfredo is in one place. You can get your favorite sauce over fettuccine pasta and served with whatever kind of protein you'd like — or none at all, if meat isn't your thing. Options include plain Alfredo fettuccine, chicken Alfredo, seafood Alfredo, shrimp Alfredo, and steak Alfredo (via Olive Garden). That gives customers quite a few ways to enjoy their pasta, but that certainly is not the limit for the Alfredo sauce menu — you can get it on other dishes than pasta as well.
The chain will give you more sauce on more dishes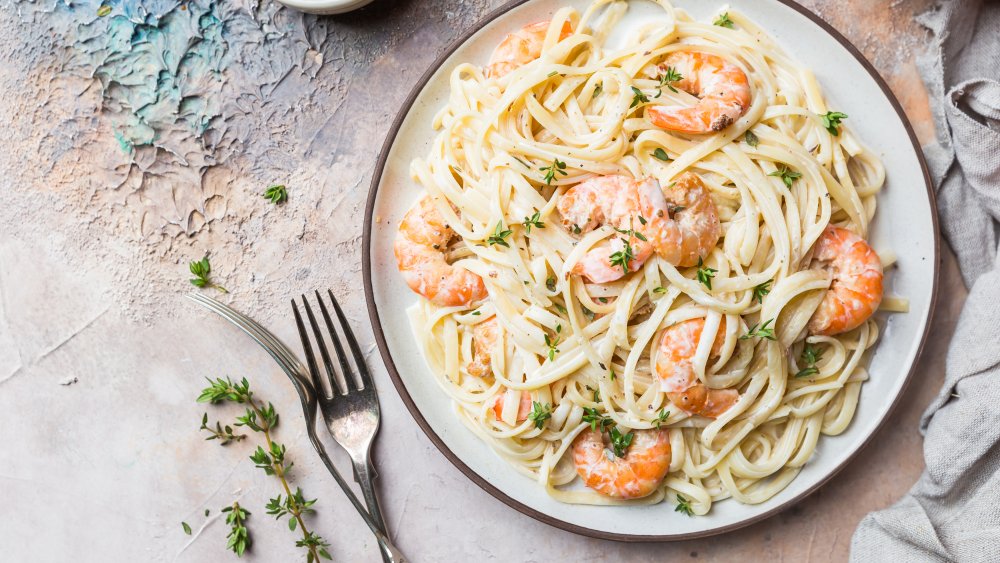 Shutterstock
Besides pasta, Olive Garden guests can order Alfredo sauce on menu items like appetizers, sides, and even pizza. Nothing appears to be off-limits. And dipping Olive Garden garlic breadsticks into a side of warm Alfredo sauce sounds pretty delicious. The menu and the idea of more Alfredo on most anything should certainly serve as inspiration for your next order.
Since the chain is lauding "more Alfredo on more of your favorites," it's quite possible that Olive Garden is including more of the sauce on whatever you order. The chain has yet to confirm exactly how much more Alfredo sauce is implied by "more," but if you've always wanted just a little extra sauce to really smother your fettuccine pasta or the protein on top, this is your day.
Head to your local Olive Garden soon to take advantage of this new sauce menu while it lasts.