The New Lay's Chips Flavors Have The Internet Buzzing
When it comes to their potato chips, Lay's execs aren't afraid of a little experimentation. After all, this is the company that for years hosted the annual Do Us a Flavor challenge, asking the public to submit the next best seasoning combo — bringing us some downright peculiar creations, like Cappuccino and Crispy Taco (via MassLive).
Lately, however, Lay's has teamed up with the experts, tapping iconic restaurants nationwide for its new line called Flavor Icons, with five varieties that have been developed in tandem with classic dining institutions from coast to coast, which are prominently called out on every bag (via People).
As noted in Thrillist, the new launch might have fans harking back to the 2018 special rollout of chips called Taste of America, which replicated regional flavor favorites, such as Deep Dish Pizza and New England Lobster Roll, in chip format. But this time, famous restaurants and their much-loved specialty dishes are being featured, with a mix of flavors that are inspired by everything from Southwestern staples to Northeastern casual-food fare.
Lay's Flavor Icons' varieties and availability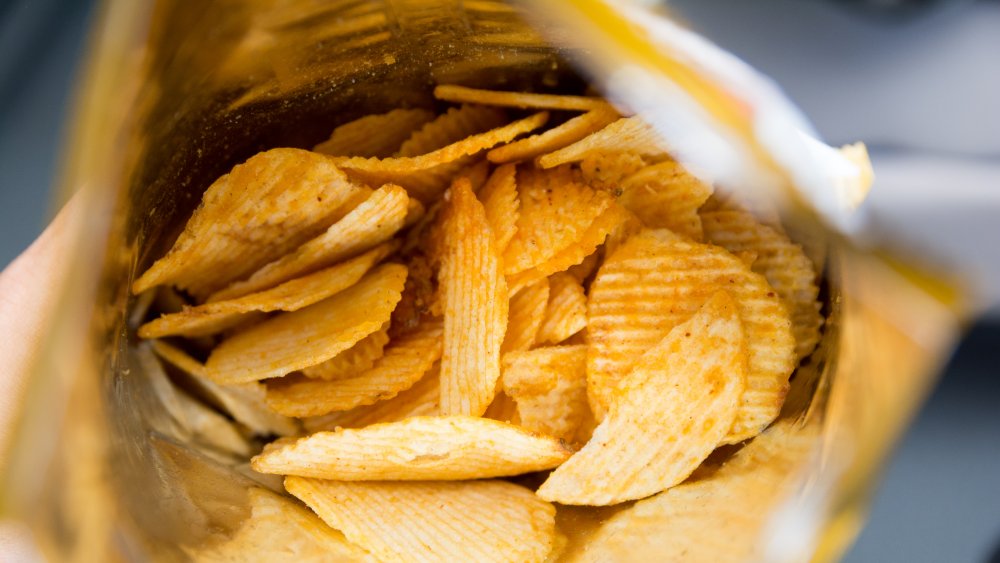 Shutterstock
Good Morning America reports that the five varieties offer up a diverse range of tastes: New York Style Pizza, a Kettle Cooked creation, is based on Grimaldi's in Brooklyn, New York, which has served up coal-fired pies for decades. Nashville Hot Chicken is a take on the Southern specialty from Music City's own Party Fowl. Philly Cheesesteak riffs on the cheese- and meat-laden sandwiches from one of Philadelphia's reigning cheesesteak kings, Geno's Steaks. For Western-style flair, Lay's taps Southern California's El Torito for its Carnitas Street Taco flavor (a Wavy variety), and Albuquerque's Cocina Azul for Chile Relleno.
According to People, consumers can keep an eye out for the new chips starting on July 13, but there is one caveat to keep in mind. The Chile Relleno flavor will have limited distribution — only while supplies last, and only in Walmart and 7-Eleven stores.
Still, at a time when both travel and restaurant dine-ins remain iffy, at least Lay's is bringing Americans a taste of some of their favorite foods — as the company said in a statement, the Flavor Icons rollout "may just offer the best of both worlds" (via Good Morning America). Or, in this case, five worlds of statement-making flavors finely honed by some of our country's most beloved institutions.