The Untold Truth Of Marie Callender's Chicken Pot Pie
Apple pie might be ubiquitous when it comes to describing all things Americana, but some might argue that there's another pie that better exemplifies the U.S. Marie Callender's chicken pot pie has been a frozen foods aisle staple for decades, and its origin story is the self-made stuff that American dreams are made of.
Before the signature chicken pot pies were available nationwide, they were made by hand by Marie Callender, a Californian who set up shop in Long Beach. According to the Chicago Tribune, she along with her husband and son traded in the family car for capital to set up a bakery back in 1948. The operation proved a success, but when the Callenders saw an opening in the market for a retail pie and coffee shop, they transitioned from wholesale dessert delivery to restaurant ownership in 1964 (via Funding Universe). By 1969, the chain had expanded its menu to include diner fare served in cozy dining rooms across its home state.
A comfort food favorite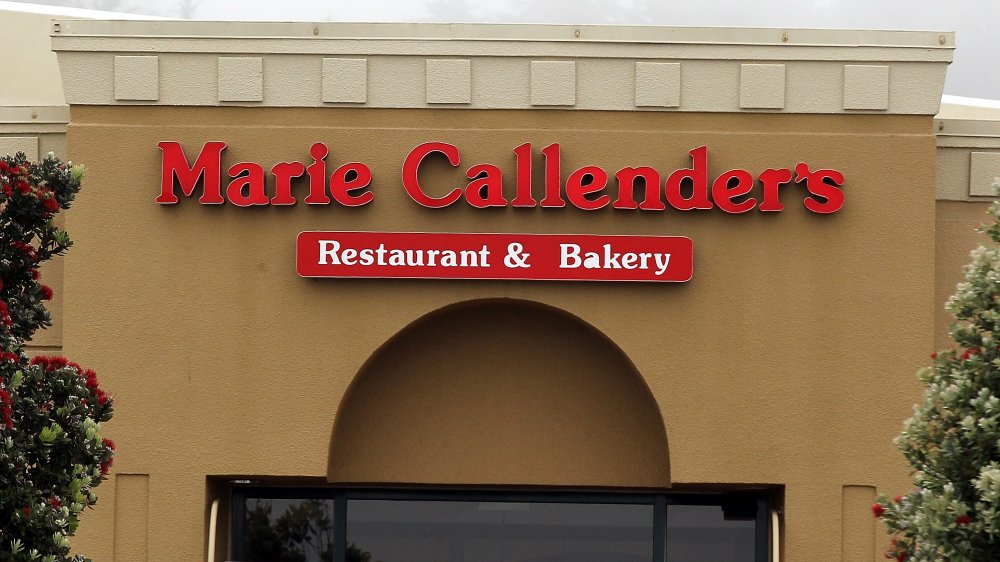 Justin Sullivan/Getty Images
The Southern California based-chain thrived for more than 40 years, becoming a comfort food favorite with a few unique touches that set it apart from its competition, namely a fully-stocked bar, serve-yourself salad bar, and of course, a menu that heavily featured Callender's signature sweet and savory pies. At one point the chain had nearly 140 locations (via Restaurant Business). The Orange County Register captured Callender's cozy, grandma's house-themed decor complete with dark wood outfitted dining rooms, overflowing bread baskets, and a vintage plaque menu offering slices of pie for 35 cents.
Marie Callender's dine-in pie appeal was wide, but take-home pies did a booming business as well. The market for bake-at-home versions (including fan favorite chicken pot pie) was so hearty that the company branched out into frozen foods. Reuters reports that ConAgra paid a cool $57.5 million for the brand back in 2011. Unfortunately, the restaurants didn't fare as well. USA Today notes that the company filed for Chapter 11 in 2019.
Pies do a booming business
Depending on whether you're dining at home, or at one of Marie Callender's remaining 29 locations in California, Nevada, and Utah, you may find some differences in the chicken pot pie. In a deep dive into the history of Marie Callender's most famous pie, My Recipes reveals that the frozen pies that are sold in supermarkets aren't crafted with the same original recipes.
At Marie Callender's restaurant, the chicken pot pie is served in a squat, ridged ramekin filled with a creamy combo of chicken, studded with peas and carrots, topped with a flaky layer of puff pastry. The store-bought version still aims to eat like a homemade delight. Like so many other foods with nostalgic fan followings, there's plenty of discourse when it comes to who makes the best chicken pot pie, though Insider agrees that Marie Callender's is a solid contender.