The Truth About The Most Expensive Champagne In The World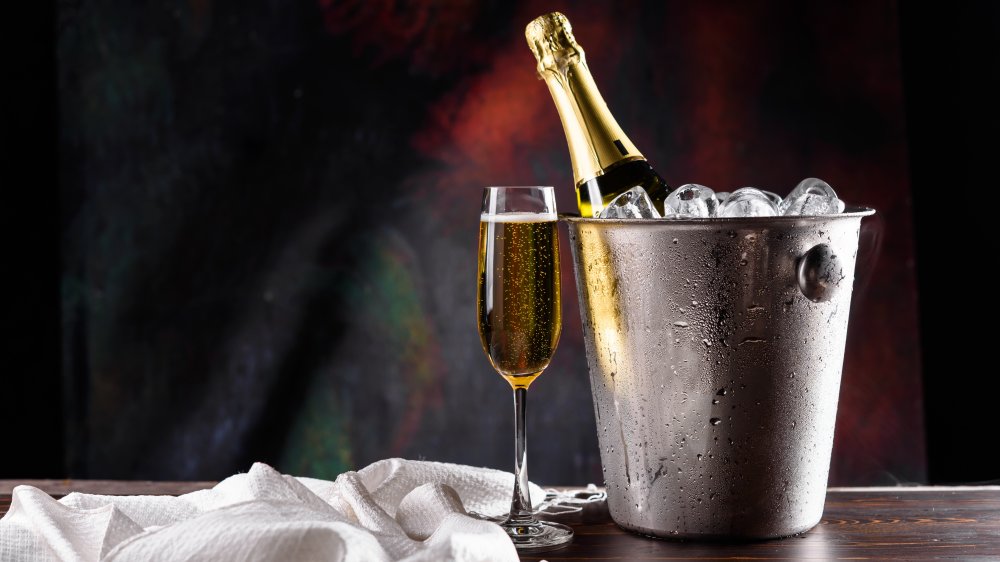 Shutterstock
While the Queen of England is said to indulge in a bit of bubbly on a daily basis, for the rest of us champagne is generally reserved for special occasion sipping (via Harper's Bazaar). There are less pricey sparkling wines produced all over the world, but there are more than a few factors that play into real Champagne's elevated price tag, like a tiny growing region with unpredictable weather, and labor-intensive practices.
A non-vintage champagne from a well-known house like Veuve Clicquot can be found in the $40 to $50 dollar range, and a bottle of the good stuff i.e. 2008 Dom Perignon retails anywhere from $150 to $200 (via Wine.com). And while most folks would be happy to pop either of these bottles, when it comes to splurging on champagne, money is no object for some.
Recognizable from its flashy metallic bottle and signature spade label, Armand de Brignac regularly places on the list of bank-breaking bubblies. Money Inc. reports that a Midas (wine parlance for a 30 liter mega bottle) of sparkling rosé champagne hit the market with a price tag of $275,000 in 2013. Pricey? Sure, but when you do the math, 30 liters equals about 40 standard bottles of champagne, so really it's only $6,875 a bottle. 
A $2.07 million bottle made a splash in 2013
According to Finance Online, Gout de Diamants takes home the gold, coming in at a staggering $2.07 million for a single, 750-milliliter bottle. The Drinks Business reports that the world's most precious bottle of bubbly debuted in 2013 — the mastermind behind the millionaire's champagne is Shammi Shinh, a British businessman who deals in the world of wine and spirits.
The champagne bottled under the Gout de Diamants moniker is made by with grand cru grapes grown by Chapuy, a family-run estate in the Oger region of France. Price tag aside, the real appeal of Gout de Diamants comes courtesy of Alexander Amosu, a British Nigerian designer whose list of credits includes tailoring the world's most expensive suit (via Upscale Hype). 
In an interview, Amosu told Alux, "The bottle already has a distinctive look with its natural design, all I had to do is bring it to the next level of ultimate luxury." Amosu's over-the-top bottle features a label crafted from white gold, and emblazoned with a Superman-style logo, studded with 19 carat diamond in the center.
For those who have a few mil to spare, Gout de Diamants is available to purchase in the United Kingdom and France, with international ordering coming soon.