The Surprising Difference Between Being On Top Chef And Iron Chef, According To Anita Lo - Exclusive
If you're a cooking show junkie, maybe you've daydreamed about being on Top Chef Masters or Iron Chef, and wondered what it would be like to inspire the appetites of foodies around the globe while leaving the competition in your stardust. Michelin-star winner Chef Anita Lo got to live out this fantasy, even defeating Mario Batali in her season of Iron Chef. Still, as dreamy as it was to cook for an international audience, Chef Lo said there were moments during filming that felt a little bit more like a nightmare... and one that seemed like it would never end!
In an exclusive interview with Mashed, Chef Lo explained the surprising difference between being on Top Chef Masters and Iron Chef — and how she'll be bringing what she learned from both shows to a virtual cooking class on CocuSocial she will be teaching on August 16 at 5 p.m. EST.
Chef Anita was honored to be on both shows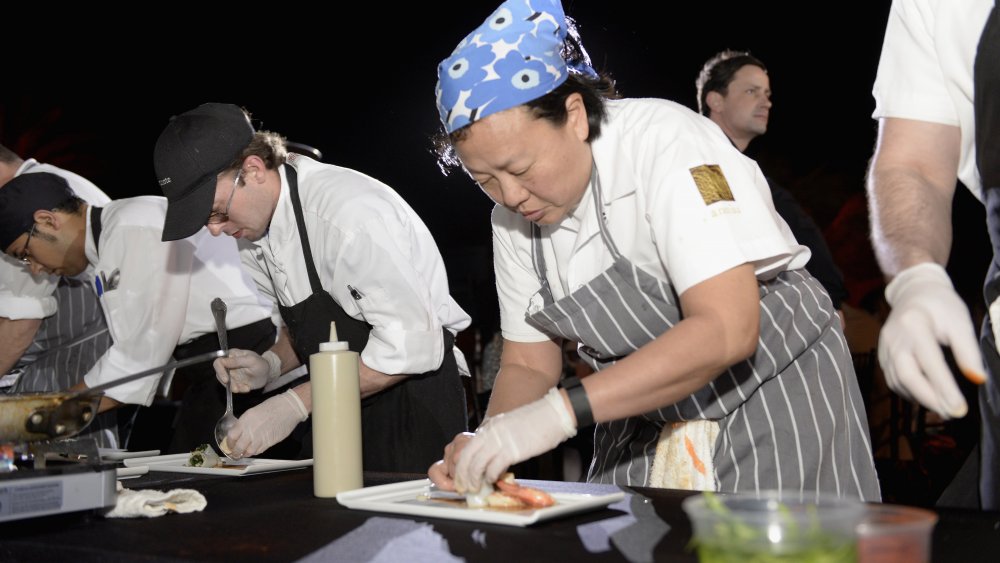 Alex Markow/Getty Images
If you're wondering whether being chosen to compete on two top-rated cooking shows was as big of a deal as it sounds... well, yes, Chef Lo affirms that it sure was. She explained that being chosen to participate on both Top Chef Masters and Iron Chef was one of the highlights of her life as a professional chef. "It was really thrilling," she said. "I think it was really fun. Those two are both nice, high-end ones. It was an honor."  At that point in her career — Chef Lo would later be selected to cook a state dinner at the White House for then-President Barack Obama — being in the earliest seasons of the Bravo TV and Food Network sensations was a breakout moment.
Filming had its ups and downs. "It was fun for the most part, except for that end!" Chef Lo said. "Basically, you're cooking in front of a very large audience and getting sabotaged and that can get wearing after many, many hours, many days." Speaking of which, Chef Lo said Iron Chef was a more enjoyable gig because it actually took just one day. Top Chef Masters, on the other hand, was a show that never seemed like it would stop filming.
Filming Top Chef Masters went on for more than a week, with 17-hour days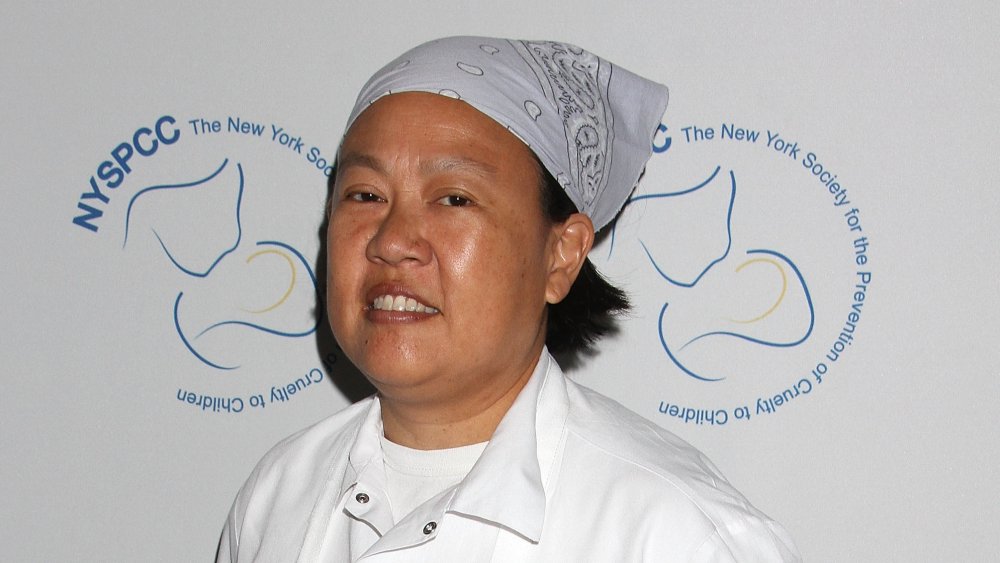 Laura Cavanaugh/Getty Images
By Chef Anita Lo's account, being on Top Chef Masters was a bit like Groundhog Day — it just never seemed like it was going to end. Her memory of exactly how long it took is actually a bit of a blur, as a result. "Top Chef Masters was filmed [over] three days and then I went back and I filmed for I believe eight days," she recalled, then added: "It could have been 10 maximum, which is long."
The chefs were exhausted by this schedule: "Especially for Type A personalities that want to go, go, go," Lo explained, it can be really difficult. "You're sitting in a green room waiting around, or you're doing several takes of walking through a room, that sort of thing." She said one day, in particular, was especially grueling; the crew filmed for 17 hours straight. "I think by the end, I was ready to go home," Chef Lo recounted. "I was like, please let me pack my knives and go!"
When asked if she watched new seasons of the shows she'd been on — or any other cooking shows, for that matter — Chef Lo's answer was adamant. "Absolutely not. Absolutely not! I just remember Rick Bayless and I talking about our Post-Traumatic Top Chef Disorder after the show. I think it's not fun to watch them!"
Chef Lo has learned to be a better cooking teacher because of her time on the air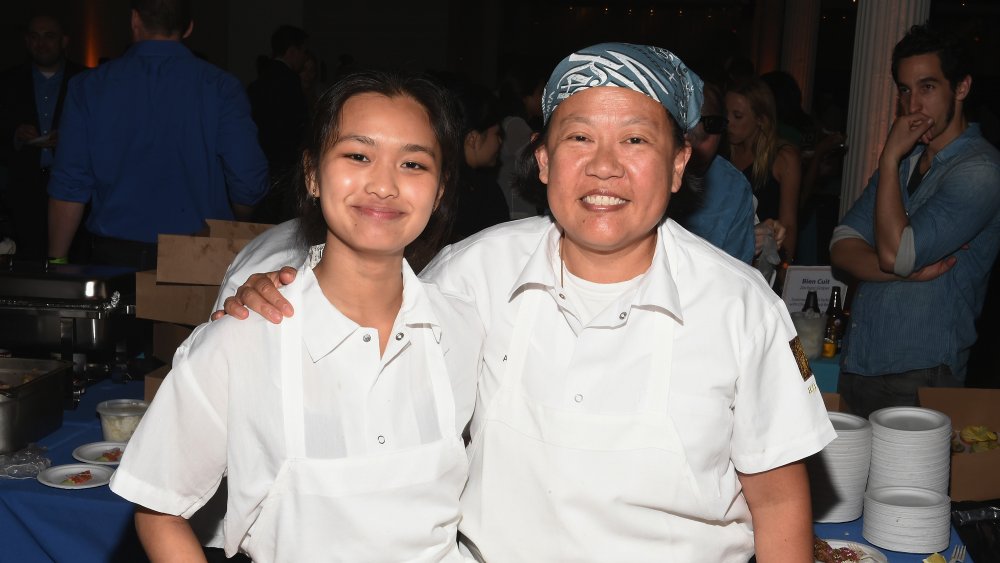 Andrew H. Walker/Getty Images
As rough as it was to be on Top Chef Masters, Chef Lo said being on TV instilled in her an excitement about sharing her cooking expertise with the rest of the world. She's looking forward to imparting some of the lessons she learned from performing in front of such a large audience in her upcoming online class, in which she'll demonstrate how to prepare a mussels recipe.
"You are trying to impart wisdom and you're also at the same time trying to entertain people," Chef Lo said. "It's like that with these classes, that you can reach this many people. I really do love teaching, and I do think that there's an art to it. I think you really need to tell people the why of things so that it sticks a little better. If you've got a visual there, it's so much easier than just a cookbook." But, Chef Lo said, since this class is just a one-hour event, "it will not be like Top Chef Masters! Hopefully it'd be more like Iron Chef," she quipped. 
Be sure to reserve your spot in Chef Lo's virtual cooking class on CocuSocial, which will be taught on August 16th.