Dunkin's New Caffeinated Cereals Have Everyone Talking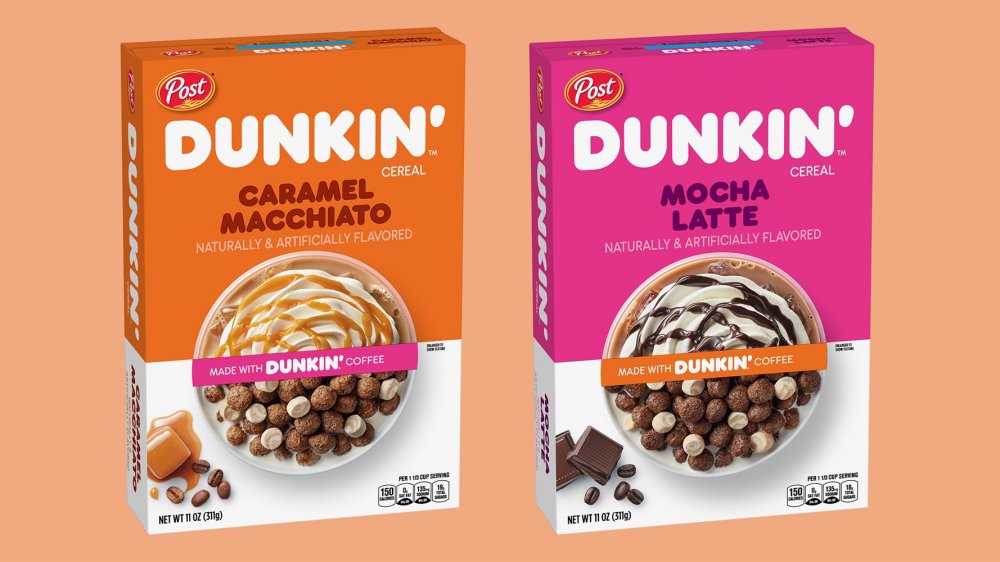 PostCereals/Dunkin'
Some breakfast items are just an indisputable part of your morning routine. But, if you are a cereal eater with a major coffee habit, then waking up is about to get a lot brighter. Dunkin' just partnered with Post Cereals to create an exclusive caffeinated breakfast cereal — yes, really.
"Coffee and cereal are the ultimate breakfast go-to's, ranking as the top two most consumed items to help people start their day," Josh Jans, Post's brand manager of cereal partnerships, said in a statement (via Today). "Dunkin' coffee is a daily ritual for Americans, and we're excited to be partnering with them to indulge their fans' coffee cravings. Getting the flavor right on our new cereals was a top priority, and we think we've nailed the rich, smooth and creamy taste."
The cereals will come in two flavors inspired by Dunkin' coffee drinks, Caramel Macchiato and Mocha Latte. It already sounds like a delicious and sugary way to kick off the day — but to make it even better, the cereals do include a small dose of caffeine, though you probably won't want to give up your morning cup, either.
What you need to know about the new Dunkin' cereals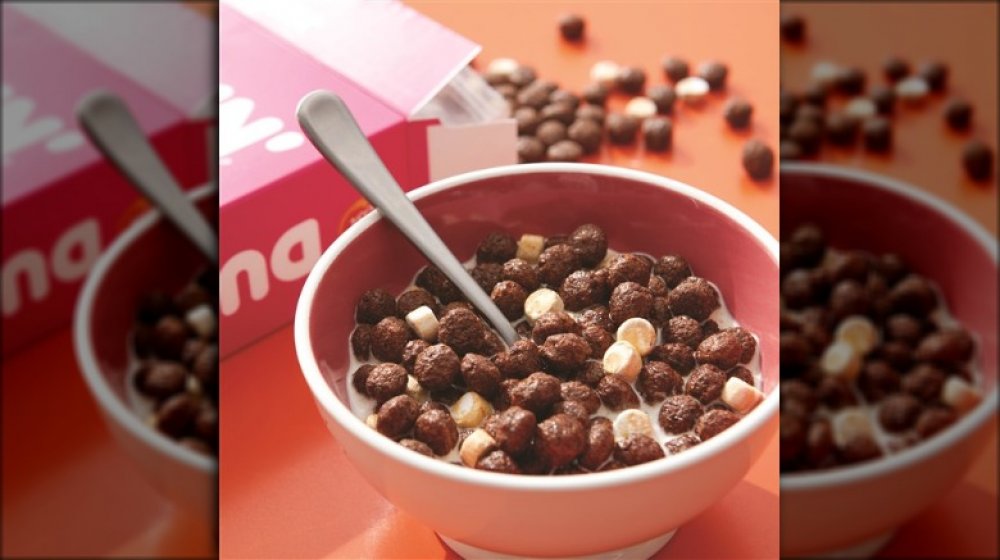 PostCereals/Dunkin'
The caffeinated cereals have less than 10 milligrams of caffeine per serving, which isn't an abundance by any stretch. That's roughly the same amount of caffeine as taking a few big gulps of coffee, or 1/10 of a cup. So, you will want to keep your mug nearby in order to get the jolt you're used to. You can always visit a Dunkin' location to get a matching drink to have with your cereal if you really want to go the extra mile.
To get down to what's in the boxes, the Post Dunkin' Caramel Macchiato cereal includes crunchy cereal with caramel-swirled marshmallows. The Post Dunkin' Mocha Latte version of the crunchy cereal includes two kinds of swirled marshmallows, chocolate and latte. Both should give you the feeling of taking a sip — but in this case a bite — of creamy coffee drinks. 
Both kinds of cereal are just a few days away from hitting shelves in August, so we won't have to wait too long (via Delish). You'll find the boxes on shelves of a few different grocery stores including Publix, Wegmans, Albertsons, Food Lion, as well as Stop & Shop and Walmart. Each box costs around $4.29, which is cheap enough to spring for both flavors to try.