Here's Why You Should Think Twice Before Opening A Dairy Queen Franchise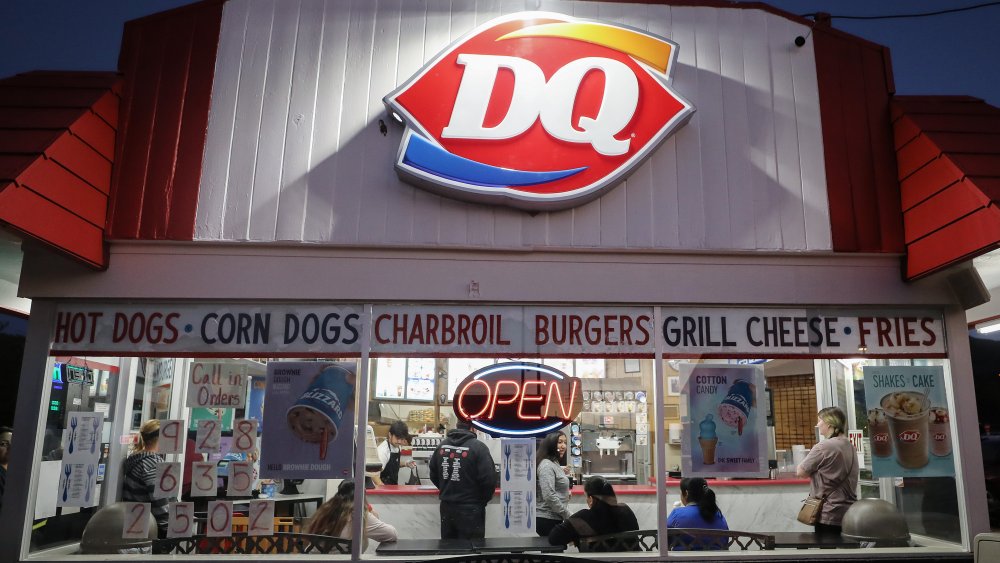 Mario Tama/Getty Images
Known for their soft serve ice cream and other frosty treats, fast food chain Dairy Queen might seem like a great company to open up your own franchise restaurant with. Who wouldn't want access to Dairy Queen's frozen desserts 24/7? Unfortunately, you might want to reconsider after learning about how they've treated their franchise owners in the past, and choose a different company for your hypothetical scoop shop.
The Los Angeles Times reported in 2008 that franchise owners in 10 states were suing Dairy Queen over some huge expenses the chain was attempting to force them to take on. The lawsuit was levied by franchisees who, for the most part, only owned one or two restaurant locations. These owners claimed that Dairy Queen threatened them with the loss of their franchises if they failed to comply with some incredibly costly upgrades to their stores. Carmen Caruso, an attorney for the plaintiffs, told the outlet, "It's the classic David vs. Goliath balance" in regards to the massive brand's treatment of its franchisees. 
Dairy Queen is owned by billionaire Warren Buffet's investment company Berkshire Hathaway Inc. The chain was quick to fire back, accusing the unhappy franchise owners of being a "minority that are saying, 'I really don't have any desire to evolve and rejuvenate.'"
These conversions could have allegedly cost franchise owners up to $450,000
According to the 2008 lawsuit, Dairy Queen was attempting to require anyone with a traditional Dairy Queen store, which generally only had a few tables or even just window service, to rebrand as either a DQ Grill & Chill, or a Dairy Queen/Orange Julius Treat Center. They asserted that either remodel could end up costing franchise owners anywhere from $275,000 to $450,000 per store, not including the cost of hiring additional workers, and retraining existing staff members. Caruso stated that if the new store concepts were as successful as the chain was contending, Dairy Queen franchise owners would choose to convert their stores without force, in accordance with the free market. They claimed that this, however, was not the case, as they had already seen two of the 105 DQ Grill & Chill locations operating at the time close, with many others reporting poor performances after only a few years of operation.
The suit was dismissed ultimately, according to Franchise Times. And now, this legal battle was over 10 years ago — but it's worth paying attention to how companies have treated their employees in the past to predict how they will treat them in the future. If having a lot of control over your store and its appearance is important to you, you may want to choose a different chain for your franchise.