The Romantic Meal Responsible For Rachael Ray's Marriage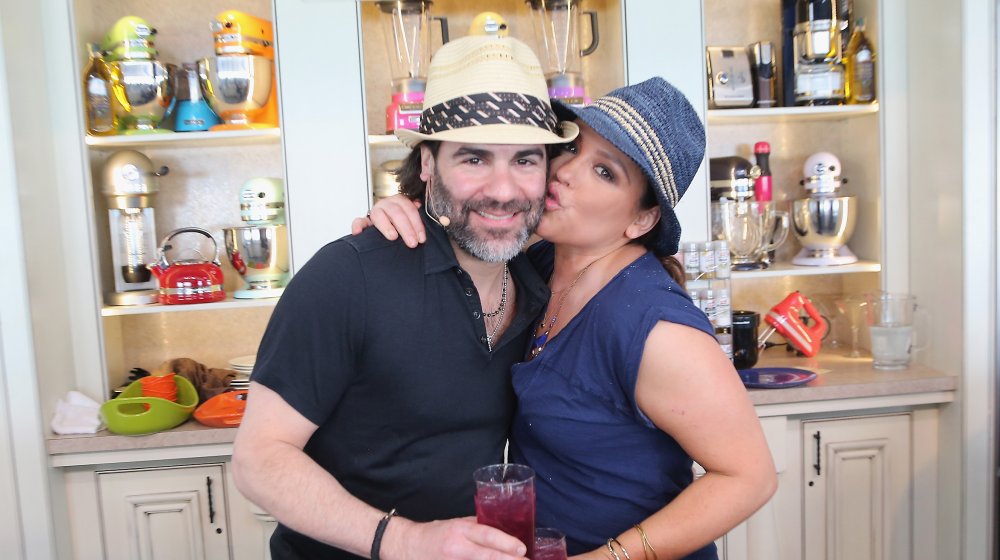 Alexander Tamargo/Getty Images
There's nothing better than a heartwarming meet-cute story, and Rachael Ray and husband John Cusimano have the cutest. They recently told happy fans about the dish that inspired their first conversation, leading to many years together. Ray recently posted a video to Instagram, and by way of introduction she said, "20 years later sharing this intimate moment with YOU!" Describing that first encounter Ray says, "We were the shortest people at this particular party." Drawn together at first by height, they inevitably began talking about a love of cooking, when Cusimano shared his meal from the night before: "A tilapia that I pan-seared and topped with a tomatillo sauce, and then I had a side of Maque Choux."
"Spilling out of an avocado." Ray adds smiling. "That was the phrase that you used." Who wouldn't be drawn to such creativity?
Clearly this dish inspired a great beginning as the couple will celebrate 15 years of marriage this September (via CheatSheet). Says Ray of the three-part, delicious-looking meal, it's "the dish that made it all happen. This is kind of our song. This is the dish that made me want to talk to you all night." When it comes to cooking, the fish preparation is pretty simple, following Ray's basic techniques for pan-searing. She then seasons the protein with cumin, coriander, cayenne, onion powder, and garlic powder for a flavorful crust. While the original dish called for tilapia, Ray suggests using halibut or chicken.
It was love at Maque Choux
Unless you grew up with Creole cooking, you probably haven't heard of a Maque Choux. Clearly her now husband's culinary skill and linguistic expertise intrigued Ray, as the Maque Choux comment is still remembered fondly today. While the ingredients can vary, this Southern dish typically uses fresh corn cut off the cob (via New Orleans Bar). The corn is stewed or braised in a pot with added vegetables. Ray uses two kinds of corn including a puree, plus celery, red onion, bell peppers, garlic, a bay leaf, cilantro, mint, jalapeño peppers, and cayenne pepper hot sauce. And don't forget the butter. 
Last but not least, you won't want to forget the tomatillo sauce. If you're in a pinch for time, there are some quality sauces available at most grocery stores, but there's no substitute for home cooking. Ray makes the sauce with ease using simple ingredients beyond tomatillos including poblano peppers, onions, and Mexican creme. It's not listed in the recipe, but she adds a secret touch of lime juice near the end too.
Fans are clearly ready to dig in to this romantic dish and try it for themselves. Says one follower, "This looks yummy and I love halibut!! Keep up the good work."