Here's The Only Place You'll Be Able To Taste Mountain Dew's Exclusive New Flavor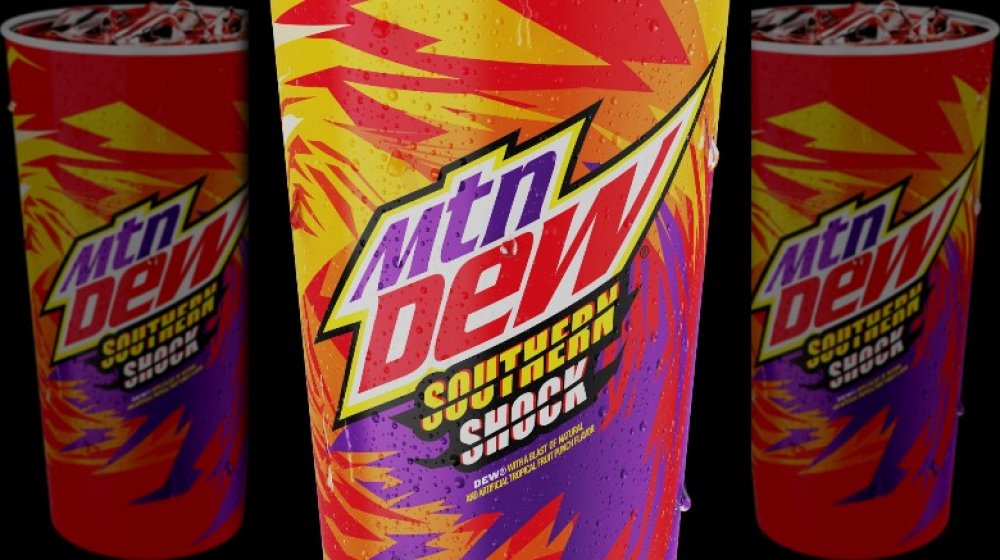 Mountain Dew
Calling themselves the "ultimate Southern duo," soda brand Mountain Dew has partnered with regional fried chicken and biscuit fast food chain Bojangles to release an exclusive flavor designed specifically to help Southerners beat the summer heat. The limited soda, named MTN DEW Southern Shock, is described in a statement provided to Mashed as a brand new, fruity and fizzy drink which will "shock every taste bud with each sip." On the PepsiCo website (Mountain Dew's parent company), the taste of the limited soda is described as a "blast of tropical punch flavored Mountain Dew."
Mountain Dew connoisseurs online were willing to get a little more descriptive with the flavor. According to a thread on the Reddit message board r/Soda, MTN DEW Southern Shock is described as tasting like a fruit punch with a strong berry flavor by user liam_the_loser, who rated the drink an incredible 9 out of 10 and stated in the comments that the soda was super refreshing and absolutely perfect for summer. In the thread, user Counterfeit_Circus commented that they noticed a strong peach taste in the drink as well. If you're very familiar with Mountain Dew's other flavors, Reddit user death_metal_waffle (in a thread on the Reddit message board dedicated to the brand, r/MountainDew) described the flavor of MTN DEW Southern Shock as similar to a "mix of Code Red, Goji, and Sweet Lightning all in one" and also rated the drink 9 out of 10.
MTN DEW Southern Shock can only be found in a few states
In the statement provided to Mashed, Mountain Dew and Bojangles assert that the new flavor is already a popular choice at participating Bojangles locations. Jackie Woodward, Bojangles' chief marketing officer, said that the soda pairs "exceptionally well with our perfectly-seasoned fried chicken and made-from-scratch buttermilk biscuits." Chauncey Hamlett, the vice president and chief marketing officer for PepsiCo Beverages North America (South Division), described MTN DEW Southern Shock as "... the perfect refreshment for those hot southern days and nights."
Unfortunately for many Mountain Dew fans, this soda is only available at participating Bojangles locations, and the company has not yet announced any plans to release it in stores. We also have no idea how long MTN DEW Southern Shock will be around, or if it is a limited-time summer flavor. As of right now, there are only Bojangles restaurants in 12 states, plus the District of Columbia (via Bojangles,) with the majority of the locations being in North Carolina, South Carolina, and Georgia. Hopefully, Mountain Dew will decide on a wider release, or we get the feeling many fans will feel left out by this super-exclusive summer drink.