The Surprising Food More Parents Are Serving Their Kids For Breakfast Right Now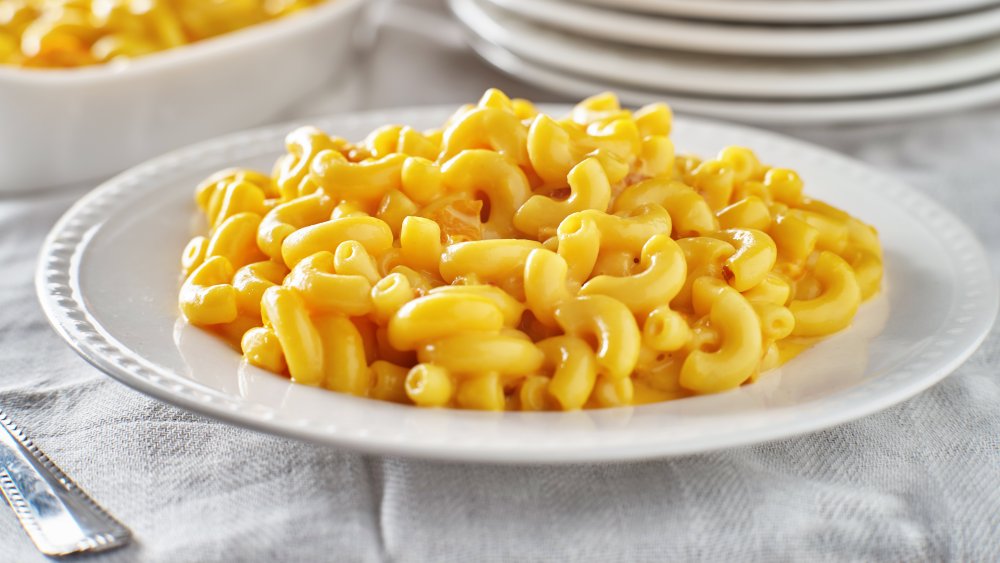 Shutterstock
When someone craves a true "breakfast of champions," you might assume they'd reach for a bowl of cereal, a plate of bacon and eggs, or the classic fruit and yogurt combo. Who knew that macaroni and cheese was giving those traditional morning mainstays a real run for their money?
Apparently, in recent months, as frazzled parents scramble to please picky kids 'round the clock, Kraft Macaroni & Cheese has emerged as a legit way to start the day. The Kraft Heinz Company found in a survey of 1,000 parents, completed in the third quarter of 2020, that 56 percent of them were serving up its Mac & Cheese for breakfast more often among COVID-19 lockdowns than in pre-pandemic times.
So how's a company to capitalize on that surprising stat? Rebrand Kraft Mac & Cheese as an acceptable breakfast food, of course! The company revealed that it will now replace the word "dinner" on its blue boxes with "breakfast" for the first time ever. It's a major (if unusual) announcement for a company that has been serving up its iconic product since 1937 and now sells 1 million boxes of the stuff per day (via South Florida Reporter), but the turnaround is being backed by both social media and charitable components to bring skeptical consumers on board.
How will Kraft promote its Mac & Cheese for breakfast?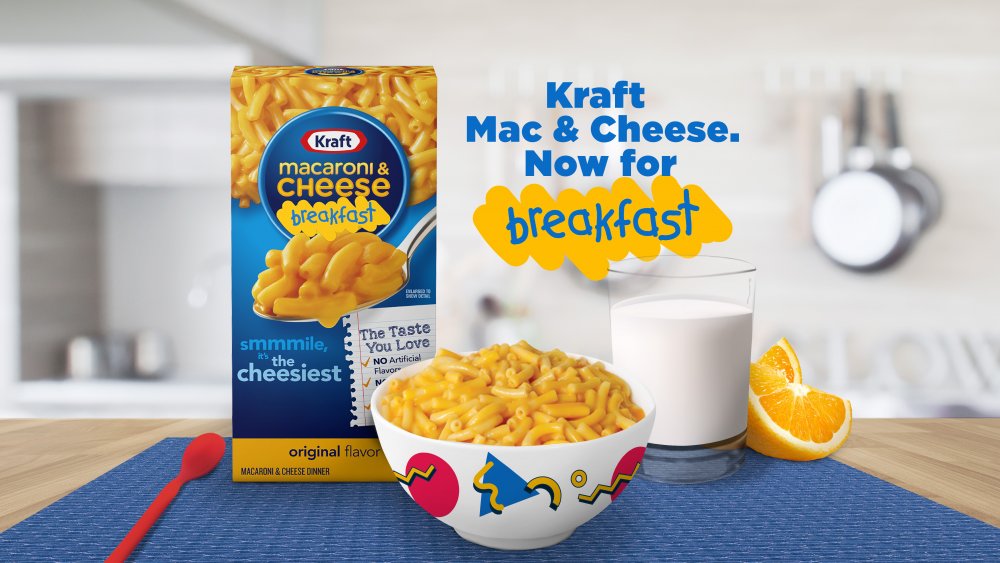 The Kraft Heinz Company
According to Forbes, from August 4 to 7, Kraft will be doling out limited-edition packages of Kraft Mac & Cheese with the new "Breakfast" labeling. The kid-friendly boxes feature placemats to color in, a magnet with topping suggestions (think scrambled eggs or breakfast meats), and a serving mug.
To vie for the special package, consumers must use hashtags #KMCforBreakfast and #Sweepstakes on Twitter or enter for a chance to win via its microsite. And, for every #KMCforBreakfast hashtag logged, Kraft will donate 10 boxes of its Mac & Cheese to Feed the Children (up to 1 million boxes). Meanwhile, for those not lucky enough to win via hashtag, the company hints that breakfast-labeled boxes of Mac & Cheese will hit select grocery stores in 2021.
The promotion may seem to turn mealtimes upside-down, but the effort comes at a potentially strategic time for The Kraft Heinz Company. After all, Yahoo Finance just announced in July that rival PepsiCo was planning to "take aim" at the major manufacturer starting this fall, tapping its Cheetos brand and mascot to introduce a competing product. With Kraft now giving the official green light for round-the-clock consumption, let the mac-and-cheese wars commence!