Everything You Ever Wanted To Know About Trader Joe's Cookie Butter
Get ready to enter a new era, the time soon to be known as "A.C.B." (After Cookie Butter). This versatile product from Trader Joe's has become a staple for many since it first entered the trading shelf for $3.69 in 2011, and the price hasn't changed since (via Trader Joe's). Fully titled Trader Joe's Speculoos Cookie Butter Spread, this must-have kitchen staple looks a lot like peanut butter and comes in a 14.01 oz jar of shelf-stable spread. 
In place of the ground-up nuts you might normally see, this smooth spread uses genuine speculoos cookies. Just what is a speculoos? A speculoos is a warmly spiced Belgian biscuit with flavors including cinnamon, nutmeg, cloves, ginger, cardamom, and white pepper. More broadly, speculoos "cookies" are eaten on December 5th or 6th as a holiday treat in Belgium, Northern France, or Holland (via Club Trader Joe's). The cookies are very thin and crunchy. 
As for Trader Joe's version of cookie butter, it's made with 57% ground-up cookies plus some added oils and sugar. And yes, it's nut-free (but not gluten-free). If you're trying it for the first time, try switching your traditional PB&J for a CB&J. 
Next, level up your cookie cravings.
Like peanut butter taken up a notch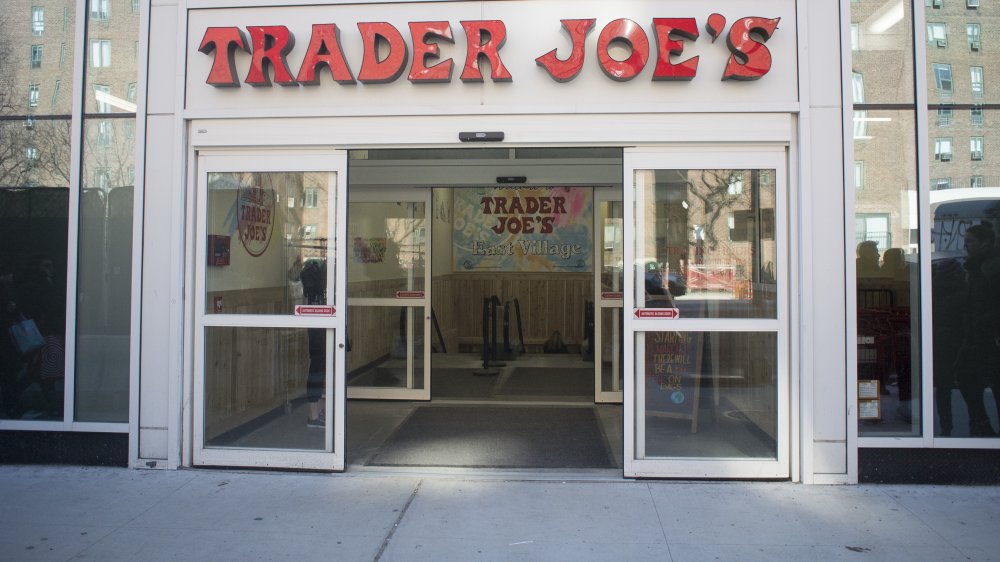 Bill Tompkins/Getty Images
How delicious does cookie butter- and bacon-stuffed toast sound? Trader Joe's makes the idea sound scrumptious by cooking croissants French toast style. Dip the flaky pastries in an egg and milk mixture and fry in a pan. Split them open (or double it up) by adding a layer of cookie butter and crispy, savory bacon to the middle of the sandwich. If you're feeling kinda like Elvis, add a banana. 
If you've got a little baking skill, try a peeled banana and cookie butter cake! This decadent creation is made with layers of banana cake, peeled, fresh bananas, cookie butter, milk, and a cookie butter cream cheese frosting (via Trader Joes). After preparing each individual component split the cake apart. On your cake layer, apply cookie butter and soak the cake with milk. Then add frosting and top it with banana slices. Repeat the process until you have a tall cookie-filled creation of deliciousness. Dress up the whole creation with some crushed cookies and nuts, plus a chocolate drizzle.
If you like cookies, this is a must-try item. More than a peanut-butter alternative, it's almost a food group on its own.