These PB&J Hacks Will Change Everything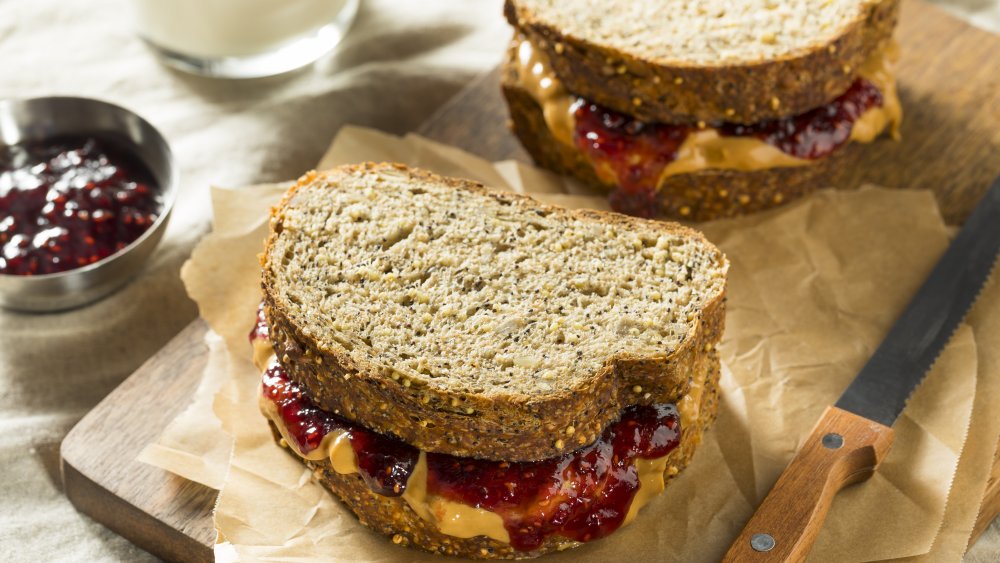 Shutterstock
There is something so satisfying and comforting about a peanut butter and jelly sandwich - a feeling which almost undoubtedly comes from your childhood memories. But the sweet and salty combination wedged between soft bread is just as delicious all of these years later. Not to mention that peanut butter and jelly can be kind of like eating a candy bar for lunch thanks to the less than healthy nutrition of certain brands of peanut butter with added salt and sugar, the sugary jelly, and the bread's carbs.
However, to really make the classic sandwich even more delicious, it's time to rethink how you build it. From actually cooking it to mixing up the ingredients you use in your peanut butter and jelly, there are tons of ways to spruce up the sandwich. With the help of chocolatey fillings, sweet spins on breakfast favorites, and other creative switch-ups,  you can change not just the sandwich but entire meals using these peanut butter and jelly hacks.
Try cooking the sandwich
Shutterstock
One way to hack your run-of-the-mill peanut butter and jelly is to actually cook it. One way to achieve this is to grill the whole sandwich like you would a grilled cheese (via Potato Rolls). Besides, adding butter certainly won't make it worse (via Huffpost). You can always just toast the bread instead too, which will still give you an ooey-gooey center of melted peanut butter and jelly.
Another way to cook the sandwich is to turn the bread slices into French toast. All you have to do is prepare French toast on the stovetop as you normally would. But instead of enjoying the warm, spiced bread on its own, spread your peanut butter and jelly fillings between two slices.
Once you have tried making French toast peanut butter and jelly sandwiches, deep-frying is the next method to try. Almost everything is made better by deep-frying, and peanut butter and jelly is no exception. The fillings become delightfully melted while the bread is perfectly crisp on the outside. If you haven't tried it, it's a must.
Shake up your filling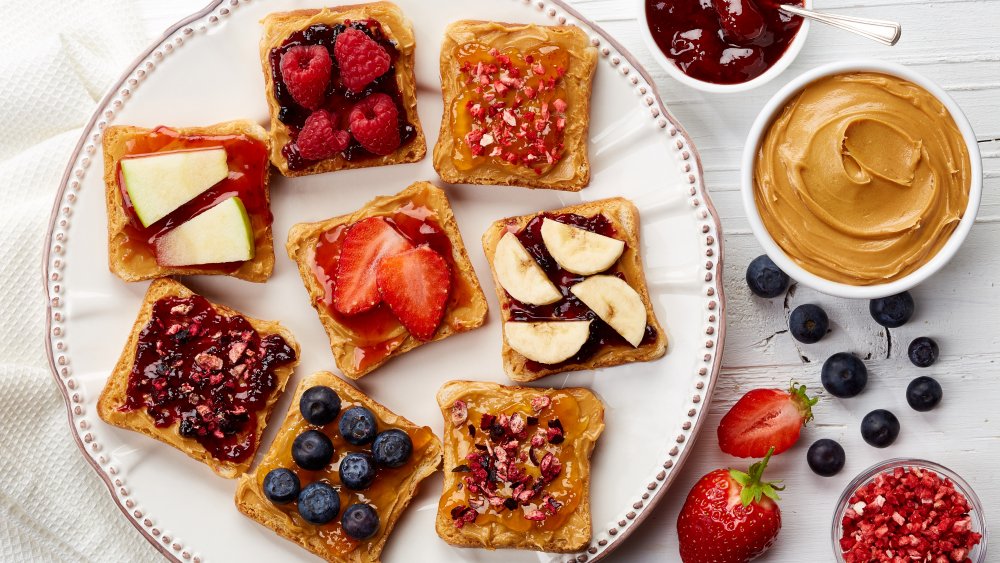 Shutterstock
If you're a peanut butter and jelly purist and think crunchy peanut butter is shaking up your filling, then it's time for radical changes. Think about adding fresh fruit like sliced banana, pomegranate, raspberries, blueberries, or even chopped apple to your sandwich. It will add the perfect amount of freshness and even crunch if you use fruit with seeds.
You can also swap out or simply add another spreadable filling. Try something like Nutella, honey, or marshmallow fluff in your peanut butter and jelly. Not to mention, you can add tons of other fillings to add flavor and texture. Think bacon, nuts, chocolate chips, or spices like cinnamon, nutmeg, and ginger for added punch.
You can really transform the sandwich by making it peanut butter and jelly burger too. It might be better to start with a good burger base and just add peanut butter and jelly to the buns, but either way, it's a melty, juicy upgrade that will be a hit.
Ditch the bread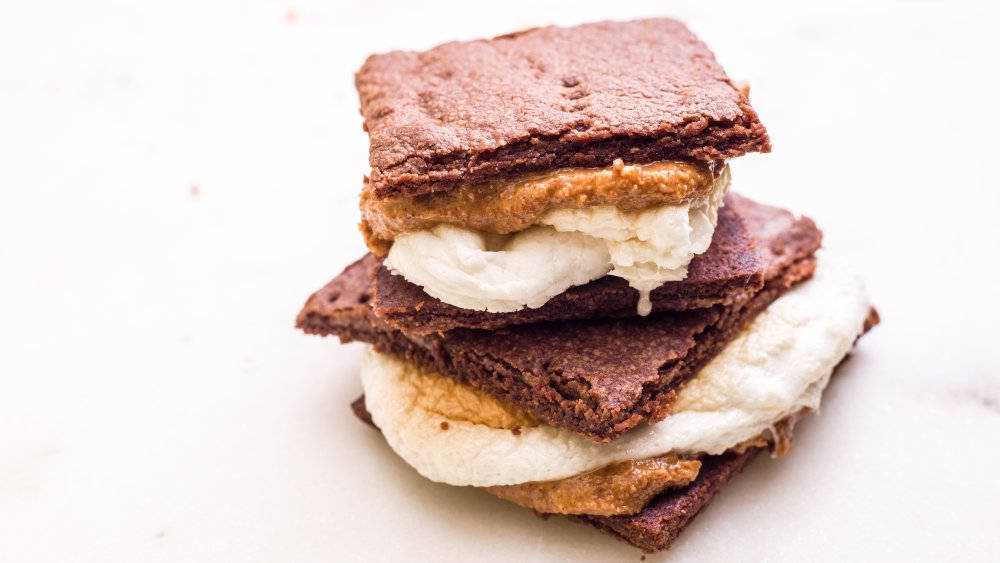 Shutterstock
Finally, you can easily hack your sandwich bread. Apart from a savory alternative like a burger and its more traditional buns, there are plenty of other bread alternatives that really take peanut butter and jelly to the next level. Most, however, are better thought of as desserts or sweet breakfast items than sandwiches, though. Should you want to completely ditch the bread altogether, use a halved banana instead to make your sandwich.
Swap the bread for waffles or pancakes for another breakfast mashup. You can also use crepes for a deliciously thin take on peanut butter and jelly. Replacing the bread with pound cake and angel food cake also turns this classic into a next-level dessert too. You can always make peanut butter and jelly s'mores with graham crackers and a marshmallow.
No matter how you choose to upgrade your favorite peanut butter and jelly sandwich, the options are seemingly endless. There are so many ways to add more flavor and texture, your own imagination in the kitchen is really the limit.