The New Oreo Flavor That Has Coffee Lovers Buzzing
As many adults can attest, Oreos pair just as well with coffee as they do with milk. Aware of this not-so-secret, grown-ups only combo, national cookie brand Oreo is reportedly releasing an all new flavor inspired by the duo. On August 9, 2020, food sleuth Instagram account @CandyHunting broke the news that Oreo will soon be releasing a Java Chip flavor, to the delight of coffee lovers everywhere. The account enthusiastically describes the product as being stuffed with "coffee flavored creme with chocolatey chips!"
Delish asserts that, based off the photos provided and @CandyHunting's caption, the Java Chip cookies will likely be made from Oreo's classic chocolate wafer cookies, filled with a coffee-flavored creme that is studded with tiny chocolate chips. The outlet states that Nabisco (Oreo's parent company) released two other coffee-based Oreo cookies earlier this year: the limited-edition Tiramisu flavor and Latte Creme Fudge Dipped Oreo Thins Bites. The Latte Creme Fudge Dipped Oreo Thins Bites were particularly popular, receiving rave reviews and causing Delish to state that they hope that the new Java Chip Oreos will strike just as excellent a balance between the coffee and chocolate flavors as their other coffee-based products have in the past.
As of right now, the Oreos only appear on one website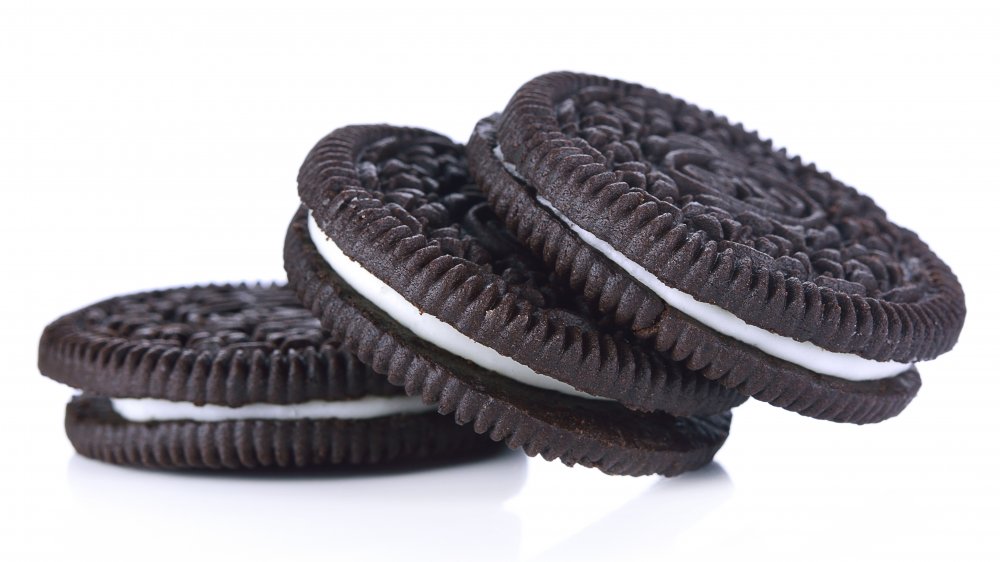 Shutterstock
Best Products states that the new Java Chip Oreo cookie flavor is currently only advertised for sale on the BevMo! website, which is a little strange considering the company mostly offers wine, beer, and spirits. While they do carry an assortment of snacks, that is not the main focus of the website and it would be an odd choice for an exclusive Nabisco product. We would imagine these cookies will eventually begin to be advertised for purchase at other stores and online retailers closer to their release date, as the packaging in the leaked images doesn't appear to make any mention of being a limited-edition or exclusive flavor.
The Java Chip cookies are currently listed as "Out of Stock" on the BevMo! website and have not yet been spotted anywhere else in person, but Best Products asserts that the mere existence of the product page on the online store can be taken as a good indicator that the cookies will be available soon.