Costco's New Iced Latte Has Everyone Talking
You might enjoy a good iced cafe latte, but we're guessing you may not have enjoyed anything quite like this before. My Cafe Latte is Costco's latest offer in the "I have no time because I'm in a hurry but I need a caffeine fix" department, which means it sits, ready-made in the refrigerated drinks section, and primed to be enjoyed at a moment's notice. The new coffee product was spotted by Instagrammer @costcosisters, who said, "These look so cool, perfect for the summer heat  !!! They remind me of coffee vending machine drinks from Korea and China!"
While @costcosisters is hailing My Cafe Latte as a new product, it appears to have been around for a bit longer before it went mainstream. A product of South Korea's Maeil Dairies, My Cafe Latte was actually born in that country back in 1997 and launched with a unique cup design with a foil-topped lid, complete with an attached straw. "No one thought of the idea of a cold cup of coffee, packed into a creative design cup that poses shipping challenge to keep it cold and fresh, due to its milk content," Maeil's sales team manager Scott Yoon says (via News Blaze).
My Cafe Latte has more sugar than a regular tall cafe latte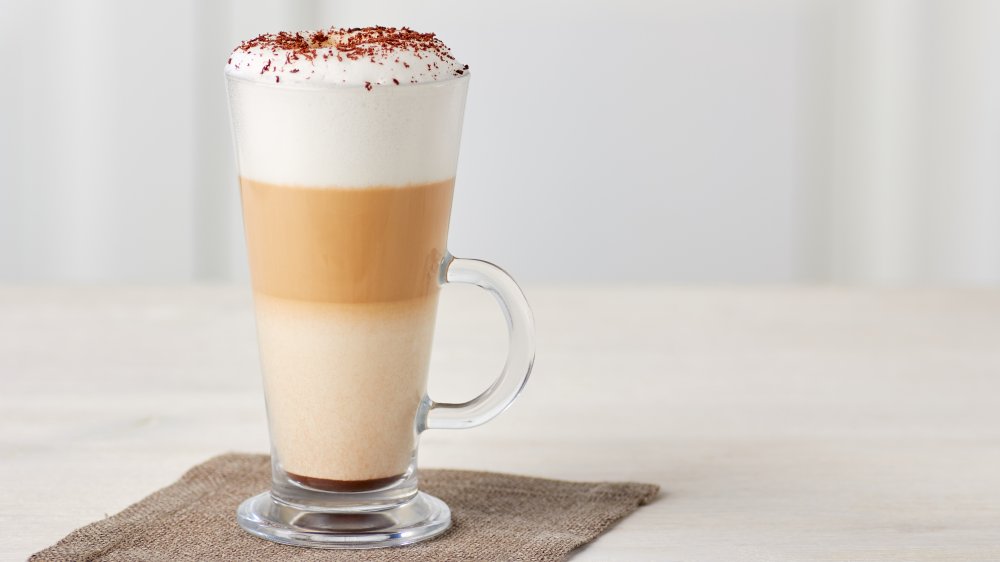 Shutterstock
Because South Koreans tend to like their coffees on the sweet side, you can expect a 220ml (or about a cup) of ice-cold My Cafe Latte to have 129 calories, 15 grams of carbs of which 14 grams are sugar, 5 grams of fat, and 5 grams of protein (via My Fitness Pal). In contrast, a 12 oz (or about a cup and a half) Starbucks Iced Latte with no additions will come in at 100 calories, 10 grams of carbs of which 9 grams are sugar, 3.5 grams of fat, and 6 grams of protein. 
Delish points out that in no way can these little instant lattes replace the milk with espresso shots that you probably dream of as soon as your alarm goes off, but if you're looking for something to kick start your morning while you're in a hurry, My Cafe Latte could well be just the ticket to a smooth, caffeine-powered morning.