Buffalo Wild Wings Is Releasing A New Whiskey. Here's What You Need To Know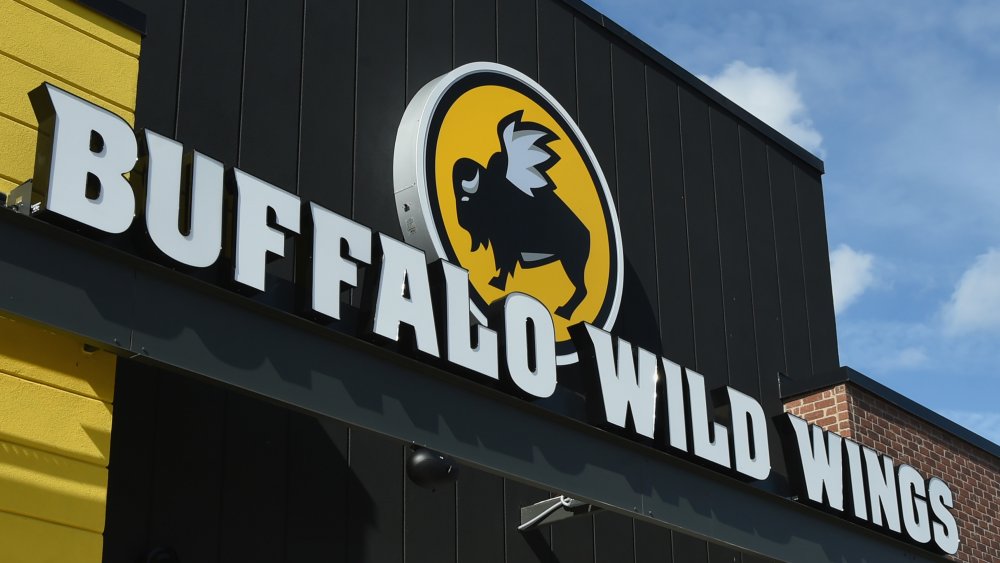 Rick Diamond/Getty Images
Those who know their bourbon whiskeys might be skeptical of the new spirit Buffalo Wild Wings is releasing, but that's likely because you haven't heard it's in partnership with Buffalo Trace Distillery (via Forbes). The distillery, based in Frankfort, Kentucky, is most widely known for Pappy Van Winkle, which has hoards of fans. They also produce WL Weller and Blanton's, too. Considering the fan bases of both the expansive sports bar chain and the distillery share, the partnering of the two Buffalos is almost too easy.
The new whiskey that the chain will now offer, Single Barrel Select Buffalo Trace Kentucky Straight Bourbon Whiskey, will be a special release. Not to mention, it will also be a very limited release. Only customers in Georgia, Nevada, Florida, Colorado, and California will be able to pick up a bottle during their next visit to a Buffalo Wild Wings (via Uproxx). So, if you aren't in one of those states, it might be time for a road trip.
What's known about this signature bourbon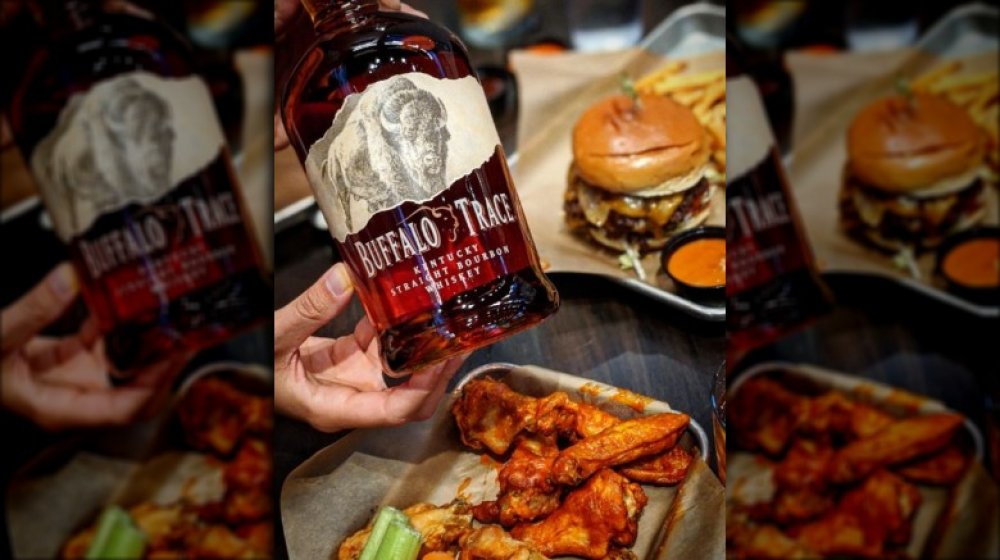 Buffalo Wild Wings
To provide an exclusive bottle to Buffalo Wild Wings, Harlen Wheatley, the master distiller at Buffalo Trace, selected the casks that would best fit the sports bar's needs as a part of the distillery's Single Barrel Select program. Wheatley explained in a short video, "This special batch of bourbon is rich and complex yet smooth and balanced in taste."
The casks he chose provides a rich and smoky bourbon whiskey that has a dark fruity finish. It's perfect for first-time bourbon drinkers and long time bourbon fans alike, thanks to sweet notes like caramel and black cherry. All in all, the bourbon whiskey should complement any kind of kickin' chicken wings, spicy sauce, or burger you order from the chain.
So, the next time you visit your local Buffalo Wild Wings, give it a try and pick up a bottle if you really enjoy the special edition Buffalo Trace bourbon.