How Casey Webb Prepares For His Man V Food Challenges
The series Man v. Food takes the concept of biting off more than you can chew to ludicrous heights and then drops it on the host's head like a ton of delicious bricks. You might bust a gut trying to watch a mere mortal bombard their stomach with ungodly hot or preposterously large meals at various restaurants, but the challenges are no joke. Whether the task entails trying to scarf down six pounds of seafood in 90 minutes or enlisting 40 food warriors to attack the 190-pound Absolutely Ridiculous Burger, the show doesn't just teeter on the edge of culinary absurdity; it dives headlong into the abyss, knowing full well that not even the most elastic stomach is big enough for some of those behemoth meals.
During Man v. Food's original run from 2008 to 2012, the host was Adam Richman, who eventually lost his appetite for competitive gluttony. While food may have won that war, a new challenger would emerge to don the mantle of traveling food fighter and host: Casey Webb. A former Brooklyn bartender and seasoned veteran of eating, Webb began his onscreen food fight in 2017 (via Food and Wine). The show retained its old formula, but Webb is no poor man's Richman, bringing his own engaging energy and enthusiasm to the show. But one thing he and his predecessor necessarily have in common is taking the show's stomach-pummeling food challenges seriously, and that means preparing.
Man versus food for thought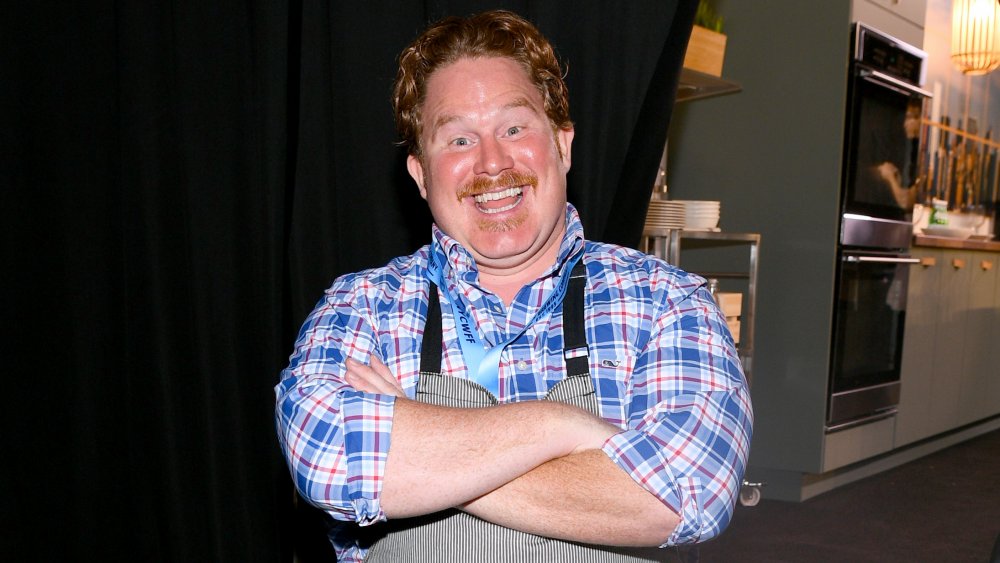 Dave Kotinsky/Getty Images
For Casey Webb, the show's challenges are largely a matter of man versus food for thought. Speaking with the Travel Channel, he said, "These challenges are much more mental than physical, so I get into the battle zone and try to keep my focus. Having a restaurant full of cheering fans helps motivate me when I start to slow down!"
Webb also keeps his mind on his body and his body on his mind. In an interview with OnTVtoday, he explained, "I look at it like a professional athlete. I played team sports my whole life and that mindset gets me into the game and gets me prepared to meet people who have spent time in kitchens and then obviously the challenge." That also means hitting the gym and staying hydrated in the lead-up to the challenge.
If infernally hot food is on the menu, Webb tries to be a good friend to his taste buds. "For instance, tackling a Carolina reaper, which is the hottest bell pepper on the planet – or to my knowledge – so you need to coat yourself a little bit," he said. The hose goes into each challenge with his eyes wide open about the likely scenario that his eyes are way bigger than his stomach. Webb told Us Weekly, "In the big scheme of things, I'm an underdog in this scenario. I'm going to win some and lose some." Either way, it's a victory for entertainment.