This Is The Secret To Why Blaze Pizza Dough Tastes So Good - Exclusive
The most popular restaurant chains are all known for a signature dish or ingredient. With Red Lobster, it's those addictive cheddar biscuits. At Bonefish Grill, it's all about the Bang-Bang Shrimp. And who even needs donuts when there's Dunkin' coffee? Meanwhile, rising star Blaze is beloved for its pizza dough (via Franchise Chatter) and has inspired online copycat recipes based on the simple ingredients it shares on its website. But try as you might to replicate a Blaze crust at home, it probably won't be as amazing as a pie enjoyed on-premises. What gives?
In an exclusive interview with Mashed, Blaze Pizza founders Rick and Elise Wetzel shared the secret to why their pizza dough tastes so good. "The secret to ours is this 24 hour fermentation period," Elise Wetzel revealed. "So we make the dough and then we set it aside. We refrigerate it for 24 hours, and during that time the flavors really come out."
Unlike other pizza chains that grab their crusts from a deep freezer, Blaze uses fresh dough for each individual pie, Wetzel added. "One of the important differences with Blaze is that we make our dough in house, fresh. So there's no frozen dough balls," she added. "There's no preservatives. You can taste it."
The fermented dough is why you won't get a stomachache from eating pizza at Blaze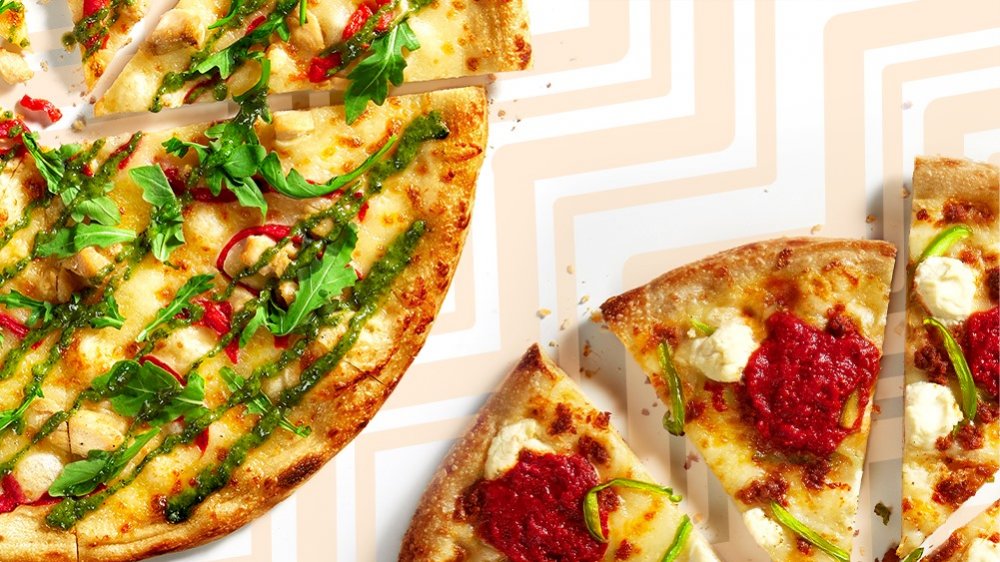 Facebook
Whether it's from fresh dough or frozen, most of us love that first, fresh hot bite of pizza — whether we're eating Blaze pizza, or really any pizza. (Because, news flash: hot pizza tastes good.) We love nibbling it from that pointy corner at the tip straight down to the crust, then going for a second slice, maybe even more. What isn't so pleasurable, though, is that post-pizza feeling, which might make you wish you'd worn elastic-waist pants. According to Wetzel, you won't feel that way after eating at Blaze because the fermentation process makes the dough easily digestible. "It's a very thin crust," she noted. "So when you have this light-as-air feeling, you don't walk away from Blaze feeling full of regrets."
How did Blaze Pizza learn how to create pizza dough that not only tastes great, but miraculously, doesn't make you wish you'd just ordered a salad? The Wetzels learned everything about dough from their earlier business, the eponymous Wetzel's Pretzels. Rick Wetzel added that running the mall snack favorite also taught them other key lessons, like "learning how to franchise and learning how to get good real estate, that kind of stuff," he explained.
But Elise gives all the credit for the dough to Blaze's head chef, Brad Kent. "We call him the pizza whisper," she said. "He's been working on pizzas for his entire career."