Aldi's New Decadent Mac And Cheese Has Everyone Talking
It's a new week, so naturally, there's a new Aldi product to be excited about. The budget grocery retailer that's known for some of its surprisingly delicious finds is bringing a bite of luxury and indulgence to your week with a new lobster mac and cheese bake. The delicious dish is not only a decadent meal for any night of the week, but it's also incredibly affordable thanks to Aldi's amazingly low prices. All you have to do is heat it up, pour a glass of wine, and maybe make a vegetable side dish to round out a perfectly easy and tasty meal (via The Kitchn).
This buy has hit Aldi's shelves several times over the years with a version of the lobster mac and cheese going as far back as 2017, according to PopSugar. This year, the bake just hit shelves on August 5th, according to The Kitchn. Instagram account Aldi Made Me Do It was among the first to pick up a box and post it on August 16. Fans are excited to see it back in the store, even if the nutrition has changed ever so slightly over the years. The new bake will set you back 10 more calories per 9-ounce serving than previous varieties of the dish, but it has less saturated fat and sodium, which is good. It also has one more gram of sugar per serving these days, but the increases in calories and sugars overall are pretty minor.
What you need to know about Aldi lobster mac and cheese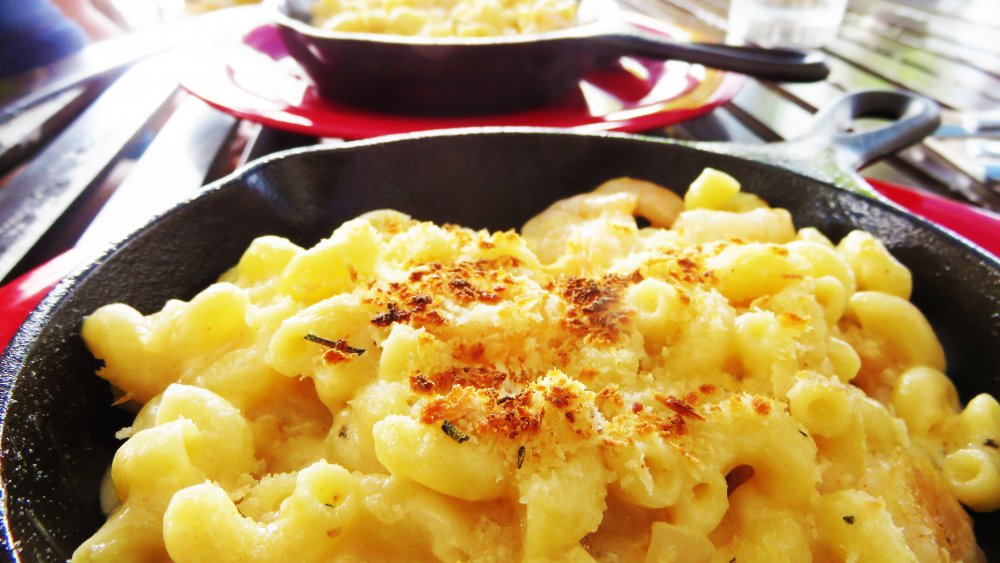 Shutterstock
So far, we know that each 18-ounce package, which is two servings, costs $5.99, making it cheap enough to stock up on. That means you can keep several frozen at home to pull out when you need something a little extra special without the hassle of cooking or making your own lobster mac and cheese from scratch. 
According to the box, the mac and cheese is made with premium lobster, pasta, and a blend of cheeses. The cheese blend includes classic cheddar, fontina, and asiago for a perfectly flavorful and melty combination. To finish it all off, the lobster mac and cheese is topped with breadcrumbs to give it an extra crunchy texture.
As soon as you see the photo on the box with big bites of lobster and perfectly cheesy spiralized pasta, it will be too tempting to leave behind. So, grab several boxes to enjoy at home, because a single box won't last long in your freezer.