The Surprising Origin Of Chinese Takeout Boxes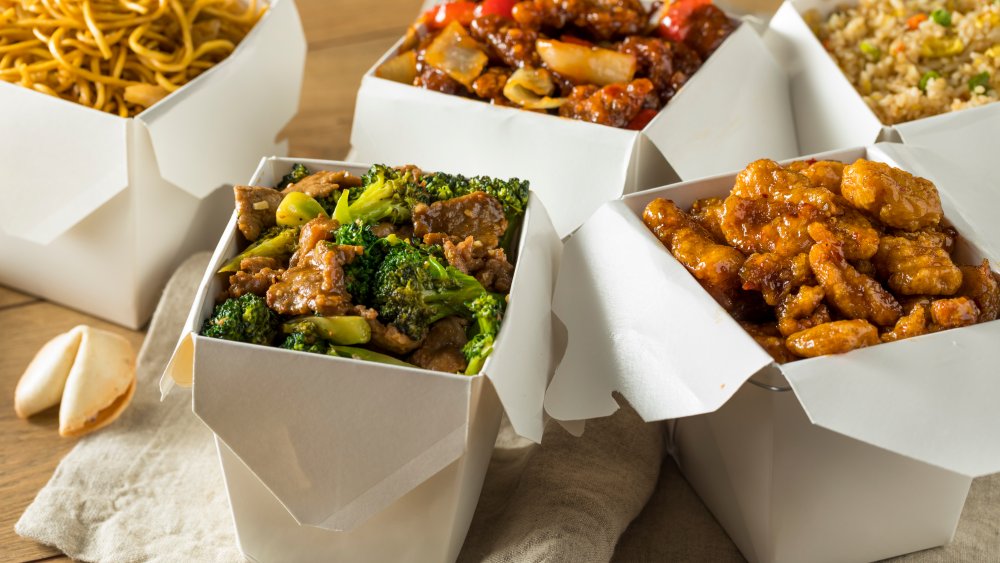 Shutterstock
Whether you're a fan of sweet and savory General Tso's chicken or scallion-studded fried rice, your takeout order from your neighborhood Chinese restaurant is bound to blend together at first glance. That's because your food is likely to come packaged in ubiquitous leak-proof white paper boxes. These takeout containers are used so frequently for portions of orange chicken and wonton soup that they have become emblematic of Chinese cuisine and Chinese culture in America.
The boxes, however, did not originate in China. In fact, they're an American invention based on principles of Japanese origami (via The New York Times Magazine). Patented as a "paper pail" by Frederick Weeks Wilcox in 1894, the first Chinese takeout box is similar to the wooden pails commonly used to transport raw oysters at the time.
"It's a pretty amazing piece of design," Peter Kim, executive director of New York's Museum of Food and Drink, told CBS News. It's all cut from one piece of paper, and it's folded up, so you don't have any seams. What that means is that there's no place for liquids to actually seep out." 
Chinese takeout boxes are American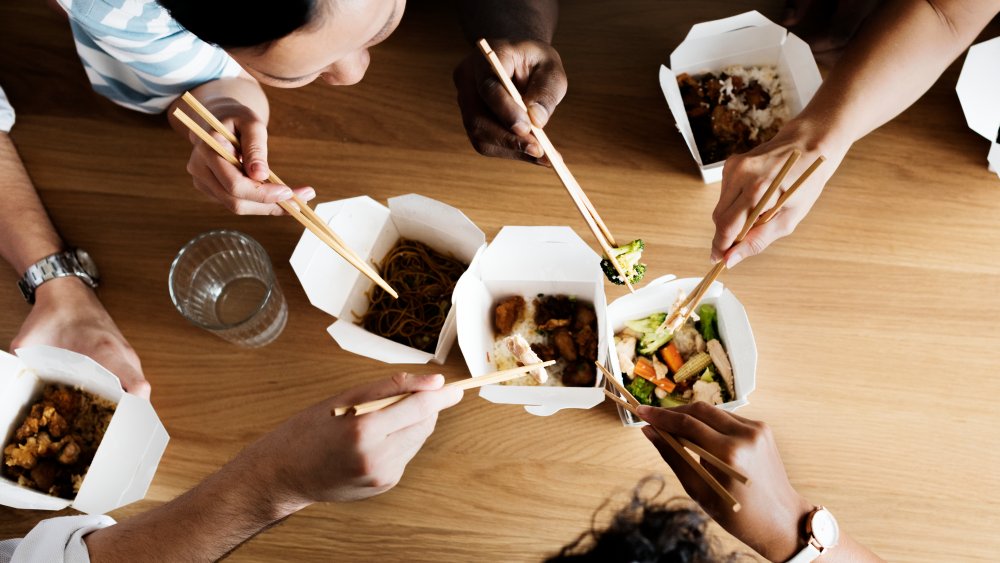 Shutterstock
So how did the paper pail become an icon of Chinese food? The launch of Wilcox's invention coincided with the swift rise of the Chinese food industry in the U.S. "It's nearly leakproof, and it's disposable, and they're really inexpensive," Michael Prince, the designer behind Dunkin' Donuts' to-go coffee carton, told The New York Times Magazine.
Then, in the 1970s, a graphic designer at Fold-Pak – one of the top producers of the paper cartons today, according to Eater – added a Chinese-inspired flourish to the packaging. The company began printing a pagoda symbol and the words "thank you," stylized after Chinese calligraphy, on the boxes. They also opted for the color red, which symbolizes good fortune in China. The re-design helped form an even stronger association with Chinese culture. According to Foldpak's manager, the company doesn't sell the boxes in China.
Americans aren't exactly eating the same food served in China either. According to Thrillist, the Chinese food that became popular in America following World War II is much sweeter than traditional dishes. There's also a big difference when it comes to the vegetables: American fare features yellow onions, broccoli, and carrots, which aren't native to China, while China's restaurants utilize green onions, bitter broccoli, and daikon. While some dishes are rooted in tradition, others, like chop suey, are not. Kim told CBS News, "So we have American food, basically, in an American box, and we all think that we're going around being ethnic?"