Cinnamon Toast Crunch's New Seasoning Blend Changes Everything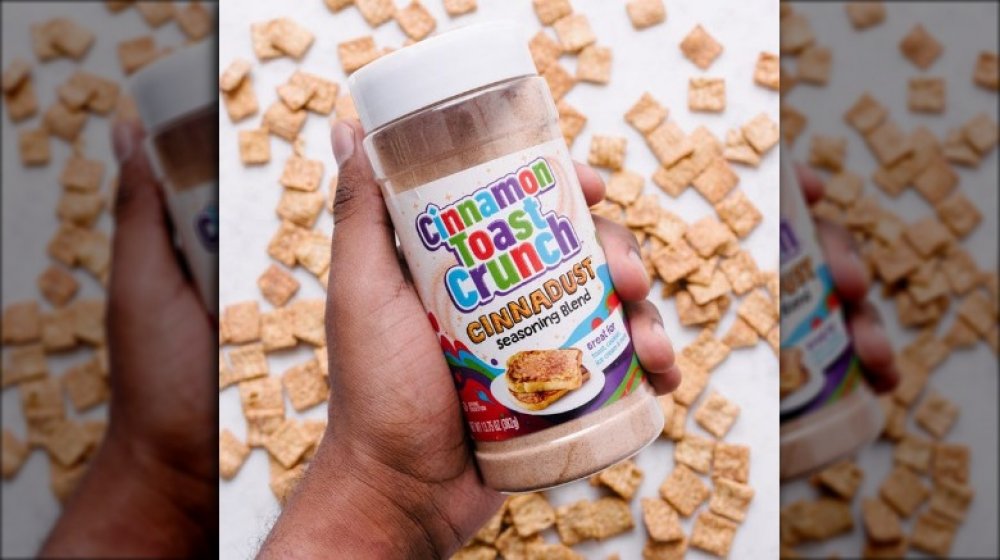 Cinnamon Toast Crunch
Everything you eat is about to get a lot sweeter. B&G Foods just released Cinnadust, which is a seasoning blend inspired by Cinnamon Toast Crunch. That means anything you can imagine can now be topped with a delicious cinnamon-sugar blend that will bring a touch of childhood to almost any food. From your actual bowl of Cinnamon Toast Crunch to scoops of vanilla ice cream, you can bring the extra cinnamon sugar topping with just a flick of the wrist (via People). Not to mention, this seasoning blend is perfect for coffee, buttered toast, and baked goods — and so much more.
Unfortunately, not every Cinnamon Toast Crunch fan will be able to get this new release when it comes out on September 1st. The seasoning blend "you never knew you needed," as the company tweeted, will be exclusively sold at Sam's Club. However, Cinnadust will be available in grocery stores across the country and online come 2021 (via USA Today). So, keep your cool and hang on a few more months if you are not a Sam's Club member, or you can shop at Sam's without a membership if you really can't wait.
What you need to know about Cinnadust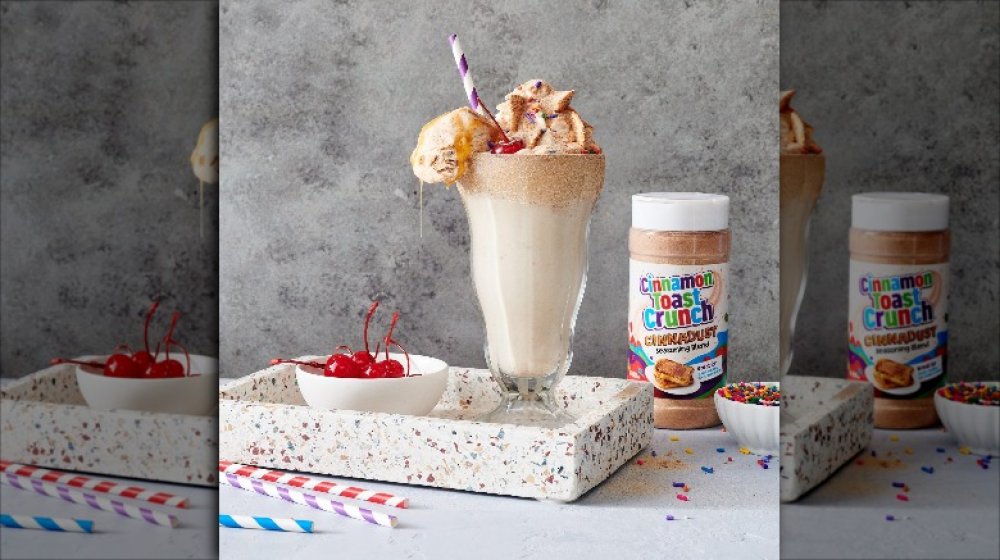 Cinnamon Toast Crunch
In the meantime, while we wait for Cinnadust to officially hit the shelves of Sam's Club, there are a few details we already know. First of all, this brand new seasoning blend will be sold in 13.75-ounce bottles. That's plenty of sweet and warm cinnamon goodness to go around. But, if you wanted to stock up on a couple of bottles until the bottles are sold in grocery stores everywhere, no one would blame you. Each bottle retails for $5.48, so it's still cheap enough to pick up an extra bottle to have on hand.
If you're under the impression that Cinnamon Toast Crunch's seasoning blend would only be about cinnamon and sugar, then you need to think again. The seasoning blend has everyone excited because it also has hints of vanilla and graham cracker which will "capture the unmistakable taste of a bowl of Cinnamon Toast Crunch Cereal," the company said in a statement. It's mouth-watering just to think about all of the cinnamon sugar graham cracker flavors on top of pretty much anything.
So, get ready to add these to your cart the next time you shop at Sam's Club. It's clearly a must-have.