The Viral Menu Hacks That May Have Gotten A Chick-Fil-A Employee Fired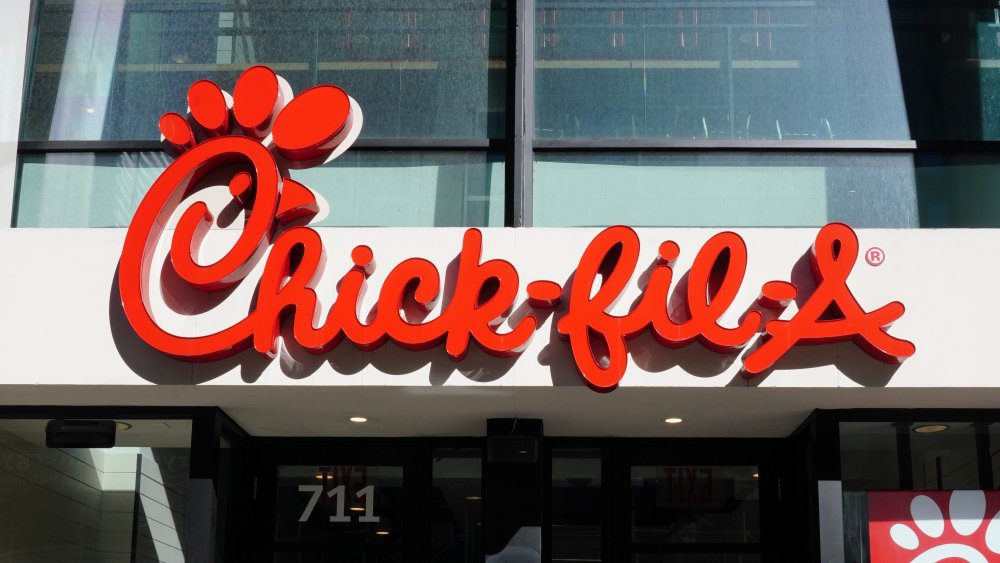 Cindy Ord/Getty Images
We've got to admit we feel a little thrill when we learn about secret menu hacks. Cheesy, animal-style fries at In-N-Out? Banana Split Frappuccinos at Starbucks? Who doesn't love secret menu items? Chick-fil-A, apparently, is not a fan. When a 19-year-old employee shared a menu hack on TikTok, people ate it up. The video collected at least 2 million views. But the chain fired her almost immediately, she told Insider.
Ana — using the TikTok handle @anasteeezy — had posted a video telling viewers how to order a cheaper version of a mango-infused drink at Chick-fil-A. Days later, she was off the job. It's not a shock that Chick-fil-A took this route — after all, this is the same chain that prods its employees to say "my pleasure" and not "you're welcome." Are we surprised the chain has such a stronghold on what employees do or say?
Meanwhile, other chains have leaned heavily into the world of secret menu hacks. When Starbucks CEO Howard Schulz realized customers were ordering off-menu drinks, he wasn't angry — he was impressed. "I'm stunned and amazed at the concoctions that people order with our Frappuccino," Schulz said, according to Quartz. 
Business writer Minda Zetlin pointed out that firing Ana was unwise (via Inc). After all, Zetlin wrote, Ana had essentially offered free marketing for Chick-fil-A. With that in mind, here are some of the Chick-fil-A hacks that @anasteeezy exposed to the internet.
Fruity drinks and free spicy chicken
This summer, Chick-fil-A introduced a seasonal drink — Mango Passion Tea Lemonade (via MSN). But @anasteeezy recommends ordering an Arnold Palmer, a mixture of lemonade and iced tea, instead. Then, she instructs viewers to add four pumps of mango syrup to their order. Apparently, it's the same drink. "You literally get double the mango passion tea, for literally the same price," she told viewers.
Ana told Insider she was fired after posting that lone menu hack. But the TikTok creator didn't stop there. She continued telling fans about menu hacks through her now-viral TikTok account.
According to Ana, Chick-fil-A customers can add chocolate syrup, vanilla syrup, or Oreo crumbs to frosted coffee. They can also add mango or strawberry syrup to the chain's popular peach milkshake. Another simple hack? Keep your receipt — there's a link to a survey, and that can get you a free chicken sandwich down the line, according to Ana.
"Now, you can do what you want with this information," Ana told TikTok viewers, "but, we also give discounts to all police officers." According to Chick-fil-A, individual franchises can make that decision — though a woman did once lie about being a federal agent so she could get some discounted Chick-fil-A, according to The Atlanta Journal-Constitution.
And, if you're looking for more hacks, there are quite a few that will elevate your experience. Chicken, egg, and cheese biscuits? You're welcome. (Our pleasure.)