McDonald's Is Finally Releasing A New Chicken Nugget Flavor After Almost 40 Years
McDonald's is spicing things up this fall. After 37 years, the crispy, golden all-white-meat Chicken McNugget is moving in a bold direction. Starting September 16, a new take on the beloved nugget will appear at participating locations across the country. In a recent press release by the company, Vice President of Menu Innovation Linda VanGosen said, "As our customers have been asking for Spicy McNuggets for some time now, we couldn't think of a better time to bring them to our menus."
Business Insider speculates that this is a strategic move for McDonald's in what they're calling the "fast-food fried chicken wars." McDonald's announcement follows Burger King's launch of a similar menu item in 2017 and the return of spicy nuggets to Wendy's line-up in 2019. KFC is trialing a new chicken sandwich, as is – more surprisingly – Taco Bell. McDonald's is also hinting at a new crispy chicken sandwich topped with butter and pickles (via Business Insider). 
The new Spicy McNuggets and a quality chicken sandwich could be strong contributors to sales growth for McDonald's, according to Wall Street analyst Dennis Geiger. The sale of chicken on fast food menus is soaring right now with brands like Popeyes and Chik-fil-A experiencing business growth and increased customer loyalty (via CNN).
What do McDonald's new chicken nuggets taste like?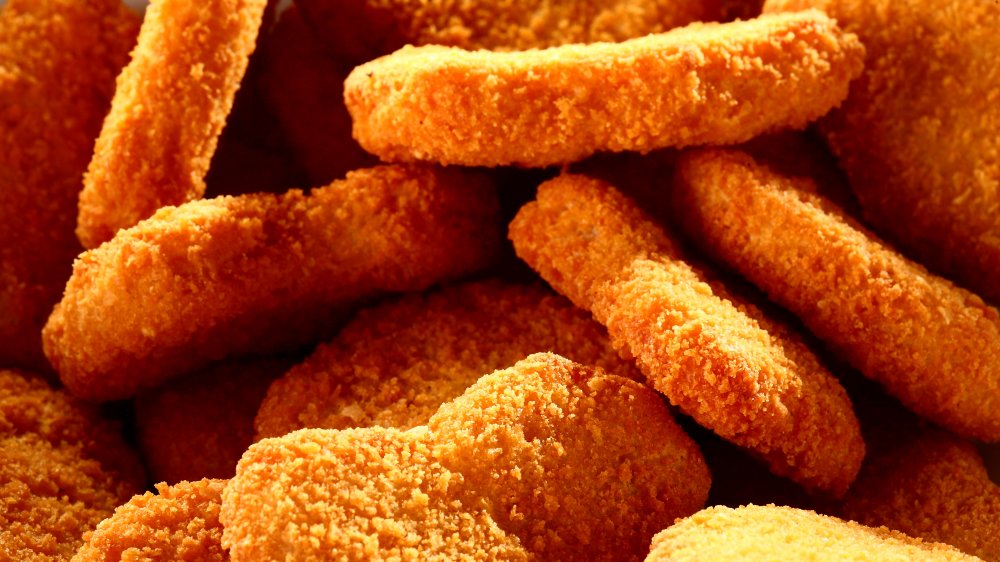 Shutterstock
The new Spicy Chicken McNuggets feature a tempura coating with a double-dose of heat. Both cayenne and chili peppers are included in the breading. For fans of five-alarm heat, McDonald's is also rolling out an amped-up dipping sauce – their hottest to date. The fast-food chain's first new sauce since 2017, Mighty Hot Sauce promises to pack a punch thanks to its blend of crushed red peppers and spicy chilis. VanGosen said, "We can't wait for McNuggets fans to get a taste of these new spicy options."
Think you can handle the heat? Already launched in the U.K., the new nugget has been given a lackluster review by Eater London. Tasters felt duped by the chicken nuggets' bright orange tempura breading – a hint at the heat to come that just wasn't delivered. Perhaps even worse than the disappointing flavor, Eater London said that the coating added a mealy, loose texture. They recommend waiting for the nuggets to cool off and dipping them in the Mighty Hot Sauce, which tastes like Tabasco. Food & Wine agrees that the U.K. version didn't rate very highly on the Scoville scale. Will the U.S. Spicy McNugget fan the flames?