Why Taco Bell's Menu Never Stays The Same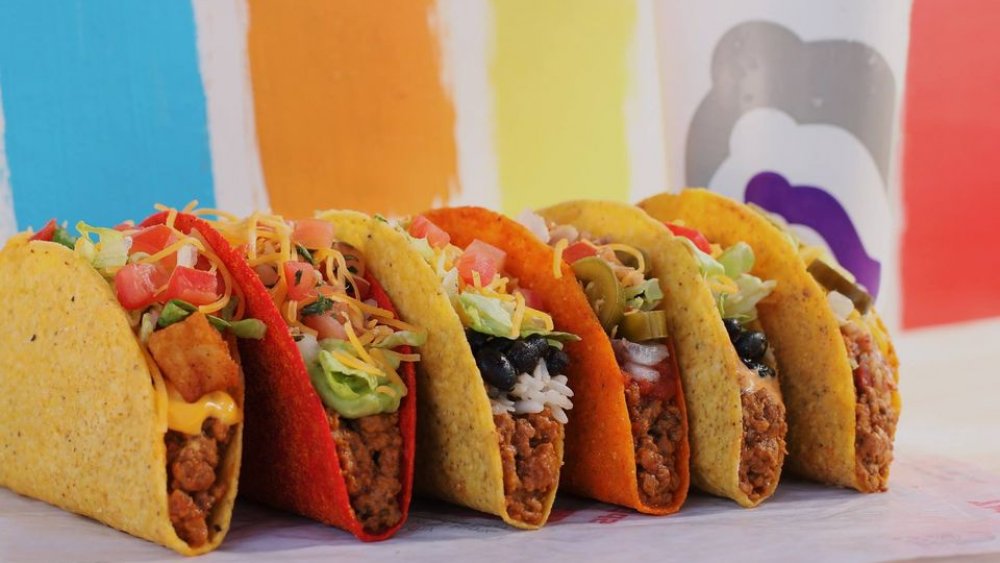 Ethan Miller/Getty Images
While tacos have been Taco Bell's bread and butter since the opening of the chain's first Southern California outpost since the early '60s, over the years, the Tex-Mex fast food giant has gained a reputation for keeping things exciting with a nearly constant influx of new items to the menu. What sets Taco Bell apart from its fast-food competition is arguably its barrage of new spins on tacos, burritos, quesadillas, and other vaguely Mexican-inspired items. While some items have existed since the beginning in some form or other, such as tacos and burritos, Spoon University reports that then menu looks nothing like it used to.
A look back on some of Taco Bell's dearly departed innovations reveals everything from the short-lived bacon chicken chalupa to Extreme Nachos and even a suspect-sounding seafood salad. Back in July 2020, Taco Bell made national headlines when corporate announced that it was going to be cutting 12 items off the current roster, including some of the most popular options on its menu (via Food and Wine). This mega cut sent shock waves through the fast-food loving world (via Vox). But Taco Bell seemed to have its eye on a bigger picture.
Taco Bell changes its menu to create new demand and improve efficiency
One of the reasons that this menu shift hit so hard was that many of the cut items were vegetarian favorites, including the 7 Layer Burrito, Cheesy Potato Grillers, and Spicy Potato Soft tacos. Additional cuts came from the wallet-friendly value menu. This wasn't the first time that Taco Bell purged fan favorites from its menu recently. The Nation's Restaurant News reports that in August 2019, Taco Bell axed nine popular menu items, including two flavors of the chain's Doritos Tacos Locos, the Double Decker Taco, and XXL Grilled Stuft Burrito. Addressing these cuts, a statement from the company read: "Sometimes you have to let go of the old to welcome in the new."
The impetus behind the most recent round of cuts geared towards streamlining workflow and order turnaround time (via The Nation's Restaurant News). A statement also these cuts are making from for more vegetarian-friendly dishes and limited runs of fan favorites are planned for the future. "And while change is hard, a simplified menu and innovation process will leave room for new fan favorites, continued progress in categories such as plant-based diets, and even opportunities for the return of some classics on a limited time basis."