You've Been Buying The Wrong Butter At Aldi
Aldi regulars aren't exactly spoiled with choices when it comes to deciding between different butter brands. But the store's private brand, Countryside Creamery, does offer a decent selection of both butter and butter spreads for you to choose from. We won't judge if you favor the brand's collection of spreadable butter (which is butter blended with canola oil or olive oil). You might be tempted to go for Countryside Creamery's Sweet Cream Butter. 
But if you're looking for something special, you should pass on Sweet Cream and pick the brand's Pure Irish Butter instead. Sweet Cream Butter, which comes in both salted and unsalted versions, is what The Kitchn calls a basic, commercial North American-produced butter which is either salted or unsalted. 
Aldi's private label Irish butter is worth a second look
Unlike what the name suggests, Sweet Cream Butter isn't sweetened or creamier than other sorts of supermarket butter. Leaf seems to disagree, claiming that sweet cream butter comes from sweet-tasting butter instead of aged, tart varieties. The site notes that it is also made with fresh cream, giving it a simple and light flavor.
Irish butter stands out because it contains 82 percent butterfat as opposed to American butter's 80 percent (via Real Simple). The extra butterfat makes it extremely creamy. It is also made from cream taken from grass-fed cows, resulting in a butter that is sweeter than sweet cream and has a more vibrant shade of yellow because of the beta carotene found in Ireland's wild grasses and plants.
Aldi Reviewer says the budget grocer began selling its store-brand Countryside Creamery Pure Irish Butter in 2018. To get a sense of how it might stack up against basic butter, we turned to Reddit, where users were more than happy to weigh in on its qualities. 
What people say about Aldi's Irish butter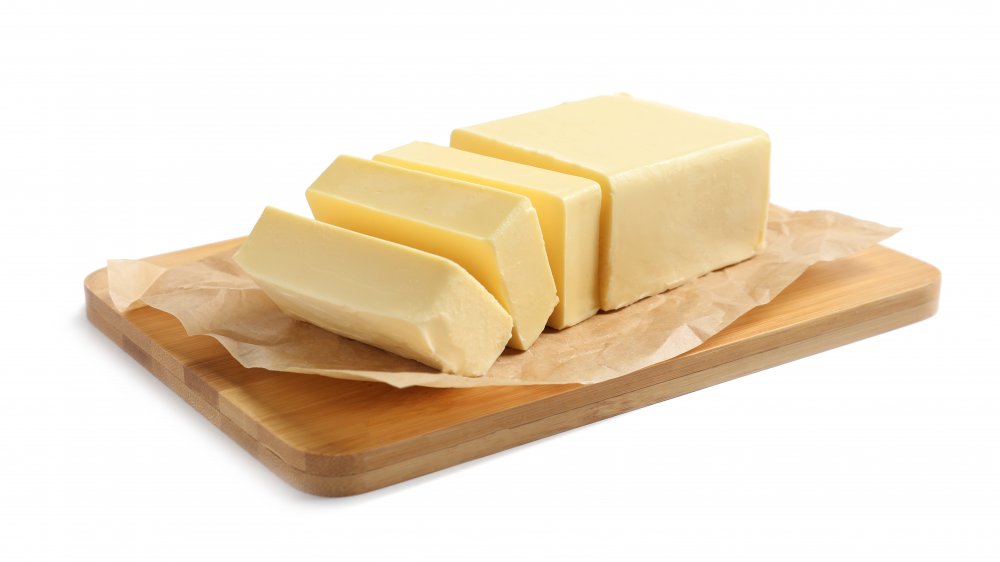 Shutterstock
One Redditor said, "We got this butter on our most recent Aldi run. It's good, definitely better than regular butter." The users mostly focused on comparing Aldi's Countryside Creamery Irish Butter to the gold standard of Irish butter, Kerrygold. The aforementioned Redditor said, "We still like Kerrygold more. Kerrygold is a bit richer or more flavorful if that makes sense." But a different person proclaimed, "Tastes exactly the same as Kerrygold to me!"
Countryside Creamery Pure Irish Butter was apparently so impressive that one Redditor said, "I would make a bet that this is Aldi Brand Kilkeely butter just rebranded for the American market ... Kilkeely is Aldi Brand for butter in Ireland." 
So if if you're a butter fiend or just want a real butter experience, you may want to bypass Sweet Cream and head straight for the Pure Irish Butter.